Wow, that is one big rock!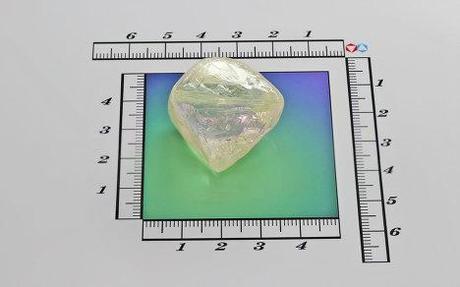 No, those aren't inches.Photo from ria.ru
Russia's Alrosa mining company has recently unearthed a diamond weighing just over 145 carats that is said to be worth a million dollars. The stone gemstone was found in the company's Yubileynaya mine, which is located in the far eastern side of Russia. The mine is known for producing some exceptionally large diamonds, with an 888 carat whopper being found there last fall. That rock was the 4th largest ever discovered in Russia.
The Alrosa 145 Carat Diamond is clear but with a slight yellow coloring to it. It is about 1.4 inches by .8 inches by 1 inch, which is huge for a diamond. While there are small inclusions of graphite toward the outer edges, Alrosa says the center of the gem should provide several very high quality diamonds. These middle diamonds could exceed a value of $100,000 value each should the ultimate owner decide to have it cut. Alrosa has been known to auctions off such stones. It is unclear of how much of the total carat weight would be "wasted" in the process of cutting the stone.
Alrosa is Russia's diamond mining monopoly. Back in 2009 the Russian Government gave the firm a $1 billion dollar contract for raw diamonds during the financial crisis. The purchase was to support the Russian diamond mining industry and to support diamond prices across the world.
Raymond Z for Raymond Lee Jewelers, South Florida's premiere source for buying and selling luxury watches and designer jewelry.