Update: @Greenpeace and Democracy Now! are now reporting that 17 of the 30 activists have been granted bail. Stay tuned for updates.
by Maria Tsvetkova / Scientific American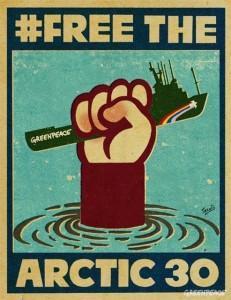 ST PETERSBURG,
Russia
(Reuters) – Russian courts granted bail to nine jailed foreign Greenpeace activists on Tuesday, a turnaround in Russia's treatment of 30 people facing trial over a protest against Arctic oil drilling.
Activists from New Zealand, Brazil, Argentina, Canada, Italy, France, Finland and Poland were each granted a 2 million rouble ($61,300) bail in hearings over their dentention since the September protest at an offshore Russian oil rig.
But Greenpeace said it remains unclear whether they will be allowed to go back home.
One other activist has been ordered held in further pre-trial detention. All 30 face up to seven years in prison if convicted.
But the rulings signaled a shift in Russia's handling of the case, which has fueled Western criticism of President Vladimir Putin's third term. Courts had repeatedly refused to free them on bail in previous hearings.
They are charged with hooliganism over the protest, in which some tried to scale an oil platform in the Pechora Sea which is Russia's first offshore rig in the Arctic.
On Monday, courts in St. Petersburg ordered three Russians released on bail but ruled that Colin Russell, an Australian, should be held until February 24.
Investigators have sought three-month extensions of detention for the activists from 18 countries, but the Kremlin may believe releasing some on bail could ease criticism of Russia, which hosts the Winter Olympics in February.
Western leaders and celebrities have expressed concern over the case.
David Haussmann of New Zealand, Ana Paula Alminhana Maciel of Brazil, Tomasz Dziemianczuk of Poland, Paul Ruzycki of Canada, Cristian D'Alessandro of Italy, Francesco Pisanu of France, Sini Saarela of Finland and Miguel Hernan Perez Orzi and Camila Speziale of Argentina are to be freed once bail is paid.
Haussmann, 49, an electric engineer on the Arctic Sunrise, the Greenpeace icebreaker that was used in the protest at the Prirazlomnaya oil platform, described the decision as the victory of common sense.
Read the rest of the story from Scientific American here.