5 Flares
5 Flares
×
New to little Indiana? Subscribe for free to my RSS feed. Thanks for stopping by!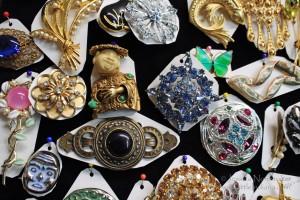 Russ and Barb's Antiques: Chesterton, Indiana
Wandering up and down the streets of Chesterton, Indiana, we followed the sign with an arrow that said "antiques," until we found it: Russ and Barb's Antique Shop.
Set inside a white, one story house, it is stuffed to the gills with fabulous Indiana antiques!
Chesterton, Indiana: Russ and Barb's Antiques
I love antique shops. I love the way they smell, I like unearthing the unexpected, and I like to have to do a little digging. Russ and Barb's Antique Shop fit into the category for my favorite kind of shop. It is so much fun to browse!
Pins (otherwise known as brooches) adorn a large section of the wall. Decorative plates hang in a row. Stacks of incredible dishware line the shelves. Colorful glass sits in the window frames catching light. And that's just the upstairs portion of this Porter County antique shop!
Make your way down to the basement and prepare to be completely amazed! Russ and Barb have been antique hunters for a long time–and had no choice but to branch out into their basement.
Indiana Antiques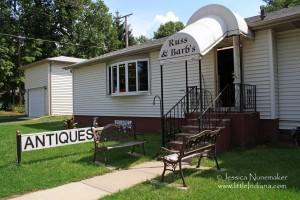 Russ and Barb's Antiques: Chesterton, Indiana
Tall wooden shelves take up the center of the basement. Hanging down from the ceiling are all manner of wall art! It looks so interesting! I could have spent a full day down here just taking pictures.
The shelves along the back wall have a whole lot of bottles! Different colors, sizes, and shapes. It looks impressive–especially next to all that brightly colored Fiestaware!
Don't see what you need? Russ is quick to point out that he has boxes and loads more items. Just let him know and he'll see what he can do. Don't you just love that small town service?
Go There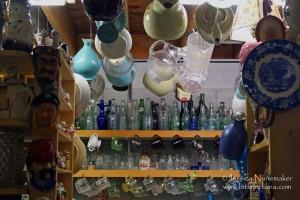 Russ and Barb's Antiques: Chesterton, Indiana
If there's one thing we've learned while traveling little Indiana, it's this: if you see a sign with an arrow advertising anything–you have to follow it!
It always leads to something good. Russ and Barb's Antiques is a great small Indiana town stop! This is little Indiana.
Find pictures in Indiana on my Flickr photostream or on the new little Indiana Tumblr blog.
Just don't forget to tell 'em that  little Indiana sent you!
Russ and Barb's Antiques
222 West Lincoln Avenue
Chesterton, Indiana 46304
219.926.4937

View Larger Map
Don't miss a moment. Subscribe to little Indiana and receive instant updates to stay on top of everything "little."
little Indiana: Where to Stay, Play, and Eat in Small Towns in Indiana. Discovering Indiana's best small towns! Now get little Indiana on your Kindle.
Targeted. Relevant. Affordable! little Indiana advertising.