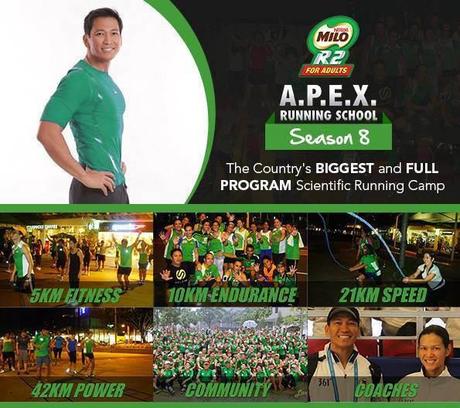 MILO Press Release: Manila, Philippines, 28 April 2014 – In April of this year, the MILO R2 APEX Running School will launch its eighth season to further its commitment to helping Filipino adults achieve peak form and a well-rounded lifestyle. Anchored on MILO's thrust in building a nation of champions, the running school aims to engage and develop over 2,000 participants.
This year, the MILO R2 APEX Running School will launch new opportunities for aspiring runners and athletes. Young adults will be engaged through a series of web episodes that will serve as the online counterpart of the running school. Each video, hosted on the MILO Philippines' official website, will feature lectures on injury prevention, core training, nutrition, strength, speed and power training, and other modules that are part of the full running program. The initiative aims to give runners based in Metro Manila and provincial areas a chance to scale their knowledge and skills with an accessible platform. A 4-city roadshow in Baguio, Iloilo, Cagayan De Oro, and Davao will also be held within the year to promote the science of running.
The training camp will also offer the Fitness 5K, which is an improved training category for adult runners who are looking to get in shape and build their fitness level before embarking on longer race distances. Runners preparing for the upcoming marathon season typically begin training at the onset of summer, and having professional guidance from top coaches of the MILO R2 APEX Running School will provide a holistic approach to fitness and sports, thereby improving safety and optimized performance. Only 200 participants in each location can be accommodated so enrolling early is encouraged.
For the last 4 years, the MILO R2 APEX Running School has continued to attract more participants to its training program offered twice a year in Bonifacio High Street, Quezon City Memorial Circle and SM Mall of Asia. MILO R2, a complete and re-energizing 3-in-1 mix for adults, was integrated into the program to promote work-life balance, instill the value of proper diet and fitness, and motivate young adults to live an active and healthy lifestyle.
Although dubbed as a running school, the MILO R2 APEX has a full curriculum that can also benefit many different types of sports disciplines. It is a 3-month program conducted three times a week, covering several areas such as nutrition, injury prevention, core training, stability, and more. The program is designed in such a way that participants spend less time running, and more time on proper conditioning to be better and faster runners.
"A lot of runners run to train, we at MILO R2 APEX Running School train to run," explains renowned fitness Coach Jim Saret. "As running becomes one of the most widely participated sports in the country, MILO R2 APEX will give mainstream fitness enthusiasts greater access to the same level of training for elite athletes. This is how I envision MILO R2 APEX can contribute to producing more champions," says Coach Jim.
Coach Jim, then a sports science instructor to the Philippine Olympic Committee (POC) founded the APEX (Athletic Performance Enhancement) Sports Training Inc, an improved and holistic fitness approach for all types of athletes, including those who have little or no experience in physical training at all.
APEX has been used as a training program by the POC, Philippine Swimming Team, and various professional and collegiate basketball teams.
MILO and Coach Jim saw the need to further educate Filipinos about the importance of understanding the concept of performance enhancement training in multiple sports disciplines. The MILO R2 APEX Running School addresses the need to extend these valuable concepts to as many people as possible.
"Over time, I've learned that even runners who have been able to complete full-distance marathons were unaware that there is more to running than just having the right form and longer stamina," Coach Jim shares. "MILO R2 APEX teaches runners the value of proper physical preparedness before running competitively or for leisure. Those involved in the program eventually become completely invested into achieving overall health and fitness, and not just optimizing their performance in sports."
Today, The MILO R2 APEX Running School is the biggest running camp in the country that provides comprehensive conditioning workouts and running drills for hundreds of runners and athletes of other sports from across the metro. Sports science trainers, running coaches, and physical therapists support participants through the assessment and exercises within 36 sessions. The program also offers aqua training and trekking as part of the course to ensure that its students are able to experience varied training techniques for better performance in running and other sports.
For more information, log on to the MILO Philippines Facebook page (https://www.facebook.com/milo.ph) and follow MILO on Twitter (@MiloPH) and Instagram (@MiloPhilippines). To enroll for the MILO R2 APEX Running School Season 8, log on to www.coachjimsaret.ph.
About MILO
The MILO brand is the world's leading chocolate malt beverage that can be prepared with hot or cold milk or water. MILO also promotes participation in sports through its Summer Sports Clinics, MILO-B.E.S.T. Center Training Program, MILO Marathon, and MILO Little Olympics. The leading beverage brand believes that these contribute to the holistic development of Filipino champions in sports and in life. 2014 marks MILO's 50th year in the country.
About Nestle Philippines
Over a hundred years after it first started operations in the country, Nestle Philippines, Inc. (NPI) today is a robust and stable organization, proud of its role in bringing the best food and beverage throughout the stages of the Filipino consumers' lives. The Company employs nearly 4,000 men and women nationwide, and is now among the country's Top 8 Corporations. Driven by its mission to nurture generations of Filipino families, Nestle today produces and markets products under some of the country's well-known brands such as NESCAFE, NIDO, MILO, NESTEA, MAGGI, BEAR BRAND, NESTLE and Purina, among others. Its product range has expanded to include coffee, milk, beverages, non-dairy creamer, food, infant nutrition, ice cream and chilled dairy, breakfast cereals, confectionery and pet care.
Press contacts:
Jinny Jacaria/Thea Geronimo
Strategic Edge, Inc.
892-0247 or 50
[email protected]
16.033333
120.550000