"So wonderfully eerie watching the Horse come back to life. the full doc will mist your eyes." —Christopher McDougall, Author of Born to Run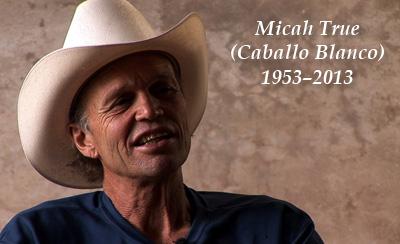 Most minimalist and barefoot runners have heard stories of the mysterious Micah True, better known by his handle Caballo Blanco (Whte Horse). Now, a new documentary gives a unique inside perspective on his legendary life and the world he influenced.
Micah was an ultra-runner from Boulder, Colorado. After a colorful past as a boxer and a drifter, he spent the latter part of his life living and running with the Tarahumara Indians of Northern Mexico. He created a unique 50-mile foot race to help the Tarahumara Indians preserve their running culture and to give Western runners a chance to meet them on their own turf. The race was made famous in the 2009 best-selling book Born to Run by Christopher McDougall.
Soft Star Shoes is proud to be a backer of this project, and we encourage you to check out their campaign and consider making a donation. The deadline is approaching quickly, and if their goal is not reached then Kickstarter will give them nothing.
Visit the Run Free campaign at Kickstarter today for more information or to make a donation!
And here's an early trailer for the film guaranteed to fill you with inspiration:
Run Free Movie Trailer from Noren Films on Vimeo.
Related Posts:
Caballo Blanco's Legacy Lives On: Tom Norwood Returns from Copper Canyon