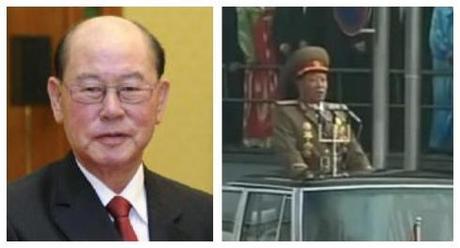 Gen. Ri Myong Su (L), last known Minister of People's Security and Col. Gen. Choe Pu Il (R) whom South Korean sources claim replaced Ri as head of People's Security (Photos: Xinhua file photo and KCTV screengrab)
South Korean [ROK] media, citing an interview with an unnamed ROK government official, are circulating rumors that DPRK Minister of People's Security, Gen. Ri Myong Su (Ri Myo'ng-su) has been removed from office and replaced by Col. Gen. Choe Pu Il, currently serving as Vice Chief of the Korean People's Army [KPA] General Staff.  Gen. Ri was appointed Minister in April 2011 and has held the office for nearly two years. In a 26 February report  Yonhap News Agency quoted the unnamed official who said, "To my knowledge, North Korea recently appointed Choi Bu-il, deputy chief of staff at the North's military, to the minister of people's security" and also reported that "the source declined to give further details, including exactly when Cho was named, but the apparent replacement is believed to be linked to a 'part of loyalty test by Kim Jong-un.'"
JoongAng Ilbo published a similar story on 27 February and reported that "Choe Pu-il, former vice chief of the general staff of the North Korean army, has been appointed to the minister of people's security, a position similar to a national police commissioner in the South, a high-ranking South Korean official told reporters yesterday at a private meeting." JoongAng Ilbo also reports that Gen. Ri Myong Su "hasn't appeared in public since September 2012."  Yonhap also reported that Gen. Ri ""has not been seen in public for months, raising speculation that he might have been purged."
Either ROK media or their mystery man in the ROK government, are simply wrong about Gen. Ri's public appearances.  Ri Myong Su's last reported public appearance was on 4 January 2013 when he attended a meeting of People's Security and Korean People's Internal Security Forces [KPISF] personnel "to carry out the important tasks" itemized in Kim Jong Un's New Year's Day Address.  Prior to that Gen. Ri visited Ku'msusan Memorial Palace of the Sun with KJU on New Year's Day, attended a banquet given for personnel involved in the 12 December 2012 launch of the U'nha-3 rocket, visited Ku'msusan on 24 December 2012, attended an unveiling ceremony of Kim Il Sung and Kim Jong Il statues in Hamhu'ng on 20 December 2012 , attended the first central party banquet for the U'nha-3 launch personnel on 21 December 2012 and attended a national memorial service commemorating one year since Kim Jong Il's demise.  Gen. Ri also attended a national meeting of people's security officers and a KJU commemorative photo session in late November 2012 and attended Forestry Workers' national meeting on or around 7 November 2012.  Gen. Ri's public appearances have been relatively spotty, as Luke Herman wrote in NK News about in October 2012, but he has "appeared in public" well after September 2012 despite current media reporting.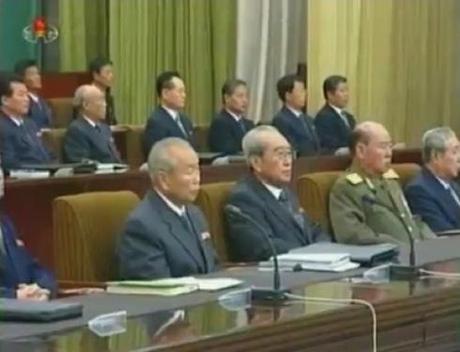 Gen Ri Myong Su (2nd R) attend a forestry workers' meeting on 7 November 2012 (Photo: KCNA/KCTV still)
This does not mean Ri Myong Su's position could not be in jeopardy.  There have been the aforementioned gaps between his public appearances, which could be ascribed either to his political standing or to the Minister having to directly supervise People's Security's various missions directly from headquarters.  A lot of the ceremonial aspects of the Minister's position have been undertaken by the head of the People's Security/KPSIF Political Bureau, Col. Gen. Ri Pyong Sam, who presided over a ceremony at which the MPS University was renamed after KJI and two awards ceremonies for KPISF personnel killed on duty.  There have also been rumors in Pyongyang implicating members of Ri Myong Su's family in malfeasance in their foreign trading corporations.  If Ri was removed from office, it would indicate that Kim Jong Un continues to consolidate his power by making its own personnel appointments, in lieu of keeping Kim Jong Il's old retainers.  It should also be noted hat Gen. Ri has also held senior positions during the DPRK's three nuclear test.  In 2006 Ri was serving as Chief of the KPA General Staff Operations Bureau.  In 2009, Ri was director of the DPRK National Defense Commission [NDC] Administration Department.  In 2012, Ri was Minister of People's Security, which, according to some researchers. controls some of the units responsible for major construction and engineering projects at the P'unggye-ri Nuclear Test Site.
South Korean official and media sources have also previously provided conflicting information about Ri's alleged replacement, Choe Pu Il.  Choe has served as Vice Chief of the KPA General Staff since 2009.  However some ROK sources have identified Choe also concurrently serving as Chief of the KPA General Staff Operation Bureau, and other ROK sources have claimed that Choe commanding the IX Army Corps or serving as regional commander of KPA forces in what be termed it Northeast Military District.  This does not preclude Choe from being appointed to People's Security, and his career history reveals ample criteria for his potential appointment.  And yet, previous information from ROK sources about Choe's position within the DPRK 's national security community has been inconsistent and highly speculative.
Pyongyang watchers also may recall that back in November 2012, VMar Kim Jong Gak was quietly removed from serving as Minister of the People's Armed Forces and replaced by Gen. Kim Kyok Sik.  This led country watchers to speculate as to whether VMar Kim was part of an ongoing purge, or if he was dismissed because of allegations that one of his sons had attempted to defect via China.  Although Gen. Kim Kyok Sik's appointment as the country's defense minister was later publicized, it hardly affected Kim Jong Gak's political standing and he has made a number of public appearances, including at so-called #1 Events with Kim Jong Un.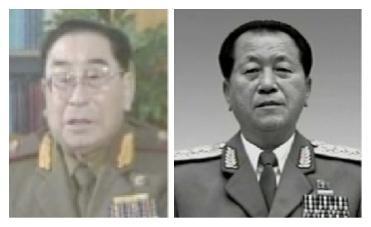 Previous Minister of People's Security Paek Hak Rim (L) and Ju Sang Son (R) (Photos: KCTV screengrab and KCNA)
There have been numerous occasions in the past in which a senior official is seen at an event close to The Center, or continues to make public appearances, even though they've already been marked for dismissal.  Often these have involves the more opaque maneuverings within the Party Central Committee and DPRK Government.  However the Ministry of People's Security, and particular the individual serving as Minister, operates (in very relative terms) transparently.  Gen. Ri Myong Su's three predecessors as Minister were all publicly removed from office and their replacement publicly announced.  In July 2003 the Minister of People's Security Paek Hak Rim was removed (due both to political reasons and old age) from office by an order of the Supreme People's Assembly [SPA] Presidium.**  His replacement, Choe Ryong Su, was immediately announced.  Choe Ryong Su's tenure was short-lived.  Barely a year after his appointment Choe was replaced by Gen. Ju Sang Song, then-commander of the IV Army Corps.  Gen. Ju had a lengthy tenure, serving as Minister for nearly seven years.  In March 2011 Gen. Ju was publicly removed from office by an order of the NDC "due to his illness."  On 7 April 2011, Ju was replaced by Gen. Ri Myong Su through an order of the NDC (to which People's Security is subordinate) and ratified by the 4th session of the 12th SPA held the same day.
Filed under: 12 February 2013 Nuclear Test, 2007-2010 kpa management, Administration Department, Central Committee, Central Military Committee, central party life, Col. Gen. Ri Pyong Sam, colonel general, critical infrastructure, DPRK Cabinet, DPRK Civil Defense Forces, DPRK External Relations, DPRK Intelligence Community, DPRK Legal System, Gen. Choe Pu Il, Gen. Ri Myong Su, gsd, gsob, internal security, Jang Song-thaek, Kim Jong-un, Kim Sol Song (Kim Sul Song), KKH, Korean People's Internal Security Forces, Korean Workers' Party (KWP), KPA construction battalions, KPA construction brigades, KPA General Staff, kpif, Kwangmyongsong-3, Minister of People's Security/KPISF construction units, ministry of people's security, Ministry of People's Security engineering units, Ministry of Public Security, Mokran House, National Defense Commission (NDC), NDC Administration Department, nuclear weapons, Operations Bureau Department 10, Political Bureau, Supreme People's Assembly, Unha-3 Carrier Rocket, Working Organizations