Not Your Everyday Thrift Store Find –
By Alexandria Cannito for Glamourdaze
For many women it's important to show off an outfit that not only turns heads, but is unique in its own right. While some opt to shop at their favorite modern fashion outlets, others go to a place you would least expect to find a piece that outshines others; the thrift store.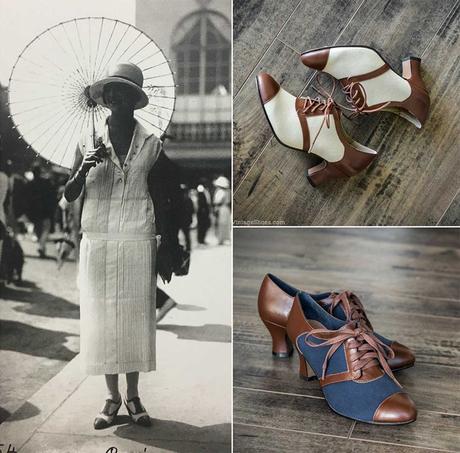 Left: Evelyn Oxfords in the 1920s or 30s Right: Evelyn Oxfords created by Royal Vintage
Imagine walking into your neighborhood secondhand store, on the hunt for a vintage item you can add to your wardrobe. Isle after isle, sifting through clothes and accessories, the search for that perfect classic addition isn't always easy to find. And then there it is, the unique item you've been searching. While some people enjoy showing off their authentic vintage finds, others are looking for that fresh out of the box item that embodies a classic look. I suppose that's how Lauren Stowell and Abby Cox came across the idea for Royal Vintage Shoes.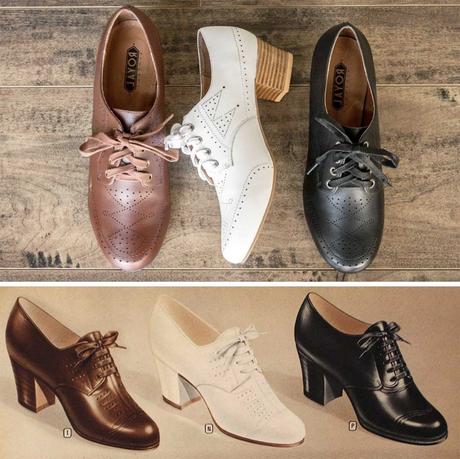 Top: Reproduction "Claire" Oxfords created by Royal Vintage Bottom: Original advertisement for oxfords from Wards 1947 courtesy of Vintage Dancer
This entrepreneurial duo challenges you to ditch the thrift store digging and step into the past with new shoes. Inspired by old department-store advertisements, Stowell and Cox are successfully recreating the glamour and practicality of the 1920s, 30s and 40s through shoes.
Both women have extensive knowledge in historical wear, allowing them to bring the most accurate replication of historic shoes to life. Before creating their "Claire" oxfords, the pair found an original early 1940s "Academy Girl" oxford in their study archive, serving as a model for their take on the classic look.
From their flappers and freedom inspired 1920s shoes, to the playful 1930s vintage shoe line and pragmatic women's shoes of the 1940s, the footwear line brings to life looks that died with their decade. Revive history while being the life of any party with Royal Vintage shoes.
That's all !
©Glamourdaze 2017