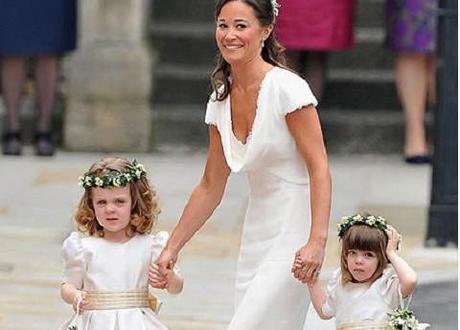 Pippa Middleton. Photo credit: chicagofabulousblog, http://flic.kr/p/9D1XZ1
Royal bridesmaid extraordinaire Pippa Middleton is to be the subject of a US documentary. Middleton – or "Her Royal Hotness", as feminists like to call her – hit the headlines after she served as maid of honour to her older sister Kate at the Royal Wedding. Much of the attention focussed on her figure: a Facebook group dedicated to her derriere has 238,000 followers. There has been considerable speculation surrounding her relationship with brother-in-law Prince Harry; the documentary will apparently explore this in detail.
Crazy about Pippa? According to The Metro, documentary Crazy About Pippa will contain revelations such "her new brother-in-law Prince Harry refers to her as a 'foxy filly'." This should set tabloid pulses racing: after pictures emerged of Harry laughing with Middleton at the wedding, a raft of stories appeared suggesting they were dating, many of which were based on statements from that old favourite, "an unnamed source". "Foxy filly" is not, apparently, Prince Harry's only nickname for the younger Middleton: he also allegedly calls her "Commando", in reference to her fondness for the 1985 film starring Arnold Schwarzenegger; that, or the suggestion that she neglected to wear underwear at the Royal Wedding; one of the two. The advance material for the programme also promised that "those closest to Pippa provide insight into the life and work of the future Queen of England's sister" – presumably, "those closest to her" meaning, in this context, "saw her once at a party". The documentary is set to air on cable channel TLC, characterised by Jezebel as "the freakshow network". Jezebel also objected to the term "documentary" to describe All About Pippa, preferring  "sensationalist money-grubbing spectacle conceived by opportunists". But "documentary" is easier to type.
"Did Pippa Middleton's bottom crash our economy?" asked Richard Godwin.
Pippa power. Such is the influence of Middleton that "Pippa" has shot up in popularity for baby names. And it doesn't stop there: after reports that Middleton's toned behind was the result of Pilates sessions, her instructor has signed a book deal; the resulting tome will provide "a complete programme that's easy to incorporate into your daily routine". If that sounds too much like hard work, there's always surgery: a plastic surgeon has told Fox News that the "Pippa Butt Lift" is the latest craze in the US. But not everyone believes Pippa's powers are a force for good: writing in The Evening Standard, Richard Godwin asked, "Did Pippa Middleton's bottom crash our economy?"
"So bad it's awful, toe-curlingly, teeth-furringly, pillow-bitingly ghastly." The Guardian.
Girls on film. This is not the first film to arise from the coupling of the Duke and Duchess of Cambridge. William and Kate: The Movie, described as "so bad it's awful, toe-curlingly, teeth-furringly, pillow-bitingly ghastly" in The Guardian, was released in time for the Royal Wedding. And apparently another William and Kate-inspired romance flick will be coming soon – this time with 100% more Princess Diana.