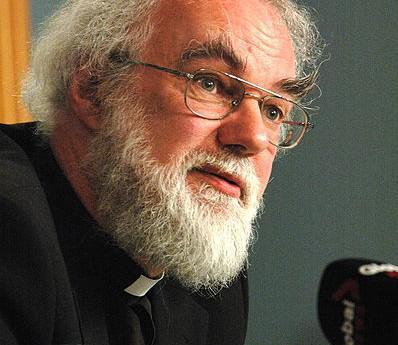 Dr. Rowan Williams, Archbishop of Canterbury. Photo credit: Brian
Dr. Rowan Williams, the Archbishop of Canterbury and the spiritual leader to more than 77 million Anglicans worldwide, announced on Friday that he will be stepping down at the end of this year. Williams, according to a statement released on his website, will be taking up the post of Master of Magdalene College, Cambridge, effective January 2013.
The decision has not come as a surprise – several commentators flagged up the fact that Williams, 61, never really wanted the position he's held since 2002 at all. In a statement, Williams claimed that it has been an "immense privilege" to serve as Archbishop and that moving on "has not been an easy decision". But was it?
The "reluctant" Archbishop. Though Church members will be saddened, shocked, even bereaved at Williams' departure, the BBC's Robert Pigott acknowledged, it should come as no surprise that he's leaving. "Rowan Williams never wanted this job. He was a reluctant Archbishop of Canterbury. But he came into office feeling he was called to a job, but one there were few candidates for."
Complicated legacy. Williams, who sought to recapture the national imagination on Christianity, leaves behind a complicated legacy at best, Nelson Jones at The New Statesman observed. "During his tenure as Archbishop of Canterbury, Rowan Williams has pulled off the rare feat of being controversial without being particularly outspoken. His most memorable interventions — such as his notorious 2008 speech which appeared to suggest that the recognition of Sharia law in Britain was both inevitable and right — have been couched in abstruse and often equivocal language. He has perfected the art of sitting on barbed-wire fences, seeming almost to find the resulting discomfort a source of intellectual and moral inspiration." When he is on, his contributions to the national dialog are "insightful and even pointed". "But a man whose theology has always been characterised by nuance and ambiguity, who tends to see eleven sides to every question, has never looked comfortable in a public arena that prioritises confrontation."
Richard Dawkins versus Rowan Williams

Gay marriage fight a factor? Probably. The decision comes as the Government set out a proposal for allowing gays and lesbians to seek a civil marriage in the UK, a move that the Church of England vehemently opposes. Said The Daily Mail, "Dr Williams' tenure has been marked by a bruising war between liberals and traditionalists in the Church of England and the wider Anglican Communion over the issue of homosexuality." Williams has long claimed that the law has no right legalise same-sex marriage; the BBC's Pigott also flagged up the fact that this fight, among other disputes, has "dogged" Williams' tenure. And Jones at The New Statesman claimed that though it might not be his fault, Williams leaves a Church "at least as riven on questions of sexuality and gender as when he was appointed a decade ago".
First black Archbishop? The odds-on favorite to take over for Williams is John Sentamu, the 62-year-old Archbishop of York, which would make him the first-ever black Archbishop of Canterbury. Ugandan-born Dr. Sentamu, The Daily Record noted, is famed for his dramatic and very visible protests, including cutting up his clerical collar in protest of Zimbabwean President Robert Mugabe's rule on live television in 2007. Sentamu agrees with Williams on the subject of gay marriage, and even went further, claiming that UK Prime Minister David Cameron would be a "dictator" if he pursued legalizing same-sex marriages; statements like that have earned him a reputation for being too right-wing. Moreover, that he is the favorite almost certainly means that he won't be chosen, Jones claimed at The New Statesman: "There are signs of an advanced 'stop Sentamu' campaign already." One thing's for sure, however – it probably won't be Giles Fraser, Canonc Chancellor of St. Paul's who famously resigned after a disagreement with officials over the Occupy LSX camp.