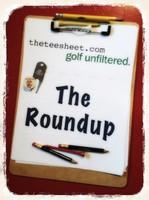 MICKELSON LOOKS COMFORTABLE BOTH SCRAMBLING AND IN FRONT OF CAMERA
Now, there is the constituency that doesn't like Phil or for some reason thinks he might have a bit of David Simms in him. I don't think so. Here's a great video of Phil just being Phil. First good thing is his acknowledgement of not ever really saying before that "priority one" was just trying to put the ball in play (with the 3-wood). Of course the best part is the unscripted lesson he give on how to hit a shot off the golf cart. Without just a little prompting, he dives right in by first asking the truck to "pause it for one second Tommy" so he can go into more detail. It was funny and we essentially learn not open the clubface and expect it to fly further (about 5 yards) than normal.
Maybe it is possible to like both Tiger and Phil. It's hard to believe it has already been 8 years (i.e. 1/3 of Rory's life) since that great finish at Doral between the two.
Phil looks comfortable in his skin right now and when I picked up my Golf magazine today, I noticed Johnny Miller has him as his favorite to win The Masters this year.
THE BLUSTER MONSTER
There's no doubt that the players can score at Doral and there seems to be a little less monster on the Blue course. Well-respected Gil Hanse has been hired by the new owner Donaly Trump to redo the course, which is a good sign. Hanse is thoughtful and he is not only about length - as seen in his excellent use of short par-fours (e.g. the redo of TPC Boston). The Donald himself in his usual understated style has referred to the renovations as "blowing up" the Blue Monster. 
From a strict business standpoint, there is an argument that it seems foolish to change Doral because although the scores are low, it produces great champions every year. Most importantly, the current Dick Wilson design is good for Tiger who has won on the course three times (twice as the Ford Championship and once as a WGC event). Who wouldn't want to be a tournament in which Tiger is always in contention. Since the WGC moved to Doral, Tiger has not been outside the top 10 aside from his withdrawl last year. It is like a free advertising every year for your course if Tiger or Phil or both are in the hunt on the weekend.
Think about the WGC Accenture Match Play, ever since they moved to the current course, Tiger has not made it to the weekend yet. Mickelson has also never made the weekend on that course ... wait, what's the name of that course again? Exactly.
Of course it could be perfectly noble and golf-related reasons to make the changes. It is just that with The Donald, one should be cautious of his motivations. Some have argued that he has in sports taken something pretty good and destroyed it trying to make it bigger and better.
Mike Tollin's great 30 For 30 documentary "Small Potatoes: Who Killed the USFL" is fun and a fascinating look at the USFL and what motivates Trump (in case you have any doubt as to what that could be).
Of course golf, golf-course design, golf tradition and history cannot simply be purchased and acquired by willpower (which, it turned out, also happened to be true of football). Even so, it is not possible to assume there are not other strategic calculations behind Trumps moves. Behind these changes is a desire to host a Major or a Ryder Cup.
It is unlikely Trump's approach to business and promotion is a threat to what we like about the PGA Tour. That said, there is always a danger when there is a vacuum where there should be leadership. Let's just hope he doesn't think Doral and the WGC events are "small potatoes."
A young Trump has a strikingly similar look and hairdo to someone else who has a history with the potato. I'm certain Mr. Trump is a better speller.
TRACKING BEARS AND TIGERS
This very cool stat has been making the rounds this week -- essentially putting Jack and Tiger at the exact same number of Major wins at 14 and each having had 60 starts. Of course Tiger has been shut out for several years so his trajectory is not looking quite as good.
One of the benefits of the Vijay Singh vs. Barry Bonds analysis is that we now have some handy charts and data to compare career trajectories. Here's a look at Tiger vs. Jack.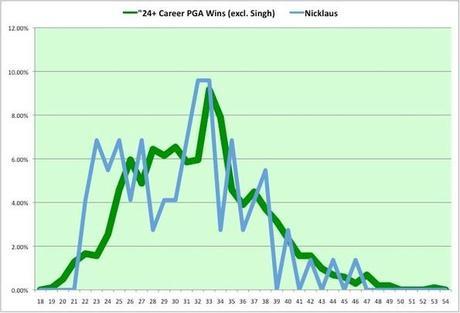 Jack Nicklaus: PGA Tour Wins as a Percentage of Career Wins by Age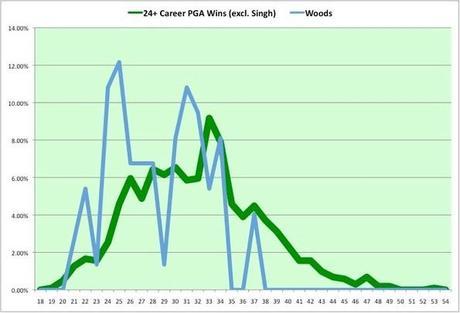 Tiger Woods: PGA Tour Wins as a Percentage of Career Wins by Age
There are a couple of things worth noting. First, Nickalus' career shows a remarkable similarity to the career trajectory of the aggregate of all the other great players (excluding Singh). Granted, his own numbers help form the chart for all players. Also, both Tiger and Jack share a trait of starting their winning ways at a young age. It is one of the aspects that sets them apart from the other greats.
Looking at these charts, there are a couple ways to look at Tiger's chances of catching Jack. Firstly, Tiger's fall off has been much more precipitous than Jack if you look at their PGA Tour wins between ages 34 and 37. Tiger is not winning at the rate Nickalus was in comparison to his career right now. This is without even taking into account that Woods' chart will flatten somewhat as he wins a few more events over the next several years (i.e. the percentages will go down and his line will flatten somewhat on this chart as he adds more wins).
Alternatively, one could argue that Woods' injuries and personal issues from 2008 to 2010 are an anomoly and akin to a hiatus. Tiger's career trajectory right now would look a lot more like Jack's without his time away from golf. Thus, Tiger, like Jack, will have the smooth decline over the next 5 years and some of those wins could easily include several Majors.
Douglas Han