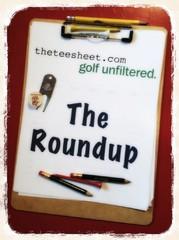 CHAMBLEE HONESTY
There is nothing like a professional athlete that is self-aware and a decent writer. Take this great read from Brandel Chamblee about when he was at the Masters and felt like the best player in the world.
It is cool to read about the feeling he had at that moment in the middle of the fourth round like he knew he was going to win ... only to be humbled. It is fascinating to look into the mind of the player looking back at a moment that has stuck so vividly. It is also interesting to see the confidence a professional can have at a moment in time. We've all had that feeling to some degree on the course when we just know we're on (relative to our skill).
The context was more significant for Chamblee. This was his first and only Masters. At that time in 1999, he was a player that had only made the cut in 1 out the previous 9 times he managed to play in a major. In fact, Chamblee had only qualified for 5 majors over the prior 6 years missing the cut each time. He hadn't made the cut in a major for 12 years! (the 1987 British Open). Yet he had the feeling he was going to win.
Great piece and you should check it out.
BEER AND THE CREATION OF CIVILIZATION
Anthropologically, you should now feel obligated to have that beer at the clubhouse after your round (or perhaps a bit earlier ... say, the 3rd hole).
An interesting NY Times article this weekend suggests beer played a big part in the creation of civilizations referencing a paper published in The Journal of Archeological Method and Theory. The Times article notes:
With the help of the new psychopharmacological brew, humans could quell the angst of defying those herd instincts. Conversations around the campfire, no doubt, took on a new dimension: the painfully shy, their angst suddenly quelled, could now speak their minds.
 ...
Some evidence suggests that these early brews (or wines) were also considered aids in deliberation. In long ago Germany and Persia, collective decisions of state were made after a few warm ones, then double-checked when sober. Elsewhere, they did it the other way around.
Beer was thought to be so important in many bygone civilizations that the Code of Urukagina, often cited as the first legal code, even prescribed it as a central unit of payment and penance.
Part of beer's virtue in ancient times was that its alcohol content would have been sharply limited. As far as the research has shown, distillation of alcohol to higher concentrations began only about 2,000 years ago.
Well, we all know at the 19th hole, beer is often the central unit of payment (lost bet) and penance (hitting into the group ahead of you). Graham Mcdowell showed this week he knows his way around a pint.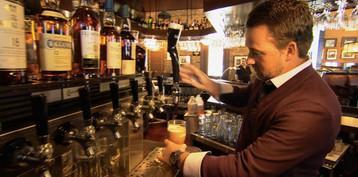 Sadly of course, the alcohol content seems to be going back to the lighter ancient times. Some may argue the onslaught of light beers followed by even lighter semi-beers like Michelob Ultra and perhaps even worse, Miller 64, is evidence of the coming downfall of civilization (and I'm no beer snob seeing that I consider the High Life the Champagne of Beers). That said, it should also be noted that, scientifically, light beer is amongst the most difficult to brew). 
Some golf courses are fighting back claiming increased sales with craft brews.
Of course, one need only look at the 16th hole at the Phoenix Open to see the significance of beer to some aspects of golf (although which direction this is pointing civilization is debatable). 
The point is this: beer helped create civilization and it sustains golf. When the bill comes at the clubhouse, just pass it along to the losing player and refer to the Code of Urakagina.
STACEY LEWIS WINS AND RISES TO NUMBER ONE
Congratulations to Stacey Lewis for winning the RR Donnelley LPGA event this weekend and earning the number one ranking in the world. Lewis shot an impressive 64 on Sunday with birdies on 4 of the last six holes. She will likely become the first American to hold the title for more than several weeks (Christie Kerr has held the number one ranking three sepearate times for a total of 5 weeks).
Lewis' rise is impressive because it is relatively late in her career for women's golf. Her early life was made difficult by scoliosis and having to wear a back brace until she was 17(!), When they make the movie, Lewis can be played by the spawn of Helen Hunt and Amy Poehler.

To illustrate how Lewis rise was relatively late, consider all that players that have achieved the number one ranking and held it for at least 10 consecutive weeks. She is the oldest except for Annika Sorenstam: Yani Tseng (age 22 for 109 weeks); Jiyai Shin (age 21 for 15 weeks); Ay Miyazato (age 25 for 10 weeks); Lorena Ochoa (age 25 for 158 weeks); and Annika Sorenstam (age 36 for 60 weeks).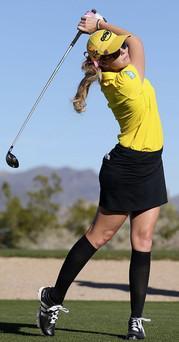 In the case of Sorenstam, this is only because they only created the world ranking back in 2006. Practically, Sorenstam was the best player when she burst on the scene at age 24 winning the US Open and then two more events in 1995 en route to 72 LPGA wins including 10 majors over the next 14 years.

At the risk of being sexist (granted, I acknowledge it is usually too late once you let out that nugget), one of the more notable aspects of the opening round of the RR Donnelley LPGA tour stop this past week was Paul Creamer's outfit on Thursday [additional proof was that it was the only tournament-related golf email/text from any of my golf-pals on Thursday]. I'm all for sexing up the game (men and women) to make it more fun to watch. While it remains to be seen whether pure sex can actually sell golf equipment, attractive players in cool outfits can't possibly hurt ratings. It was clear that The Golf Channel felt the same way because they stayed with Creamer for most of the afternoon.
RATCHETING UP THE SEXY: TAX LAW AND THE RULING FOR SERGIO
In the world of tax law, it appears winning majors did not carry as much weight as personality. That was good news for Sergio Garcia.
As a recovering tax lawyer, tax news and golfers always catch my eye. Phil Mickelson would surely be proud of Sergio Garcia for a partial to significant win over the IRS. This was a case about the IRS attempting to tax his endorsement deals. 
While Sergio Garcia did not win the case outsight and indeed there was tax payable, it was less than the IRS wanted. If Sergio was getting reasonable financial planning advice, there was a decent chance he already paid in a portion of the amount so that not to much interest accrued.
Ultimately, it came down to how to characterize and allocate Garcia's significant Taylor Made/adidas endorsement deal: was it personal services (taxable in US in this case) or  royalties for using his likeness (not taxable in US in this case). The IRS claimed it was all personal services and thus 100% taxable (for a tax bill of about $1.7 million).  El Nino's counsel argued the non-taxable royalty portion was 85% (as written in the contract). The Tax court ruled 65% of the deal was a royalty (and thus non-taxable in the US). Many observers consider it a win for Garcia and other professional athletes. Reteif Goosen (there's a personality that screams tax law btw) had a similar case several years back that the Tax court decided was only 50% royalties. Thus, Garcia did better than Goosen, despite Goosen's records in majors. All in all, it actually does make sense because Garcia is clearly more popular than Goosen and his likeness in advertising is surely more valuable.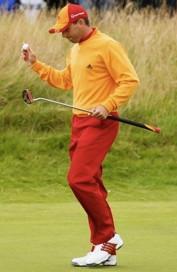 Not exactly Swiss colors
The best summary is in Forbes by Tony Nitti.
What is interesting is that Garcia did not have to pay any tax on the 65% royalty fee because he is probably a resident of Switzerland - although we all know about his loyalty to Spain. A quick glance at the US/Spain and US/Switzerland tax treaties suggests the US could still get at least 5% tax on the royalties if Sergio lived in Spain compared to no tax at all by the US on royalties under the Swiss treaty.  (I haven't read the case so I suppose it is possible Sergio has a company in Switzerland that licenses out his likeness and services). Mickelson and tax advisors take note!
In case all this tax talk has put you to sleep, Sergio himself has used golf, personality and sex to sell beer ... alas, extremely light beer.
VONN AND  TIGER AT SEARS PHOTOSHOOT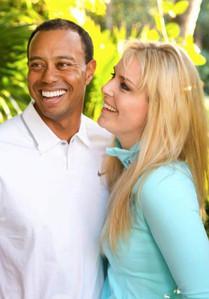 Well, it appears official that Tiger and Lindsay Vonn are an item. Tiger and Vonn both acknowledged the relationship on Facebook. They also simultaneously released several photos that appear to be out-takes from their model-shoot for the Sears spring collection (for those of us who were young boys prior to the advent of the Internet, you know I am in no way mocking the models of the Sears catalogue).
It is good to know Tiger has been playing so well in this relationship. We said it here first: Tiger being with another ultra-competitive person would be good for him.  Vonn after all is the greatest American downhill skier of all time. She can also point and laugh at Tiger's injuries, grimacing and limping to a golf cart compared to having to be airlifted to a hospital.
Vonn is out for the season with an injury after this crash earlier in February. She tore both anterior cruciate and medial collateral ligaments. Bonus: she and Tiger can talk knee repair and the benefits of platelet rich plasma therapy, if any. 
Tiger always seemed to seek out other hyper-competive people whether it was Sorenstam or Roger Federer. As we said before: good for Vonn = good for Tiger = good for golf.
Douglas Han