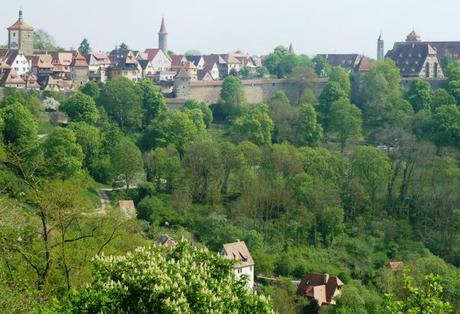 Rothenburg ob der Tauber is Germany's best preserved medieval town and also one of the key attractions along Germany's famed Romantic Road.  The Romantic Road follows a medieval trading route leading through medieval towns and villages and rolling hills landscape peppered with fields and forests.  Like most medieval towns, I believe that Rothenburg ob der Tauber is best explored by foot.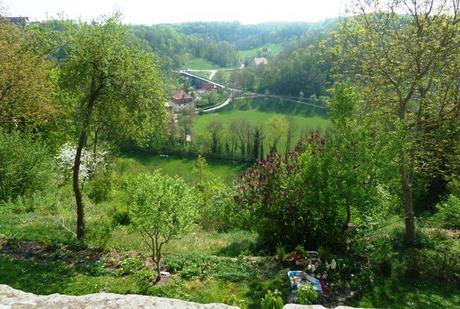 The nicest views from the walls in Rothenburg can be found along the west side of the town.
For me, the allure of exploring a medieval city is experiencing the city itself.  I am quite happy to wander through a town knowing the gist of the town's history and on most occasions do not feel the need to know every little detail about every single historic building.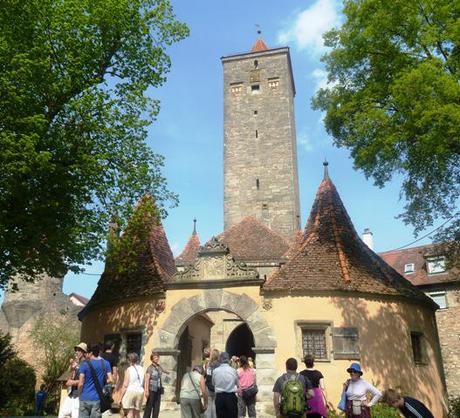 Towers are found at regular intervals along the wall in Rothenburg ob der Tauber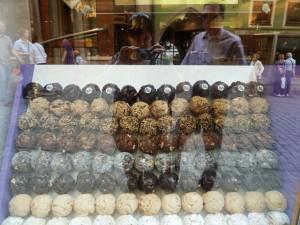 Schneeballen (snow balls) a local speciality.
Perhaps this is why I enjoyed Rothenburg ob der Tauber so much.  It's a walled town and you can walk the entire circumference of the wall which is interspersed with watch towers at frequent intervals (the Town Hall Watch tower offers the best view in all of Rothenburg ob der Tauber).  We only walked part of the cities walls since I was still on crutches from knee surgery, but it was still easy to entertain ourselves with one of the numerous cafes, gelato shops and restaurants that line the historic cobble stone streets.  Rothenburg ob der Tauber is also famous for Schneeballen – large balls of dough covered in sugar powder.  I like to think of it as the German version of an American donut, but not as tasty and more filling.  I left Rothenburg ob der Tauber very full, but very satisfied.
If Rothenburg ob der Tauber looks familiar to you even though you haven't been there, it  may be because have seen it in a movie theater.   The village shown in the Walt Disney movie Pinocchio is based on Rothenburg ob der Tauber and parts of Harry Potter and the Deathly Hallows, were filmed here as well.  The city can also be seen in a popular Japanese animated film, just to mention a few of Rothenburg ob der Tauber's cinematic claims to fame.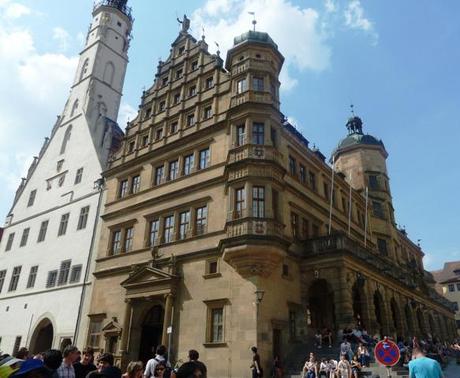 Rothenburg Town Hall and the Market Square
Despite my preference for just experiencing a city, we did sign up for the 90 minute tour in English which is offered at 2:00 everyday starting in the Market Square, and did a good job of bringing the town's walls to life.  I particularly enjoyed learning that in medieval times the town gate closed each night and if you were on the outside of the gate you were sleeping outside the gate – cold and unprotected.  Unless of course you pleaded your case to the Night Watchman, who then contacted city officials to decide your fate for the night.   There is also a tour with the Night Watchman offered everyday at 8:00.  Both tours run  from April 1st – October 31st.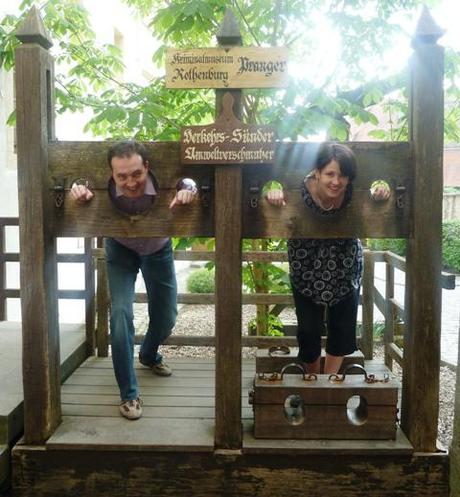 The Medieval Crime Museum was closed when we arrived, but at least we still got a cheesy photo.
After our tour, we stopped by the Medieval Crime Museum (Mittelalteriches Kriminalmuseum), but unfortunately they just closed the doors as we were about to enter.  It turns out the entrance closes 45 minutes before the museum's closing time.   Our condolence prize was the Christmas Museum (Deutsches Weichactsmuseum)  -  0n Easter Sunday.  The irony was not lost on me and perhaps that's why we were the only ones in the Christmas Museum, although the Christmas store located in the same building was surprisingly quite busy.  I  quite enjoyed the Christmas Museum, much more than the Easter Egg Museum we had visited last week, although  J.P. (my German fiance) thought it was "kitschy."  I found it was informative and the exhibits well presented as they explained the history of Christmas traditions (in both German and English signs).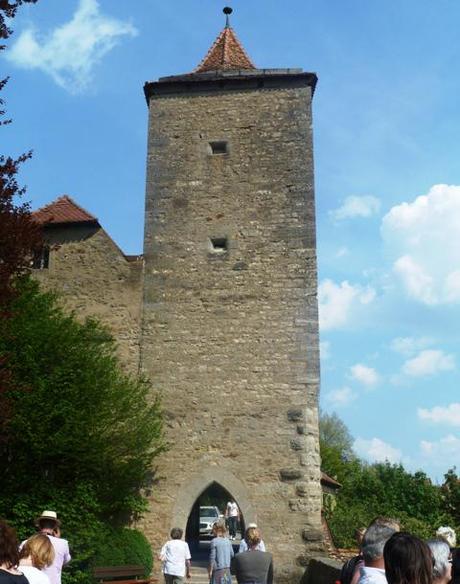 We visited Rothenburg ob der Tauber on Easter Sunday and it was packed.  Surprisingly a lot of the shops were open as well, which even surprised J.P. since normally everything would be closed, tourists or not.  Despite it being touristy, I still really enjoyed it and Rothenburg ob der Tauber is popular for a reason – it is the best preserved medieval city in all of Germany.  The city is not really close to anything so unless you happen to be traveling the Romantic Road, you have to make a bit of an effort to get there, which I personally like. Rothenburg ob der Tauber is 150km northeast of Stuttgart, or 240km northwest of Munich.  The nearest city is Nuremberg, just over 100km east of Rothenburg ob der Tauber.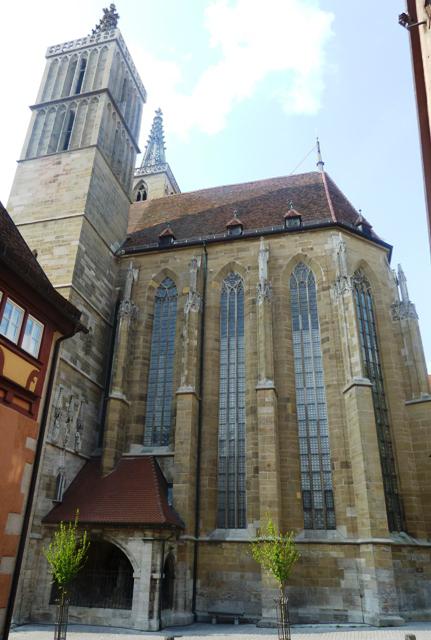 St. Jacobs Church, a popular landmark in Rothenburg ob der Tauber.
Rothenburg ob der Tauber has other museums and St. Jacobs Church i s a must stop for many tourists.  Besides being a massive church dating back to 1311, it is also famous for the Holy Blood Altar (Heilig Blut Altar)  named after a relic, a drop of Christ's blood, which turned the town into a pilgrimage in medieval times.  As interesting as this is, for me the real highlight of Rothenburg ob der Tauber was the walled town itself and well worth a 150km drive from Stuttgart.
For more information see:  Rothenburg ob der Tauber Tourist Information
If you are interested in Rothenburg ob der Tauber you may also be interested in another medieval city:  My Favorite City in Germany That You Probably Haven't Heard Of