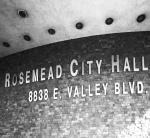 A small controversy regarding whether or not the City of Rosemead would be charging a fee for residents to attend its State of the City address was put to rest at Tuesday's City Council meeting.
During public comment, Rosemead resident and community activist Jean Hall took issue with an article published by the Rosemead Reader on Tuesday, May 15, entitled "If you want to know about the state of Rosemead, you're required to pay between $15 and $20."
"I took issue with the way the title of this column was written," Hall reported to the Rosemead City Council. "And it said, if you want to know about the state of Rosemead, prepare to cough up some green bucks."
The article in question was penned by the Reader's news editor, Terry Miller. His initial reaction to the city's announcement of the event raised a very important question over public access to local government information: At what cost?
"While every other city in the San Gabriel Valley offers its residents free State of the City information and updates on an annual basis, the City of Rosemead wants you to cough up $15 for that privilege," wrote Miller. "You do, however, get lunch apparently."
The announcement, via the city's web site at www.cityofrosemead.org, reports "tickets are $15 for residents and $20 for individuals/non-residents, which includes lunch. This event is open to the public."
However, Mayor Sandra Armenta said the announcement was never meant to read as if citizens would have to pay for information on their own city. She clarified that there are no costs associated with attending the event. However, there is a fee for lunch that is designed only to cover the cost of the food.
"So anybody out there who is not able to pay the $15, whatever the reason is, we do have room available for them to come and sit," Armenta said. "It's not that we are trying to be exclusive, we're just trying to pay for the food."
This reporter had actually confirmed this point with Gloria Molleda, Rosemead City Clerk, before the start of the meeting Tuesday. However, it was truly moving to witness that rare display of civic pride embodied in Jean Hall, who passionately brought the issue to the city's attention that night.
"I was just taking exception to how (the article) was worded, and I would certainly respectfully ask for a little more gentle wording to some things," said Hall. "The information was there to get people (interested) so they knew of what we were going to have and when, but the fact that it was sounding like we had our hands in everybody's pocket — I resented that."
While reiterating that the fee only covers the cost of the lunch, Councilmember Steven Ly also noted that the event can be viewed at anyone's convenience on the city's web site if they are unable to attend the State of City address, which takes place 11:30 a.m. Wednesday, June 6.
To recap the announcement, Mayor Sandra Armenta will present Rosemead's State of the City address at a luncheon hosted by the City of Rosemead and the Rosemead Chamber of Commerce on Wednesday, June 6th, from 11:30 a.m. to 1:30 p.m., at the Garvey Community Center, 9108 Garvey Avenue in Rosemead.
Armenta will provide a pictorial tour of the many recent improvements to Rosemead's community, while also providing a look at projects being planned and an overview of Rosemead's 2012-13 Strategic Plan. She will also share some of the challenges the city faces.
"So if there's anybody out there that really wants to come, who is unable to pay the price (for lunch), just give me a call and I will get you a seat," Armenta told the public at Tuesday's meeting.
To reach the Mayor of Rosemead, you can call her at (626) 676-3965 or send her an e-mail at [email protected]