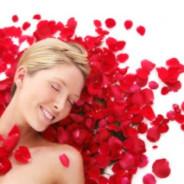 Rose water improves blood circulation and promotes hair growth. It can be used as a conditioner as it revitalizes the hair.
Rose is widely associated with the beauty. In lots of beauty products rose oil and rose water are used. Rose water is the byproduct of the rose oil. Every Indian home offers the rosewater in their houses. Below are the beauty benefits of rose water.
Every woman dreams to possess healthy, strong and beautiful hair. Rose water is a nature's gift which can make this dream become a reality. Rose water improves blood circulation and promotes hair growth. It can be used like a conditioner as it revitalizes the hair.
It helps controlling dandruff and inflammation. It boosts the scalp and health of the hair, and means they are strong and flexible with minimum breakage.
Hair Quality and Strength
For improving the hair quality, rose water can be put on the hair, just like any oil. Simply make a mixture of glycerin and rose water in equal quantities after which apply it on your scalp. With your fingertips, massage your scalp gently. Leave the mix on your hair for about half an hour after which wash off with a mild shampoo. This home remedy will nourish, moisturize and strengthen your hair, if undertaken once every week, for four to five months.
Dandruff Control
Rosewater is considered to be a very good Dandruff controlling technique. It not just helps with the dandruff but also with inflammation. It improves the health of hair, and scalp. Rosewater also makes hair strong. Another approach to prevent dandruff is mix rosewater with glycerin or fenugreek powder and apply it on the scalp. This will help you in preventing dandruff.
Conditioning and Moisturizing
There are a number of ways by which rose water can be used on hair. As it is believed to have conditioning and moisturizing properties, simply mix a little amount in your regular shampoo and wash the hair as always. This would make your hair soft, shiny and smelling great. Besides as being a good hair moisturizer, the soft, lingering odor of rose, that comes from the hair, will keep you refreshed throughout the day.
Hair Growth
Although, there is no scientific evidence backing it, yet, it is stated that rose water promotes hair growth. Simply shampoo the hair as always and after that, pour half a mug of rose water on your head. This will boost the supply of blood to your scalp, which strengthens and nourishes the hair follicles and therefore increases the hair growth. For those who are suffering from any type of inflammations on the scalp, this is an excellent remedy, as rose water may possess therapeutic and healing properties as well.