I hope you all are safe and at home during this tough time. With this free time am using up most of the skincare product. I have used them sufficiently and then review for you all so that you can make some informed decisions about what to pick and what to not. Today I will be reviewing Roopmantra face pack for you which I have been using since 4 weeks. Let's see what the product claims to do and how it fairs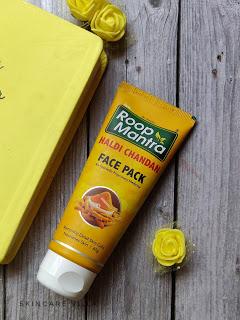 Brand claims and Ingredients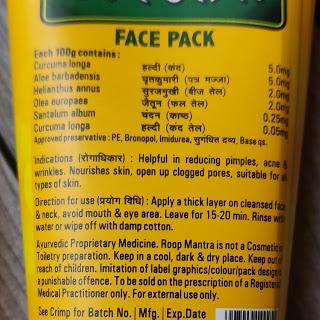 Texture, Packaging and fragrance
The packaging is normal flip cap tube which is travel friendly and spill proof. The texture of the face pack is smooth clay like but a little thick. Although the face pack glides easily on the face and is easy to wash off. The fragance of the Roop Mantra Haldi Chandan Face Pack is that of Chandan (sandalwood). The color of the face pack is beige yellow.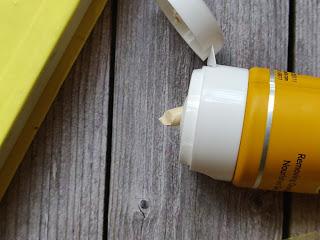 My experience with Roop Mantra Face Pack
Roop Mantra Haldi Chandan Face Pack is fortified with herbs like turmeric, aloe vera, chandan. I use Roop Mantra face pack once or maximum twice a week. The face pack has nice smooth consistency which makes the application easy even with a brush. The product has a little strong fragance of chandan and may not go well with people who use fragance free products.
The Roopmantra Face Pack promises to reduce acne, pimple and scars. I have used a thin layer of face pack when I had some small zits and it reduced the size of small zits in one use. The face pack tingles a bit and dries up super quick. I have made it a conscious effort of applying a thin layer of any face pack which contains clay. So after applying a thin layer of Roopmantra Face Pack it dries up too quickly and tightens the skin a bit. The face pack doesn't dry out the skin but can be a bit dehydrating.
The face pack gets washed off easily and gives clean, clear and glowing skin. It also reduces tan upto a certain extent although effects will be shown with regular usage. Overall speaking Roop Mantra Haldi Chandan Face Pack is a go-to face pack when you don't have much time to let the face pack dry as well as address acne. I would suggest sensitive skin types and dry skin types to stay away from the face pack. Also the product doesn't disclose full ingredients list which might be a concern for some people.
Price, Shelf life and Availability - 87 INR for 60 gms with a shelf life of 3 years. Available on major shopping portals like Amazon, Flipkart and Nykaa.
Recommendation of Roop Mantra Haldi Chandan Face Pack
Overall speaking Roop Mantra Haldi Chandan Face Pack can be an affordable yet effective go-to face pack for some people who don't have time to keep the face packs for long. It dries up quickly and also reduces small acne with regular use. Please note it doesn't prevent the acne from forming but dries them up for fast healing. It also contains haldi and chandan which are beneficial for the skin in the long run. A good budget friendly face pack for normal, combination and oily skin. Sensitive and dry skinned beauties may skip this due to tingling sensation and artificial fragance.