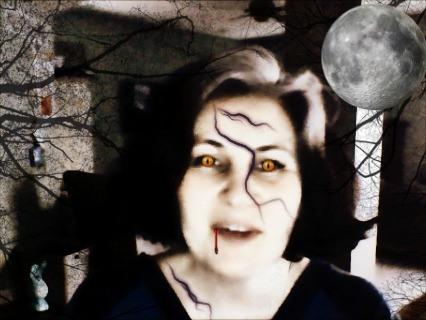 Happy Halloween! Halloween has long been my favorite holiday by far. I think it is because of my love of dressing up and pretending to be something I'm not. The thrill of it all has enticed me for years. I almost always had to be something scary, at least in my more adult life. Vampires, the Bride of Frankenstein, you get the idea.
But with autism Matthew wasn't always so interested in Halloween. I would dress him up, but I'm not sure it really mattered to him. When he was about 5 he started to show more interest in his costumes and I think that was the year he decided to be Buzz Lightyear. A year or two later he was into Agent P (aka Perry the Platypus) and I have to say I made a killer costume for that one.
Last night we were watching TV and an animated special came on. It was an adaptation of the book Room On The Broom, which I just happened to have bought recently, so the boys recognized the story. Larry Tivo'd it for us and this morning, while super excited for the Halloween festivities to begin, the boys watched it again. I was in the kitchen making breakfast and I could hear them in the family room commenting on the show.  Each was delighted with different parts of the story and I could hear them shouting out with their excitement.
Of course being the super softy that I am, I started to cry. My husband asked me why I was crying, what was wrong. I told him I was just so darn happy. For years we had wanted just such a "normal" holiday exchange. One that was so beautiful in its simplicity and how absolutely unremarkable it was. I know most moms don't understand the desire for unremarkable moments, but when EVERYTHING in your child's life is remarkable (and not in the good way, but the bad, cut you to the core way), it is so peaceful and joyous to have that bland moment of normalcy.
This year I really feel we have made it. We have recently tweaked his protocol to include GABA, L-Theanine and Pycnogenol with such amazing results. For the first time in as long as I remember I am not fearful for what the future holds for my son; or for all my boys. Halloween is the unofficial kick-off to the holiday season, and this year I'm super happy to see it coming. I want to be part because this year, we really can be part. All of us.  This year there is so much room on my broom (and in my heart) that I can see the brightness the future hold for my recovered child.