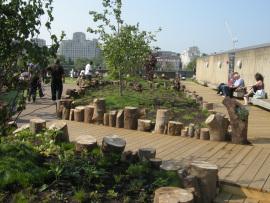 Wildlife lawn on Queen Elizabeth Hall
A set of new gardens have been created in the centre of London at the Southbank Centre. The gardens were constructed to commemorate the 60th anniversary of the Festival of Britain, which itself was a celebration of the centenary of the 1851 Great Exhibition. 
Of particular interest to us is the rooftop garden of the Queen Elizabeth Hall, which has been completed in collaboration with the Eden project. A group of fifty people, who have faced adversity in life (including many who were homeless, spent time in prison or have mental health problems) have carried out much of the work in creating this rooftop garden.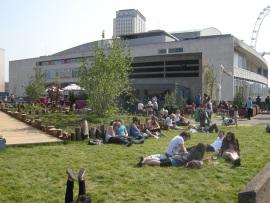 Relaxation lawn on Queen Elizabeth Hall
Paul Pulford, the gardening team's leader said:
'To be able to help to design, build and nurture the garden on the Thames at Southbank Centre with our team is, to this date, one of the biggest challenges of my life. Seven years ago, I was a broken man both physically and mentally, living on the streets with methadone, heroin and alcohol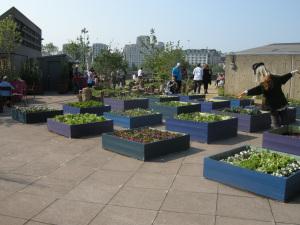 rooftop garden of the Queen Elizabeth Hall
addictions numbing the misery of my life.
'Today I am clean, employed as a Horticulture Teacher in our group, Grounded Ecotherapy, paying my own rent for the first time in 30 years and I get my hands in the earth each day, grow plants, herbs and vegetables and share my life with anyone who wants to join us '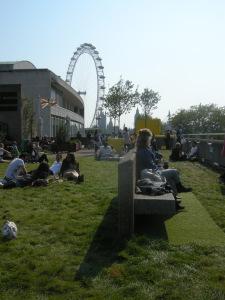 rooftop garden of the Queen Elizabeth Hall
Designed by Eden's landscape architect Jane Knight and designer Paul Stone, the garden is comprised of a central café surrounded by raised planter vegetable plots, a lawn area, a rose walk, a herb garden and a wildflower area. The wildlife area has been designed to attract wildlife to the heart of London with over 90 different types of wildflower. It also contains a rustic pergola covered in climbers leading to a bridge with drought-resistant plants growing in cracks in the pavement.
The Southbank Centre's Festival will be open from the 22nd April 2011 to 4th September 2011.