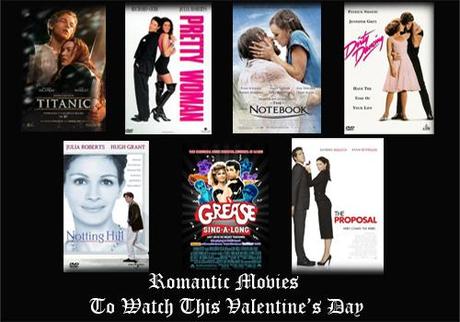 Everybody either secretly or openly admits to their love for romantic movies. Even the most cynical hearts melt with a passionate kiss or a jaw-dropping dance number. Just like true love is hard to find, in the same way the perfect romantic movie is hard to find.
Valentine's Day is almost here and we say give stuffy overpriced restaurants the flick and enjoy a fun night in with dinner and a movie – we've chosen our favorite romance flicks that even your man will love.
Here is a list of movies we think are best suited for Valentine's Day….
'Titanic' is a heart-breaking tale of love on the famous ill-fated ship, but it's also an unforgettable emotional journey featuring Leonardo DiCaprio as Jack, a poor artist, and Kate Winslet, who plays the rich but unhappy Rose. Despite coming from different backgrounds the two fall passionately in love until they are ripped apart by tragedy.
This story of star-crossed lovers (Rachel McAdams and Ryan Gosling; Gena Rowlands and James Garner) captures the heartbreak and beauty of enduring love. A passionate love between a poor young man and a wealthy girl is rekindled years later after going their separate ways due to their social differences is pretty hot to boot.
Who's heart doesn't skip a beat when Julia Roberts steps out in that long red gown and Richard Gere presents her with that diamond necklace? The diamond jewelry used in this movie is also exquisite. This movie has an iconic twist to the classic Cinderella story. Richard Gere a wealthy businessman who falls in love with Julia Roberts , a prostitute after hiring her for a week. Despite the dark subject matter, it's a brilliant heart-warming romantic comedy.
'Dirty Dancing' remains as popular today it was when it was released in 1987. Baby (Jennifer Grey) a good girl from a well-to-do family falls in love with Johnny (Patrick Swayze), and their stunning dance to "(I've Had) The Time of My Life" at the end of the film remains one of the most iconic romantic movie scenes ever and a movie that is loved by one and all.
'Notting Hill' stars the wonderfully bumbling Hugh Grant, as an ordinary man from West London that falls madly in love with Anna, a glamorous Hollywood actress played by Julia Roberts. Featuring a star-making turn from Rhys Ifans in his baggy grey -fronts, this romantic film is one of the few that won't have you in floods of tears at the end of the film.
Canadian-born, New York City-based book editor (Sandra Bullock) gets engaged to her assistant (Ryan Reynolds) in order to stay in the United States and continue her rise to the top in this 2009 flick. It's a must watch with all the comedy elements in it.
'Grease' is a feel-good romantic film featuring the love story of Danny (John Travolta), the leader of the T-Birds, and Sandy (Olivia Newton-John), the new girl in town who is inducted into the Pink Ladies. Full of catchy songs, brilliant dance moves, and quotable lines, this is the classic story of good girl meets bad boy that you can't help but love (even if you love it in secret).