I'm so excited and beyond words for the opportunity to be on the Tattered Angels Design Team for another year!  They have recently been acquired by Canvas Corp. - another fabulous company, and I am really looking forward to seeing all the great creative things that come out of this!
I have three new projects for you today, that I hope you enjoy.
A Wooden Mini Album for Vacation Memories!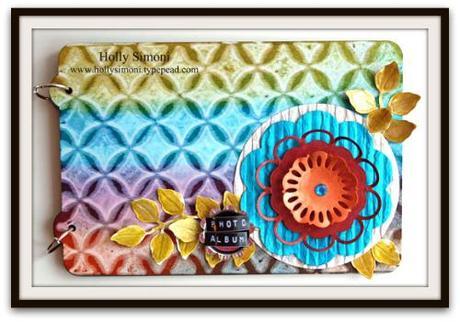 This is a wooden mini album measuring about 6×8″.  I used Sugar Maple, Pomegrante, Dragonfly and Apple Glimmer Mist.  Along with Chandelier Glimmer Glam.  I also used Canvas Corp corrugated paper and Spellbinders Paper Arts die templates.

Here is a close up of the dimensional layers and the curled leaves.  I also created a pattern by using a Pink Paislee Mistables Screen with white acrylic paint.  Lots of fun!!
I really enjoyed creating this Tattered Angels Art Tag!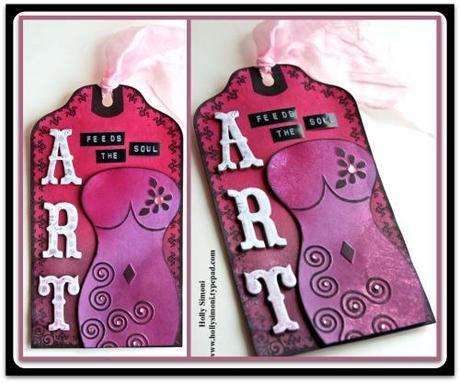 I used a Tattered Angels Tag, Blackberry Cordial, Black Cherry, Cranberry Zing Glimmer Mist and Grape Ape Chalkboard Mist.  I used Frost Glimmer Mist on Pink Paislee Alphabets.  Brand New Jewel Goddess die template bySpellbinders Paper Arts was used to create the goddess shape.  Bling by Want2Scrap was added as well as black ink and dymo labeling to create the quote.  Ribbon in a soft shimmery pink was the final touch.
A Valentine Mini Album!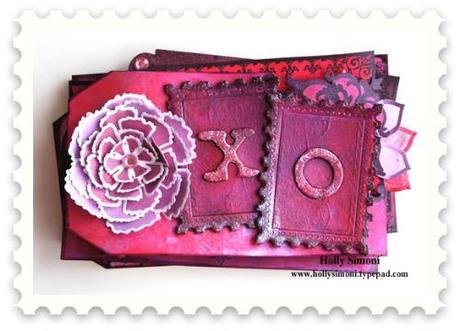 I stacked Tattered Angels Tags to create a Valentine Mini Album.  I misted them all in shades of purples, pinks, and deep reds, placed the Tattered Angels "X" and "O" embossed postage chips on the cover.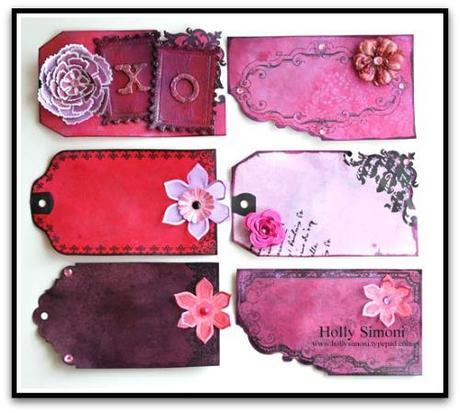 I used L.E.D. Red, Blackberry Cordial, Black Cherry, Cranberry Zing Glimmer Mist and Polka Dot Pink and Grape Ape Chalkboard Mist.  I added a few flowers and bling throughout the album and bound it together with a pink ribbon.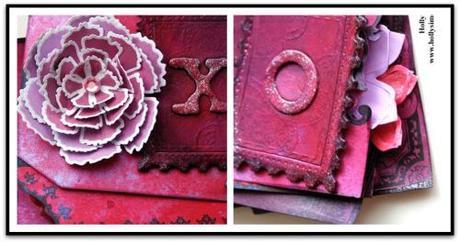 The large flower is created with Spellbinders die templates, as well as the inside flowers.  Chandelier Glimmer Glamand Oil Slick Glimmer Glaze add so much detail to the postage stamp embossed chips.  I love to create mini albums where colors and embellishments hang out over the edges.  It makes you want to peek inside.
Thanks for taking a look at my projects!  I hope you've found some inspiration.
I am such a lucky girl, and was able to work in the Spellbinders Paper Arts Booth for CHA, and had artwork in the Tattered Angels Booth and Canvas Corp Booth!  Sometimes it's all like a dream that I never want to wake up from!  I have some very exciting news that I'm hoping I can share soon.  I can't wait to tell you.
Hugs
Holly Simoni