Buying gifts for the woman in your life is never easy. Most women have very firm opinions about what they want and they are not afraid to let you know when you screw it up. Buying the wrong gift is a serious mistake, so here are some great gift ideas to help you navigate a potential minefield.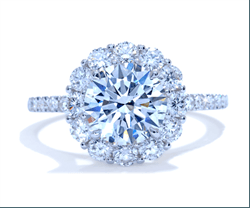 Jewelry
You cannot go too far wrong with a gift of jewelry – unless of course you go down the cheap and cheerful route and buy the woman in your life some plastic beads. They say diamonds are a girl's best friend, so if you want to really push the boat out, buy a statement piece from Ascot Diamonds. If Kim Kardashian can demand a diamond choker from Kanye West as her 'push present', the woman in your life deserves something special too.
If diamonds are not within your budget but you still want to choose a piece of jewelry, a heart-shaped locket will make a wonderfully romantic gift. You do not need to spend a fortune on jewelry. There are many creative artisans out there producing amazing pieces. Look locally and see what is available from craft fairs and antique shops. A simple pendant or silver bangle will be much appreciated.
Designer Handbag
Designer handbags are always a good choice. Most women have several different handbags in their closet, one for every occasion. Chanel is a lot more romantic than Target, so it is worth saving up for a designer handbag if you want to push the boat out. Some brands are more expensive than others are, but do not be afraid to buy online if you want a bargain. However, do make sure the product you buy is the genuine article, as not all of them are.
Sexy Shoes
Women can never have enough shoes. Heels are sexy and very romantic, especially when they are worn for your eyes only. You can check her shoe size by looking at the other pairs of shoes in her closet. Once you know her size, start looking for the right pair of shoes.
Strappy heels are always a good choice, particularly if they come with a designer label. Look for shoes made from soft leather, as these are more comfortable to wear.
Lingerie
Lingerie is super romantic, but only if you buy it in the correct size. No woman will be impressed if you buy her sexy lingerie three sizes too big. If you make this fatal mistake, your gift is likely to be thrown back in your face, which rather undermines your good intentions.
Try to avoid buying tacky designs in gaudy colors, unless you are certain the recipient likes this style of lingerie. Instead, stick to silk and lace garments in pale, pastel colors, as these tend to be more romantic. Lastly, bear in mind that comfort is more important than sex appeal, as this gift is for her benefit not yours.
Remember, romantic gifts work best when they are given without the benefit of extensive hints from the recipient.