August 28, 2014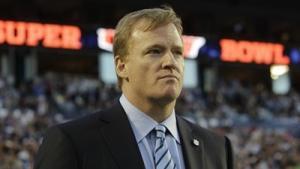 Hey Roger, you're so 2000 and late, bro.  Where have you been for the last few months, in a freakin' K-hole?
Via NYTimes: In a rare mea culpa, N.F.L. Commissioner Roger Goodell said Thursday that he had mishandled the Ray Rice case, in which the Baltimore Ravens running back was suspended for two games after being accused of assaulting his fiancée.
The suspension was announced late last month to an instant and furious uproar from women's groups, organizations supporting victims of domestic violence and league players who felt the penalty was too light and inconsistent with punishments for other offenses.
"My disciplinary decision led the public to question our sincerity, our commitment and whether we understood the toll that domestic violence inflicts on so many families," Goodell said in a letter to team owners. "I take responsibility both for the decision and for ensuring that our actions in the future properly reflect our values. I didn't get it right. Simply put, we have to do better. And we will."
Goodell said that effective immediately any N.F.L. employee — not only a player — who is found to have engaged in assault, battery, domestic violence or sexual assault that involved physical force will be suspended without pay for six games for a first offense. Second-time offenders will be banished from the league for at least one year.
Roger Goodell DOES NOT STAND FOR DOMESTIC ABUSE!  You hear that ladies that are involved with NFL players?  Roger Goodell does not fuck around when it comes to domestic abuse…from here on out.  Up until now, ehhhhhhhhhhh no big deal.  Really it's just part of being an NFL player.  But from here on out, you better believe that he is not standing up for the guy who knocks out his fiance in an elevator in a casino.
Look, it's a good move overall.  The problem is, in the media obsessive world we live in, that every time something happens in pro sports that someone in the world doesn't agree with, their going to make a huge stink about it and guys like Roger Goodell are going to have to do something about it.  It's going to get to the point where an NFL player is going to be afraid to go outside and risk getting suspended for not putting his water bottle in the recycling container.  I just imagine a pro athlete in 30 years being unable to have sex with a woman (or man) without being married to them because someone decided that it was obnoxious that they could do so and Goodell had to make "sex with someone you're not married to" a 6 game suspension.
Still, Goodell is a dick for sticking with the 2 game suspension.  This guy makes $40 million a year and doesn't have a few guys on his staff who can remind him what a media clusterfuck it's going to be when he gives Ray Rice a two game suspension for punching his fiance in the face.  The absolute opposite of a BAWSE move.
Post navigation
← Redskins Owner Dan Snyder Wants a New Stadium…Because He's Rich And Crazy