New to little Indiana? Subscribe for free to my RSS feed. Thanks for stopping by!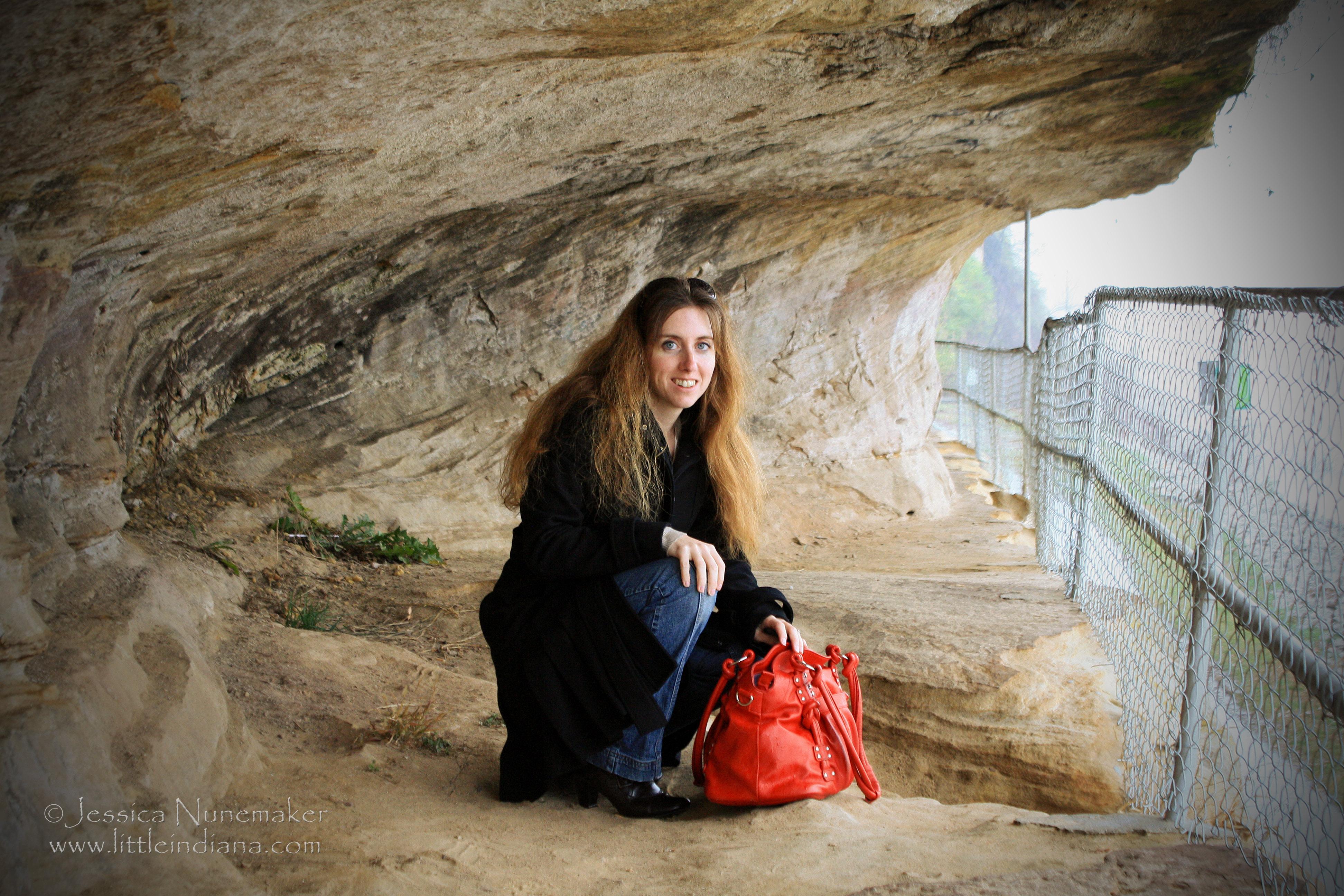 Rockport, Indiana: Ohio River Bluff
little Indiana is absolutely, totally, and completely scared of heights–so why wouldn't I climb up to the Bluffs in Rockport, Indiana to reach the cave that overlooks the Ohio River?
Metal stairs and stone steps can't hold me back!
Rockport, Indiana Bluffs
We always pick the best of days for these outdoor Indiana town adventures of ours.
It had been raining off and on. Pouring at times, even. Of course the stairs and stone were slightly slick (and I hate that feeling of being soaking wet!).
I think even under the best of circumstances–I would have found this to be a terrifying climb (I'm scared of heights, remember?)! Reaching the top doesn't exactly scream "safety" to me.
Thanks to the way too many horror movies I've seen I was sure that at any moment the river was going to overflow and trap us in the cave inside the bluff forever! Melodramatic? Maybe a little.
Indiana Caves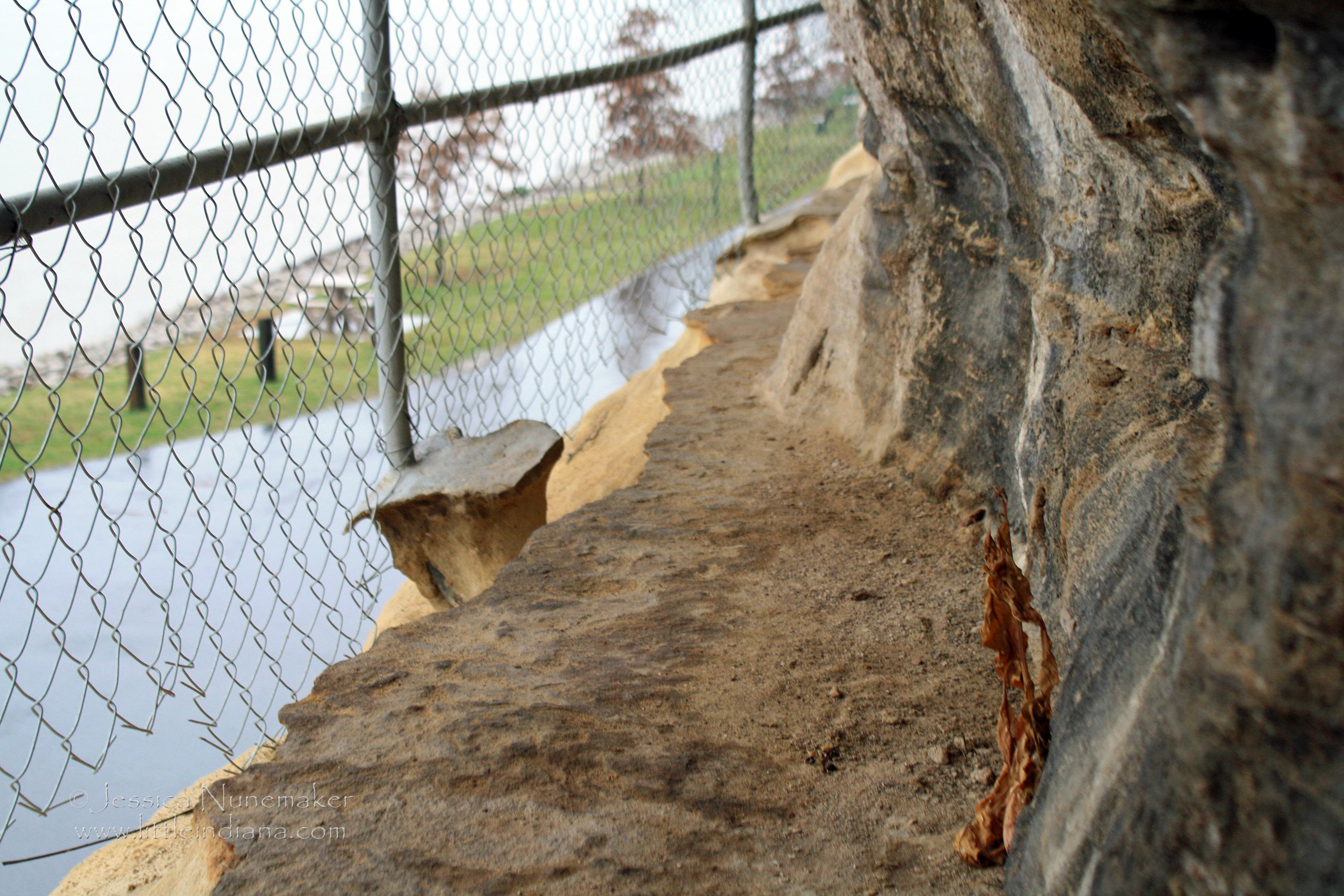 Rockport, Indiana: Ohio River Bluff
Metal railings strive to keep visitors from falling out of the thing though you will still need to watch your step. There are a few rather large gaps between the railing and the cave floor.
But what a view! Once I got past the thought of dying at any moment, it was really neat to see the boats scooting along the Ohio River.
Why risk life and limb? Well, how often have you sat inside of a cave inside of a bluff overlooking a big body of water in Indiana? I'm guessing not very often.
Go There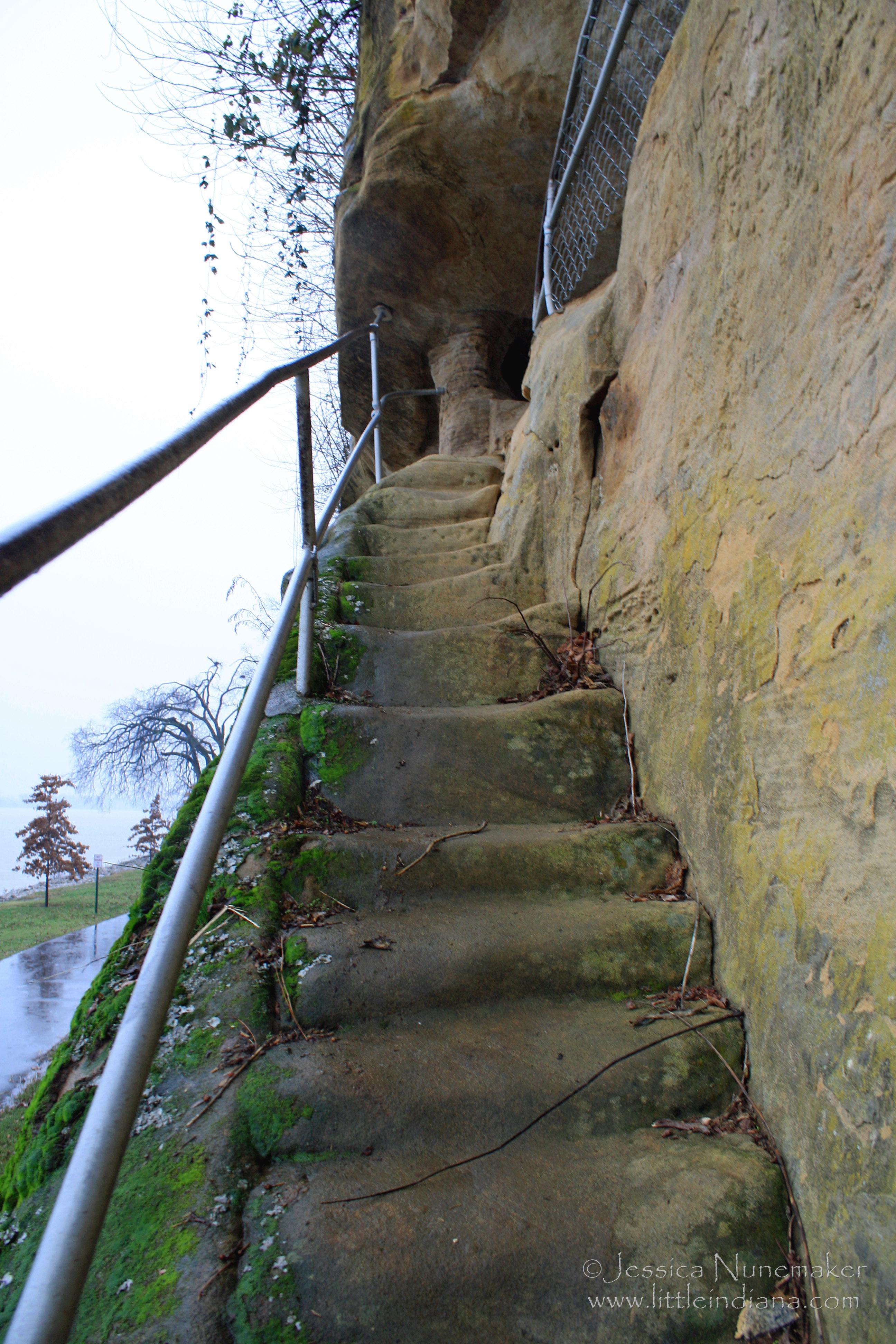 Rockport, Indiana: Ohio River Bluff
This is one unique Indiana attraction! Can you imagine being the first person to discover this one? This isn't it–stay tuned to learn about the other cave. You'll love that bit of Indiana history.
Check it out for yourself. Head on over to Rockport, Indiana and take a look around. I would recommend that you wait for sunny, rain-free type of weather!
Find pictures in Indiana on my Flickr photostream or on the new little Indiana Tumblr blog.
Just don't forget to tell 'em that  little Indiana sent you!
Rockport, Indiana Bluff and Upper Cave by the Ohio River
It is not at the location shown on the map below–instead, keep following Main Street as it winds around and turns into S 1st Street. Really, just aim for the Ohio River off the downtown and you'll find it!

View Larger Map
Don't miss a moment. Subscribe to little Indiana and receive instant updates to stay on top of everything "little."
little Indiana: Where to Stay, Play, and Eat in Small Towns in Indiana. Discovering Indiana's best small towns! Now get little Indiana on your Kindle.
Targeted. Relevant. Affordable! little Indiana advertising.