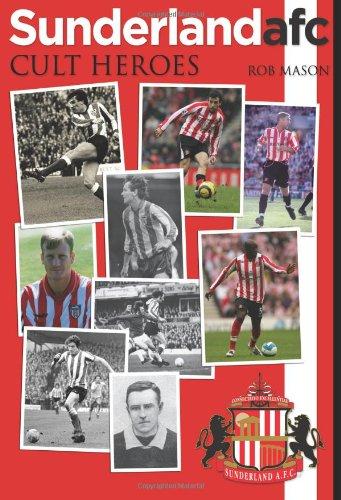 One of Rob's publication. Check them out at https://www.amazon.co.uk/exec/obidos/ASIN/184818204X/salusund-21 …
Rob Mason, departing editor of Sunderland AFC's matchday programme, was – as has been noted here previously – utterly dignified and devoid of rancour in his pre-match conversation with Nick Barnes on BBC Radio Newcastle.

He then endured the 2-0 defeat to Swansea; take 10 percent from the fat wages of the men and leader of men involved in that sad spectacle and you'd probably fund Rob's pay packet several times over. Pete Sixsmith has written a magnificent tribute to Rob, the man he knows as well as the programme editor he knows, and I do not wish to dilute that with this exercise in context and balance. But there is context, and maybe balance, whether or not you agree with the points being made. Pete's piece follows here …


Monsieur Salut writes: Sunderland AFC, in my view, acted wrongly in bringing to an end Rob Mason's award-winning spell as editor of the matchday programme.
Among all the savings that might be made by the club – name your player, your bonding trip to faraway places, your "golden handshake" executive – this seemed squalid and penny-pinching.
Against that gut reaction, we must take account of the club's parlous financial state, one that the chief executive Martin Bain – whatever other faults may be placed at his door – inherited rather than created. There is a need to make ends meet at the club.
In my experience, the philosophy of corporate penny-pinching pays scant heed to sentiment or even, on occasion, merit and justice.
But I am at least persuaded that there is nothing vindictive about the decision taken in relation to Rob. SAFC may not always get its priorities in the right order but it does recognize that restructuring, even when considered unavoidable for the future of the club as a whole, has a human cost.
My understanding is that SAFC wants it known that it fully appreciates the expertise and dedication people such as Rob Mason have brought to the club.
He has been asked to continue in a paid role as club historian and to contribute, again paid, to the new version of the programme. Whether that suits him is a matter between him and the club; I remember feeling in two minds when – after 29 years – a newspaper offered me some vague, continuing role "unless you'd prefer a clean break". [Update: I am now told he accepted the new role]
No one needs to tell this old-fashioned newspaperman about the decline of the printed word. Sales of the SAFC programme have fallen dramatically in the past decade. It loses money, quite a lot, I'm told. I remain to be convinced that without Rob at the helm, without the sheer quality that brought all those awards under his editorship, the quality of the product will – as those within management hope and proclaim – avoid being compromised. But we shall see.
Pete Sixsmith's piece can be seen here