Please share if you love it!
Twitter
1
Google+
5
Facebook
0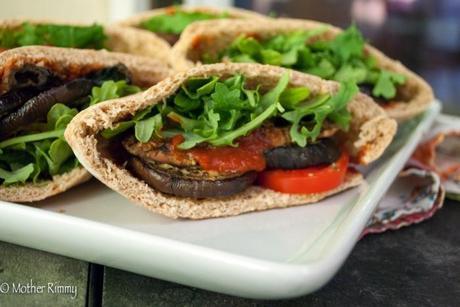 My husband was the first to introduce me to pita pocket sandwiches.
That was more than 30 years ago when we first started dating and had little money to spare. Mike would stuff pita pockets with inexpensive lunch meat and plastic cheese.
Sounds delish, don't you agree?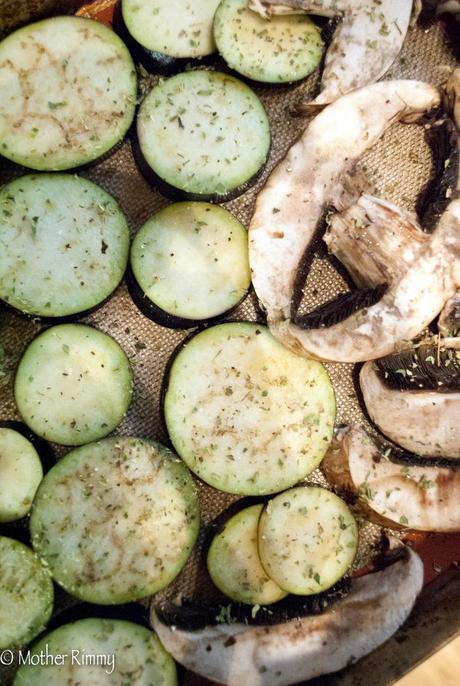 These days we still love a good sandwich, but the stuffing we choose has definitely improved – wholesome and flavorful.
Freshly roasted vegetables work well in this type of sandwich. We chose eggplant and portobello mushrooms to lend a meaty texture to the mix.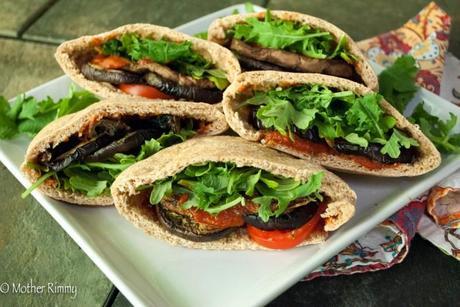 As a kind of take on Eggplant Parmesan, I added Newman's Own Marinara Sauce and nutty Parmesan cheese to the bread before I layered in my veggies.
A small handful of kale adds color and added nutrition to complete my vegetable packed sandwiches.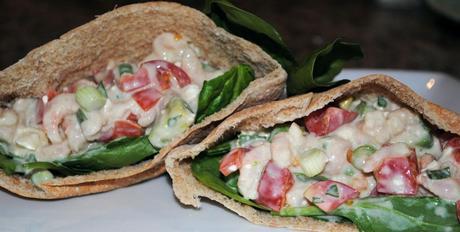 If eggplant isn't your thing, these shrimp and avocado pockets with Mediterranean infused flavors pleased the family. Shrimp anything wins every time!
That's it for today folks. I'm off for a run (in my case a jog). Daughter Lauren and I are training for a 5k at the Columbia Winery in Woodinville, Washington to benefit Seattle Children's hospital.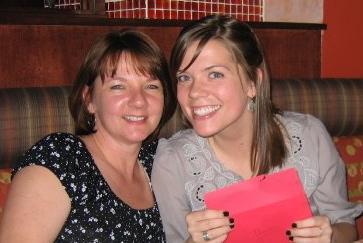 Wish us luck and have a terrific weekend!
~Kristi
Print

Roasted Eggplant Parmesan Pita Pocket Sandwiches with Portobello Mushrooms
Serving Size: 2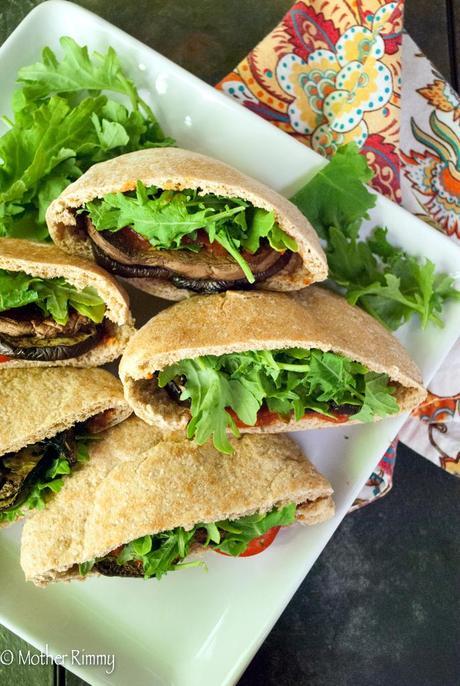 Shake It Up! You can roast almost any vegetable and stuff it in a pita pocket. Just take care with vegetables that get too mushy like tomatoes. We like zucchini, yellow squash and thinly sliced carrots, to name a few.
Ingredients
2 small eggplant, sliced 1/4" thick
2 large portobello mushrooms, sliced 1/4" thick
1 tablespoon oregano
½ teaspoon salt
¼ teaspoon pepper
2 large Roma tomatoes, sliced
2 cups baby kale
1 cup Marinara Sauce
8 tablespoons Parmesan cheese
2 ea Whole Wheat Pita Bread, cut in halves
Instructions
Preheat the oven to 450 degrees. Spray a non-stick cookie sheet with cooking spray.
Layer the eggplant and mushrooms in a single thickness on the cookie sheet, and spray with olive oil cooking spray. Sprinkle with oregano, salt and pepper.
Roast vegetables for 20 minutes until tender.
Warm pita bread in a microwave oven on high for 20 seconds to soften.
Open pita bread and spread with 2 tablespoons marinara sauce and 1 tablespoon parmesan cheese. Layer with tomato, eggplant and mushroom. Be sure not to overstuff, or the sandwich will end up mushy.
Top the vegetable layer with another 2 tablespoons marinara sauce and baby kale.
Serve and enjoy!
Notes
Food energy: 427kcal Saturated fatty acids: 4.00g Monounsaturated fatty acids: 2.09g Polyunsaturated fatty acids: 1.44g Total fat: 7.53g Calories from fat: 67 Cholesterol: 14mg Carbohydrate, by difference: 76.24g Total dietary fiber: 27.87g Protein: 23.19g Total lipid (fat): 8.68g Water: 935.89g Ash: 10.80g Total sugars: 26.63g Calcium: 455mg Iron: 5.76mg Magnesium: 175mg Phosphorus: 546mg Potassium: 2838mg Sodium: 1137mg
2.5http://motherrimmy.com/recipe-eggplant-parmesan-pita-pocket-sandwiches-portobello-mushrooms/Mother Rimmy�s Cooking Light Done Right by Kristin A. Rimkus is licensed under a Creative Commons Attribution-Noncommercial-No Derivative Works 3.0 United States License.
Sign up for my weekly newsletter and get Ten Tips to Skinny Up Your Meals ebook free!

"If you decide to make a purchase through my link, Amazon will pay me a commission for it. This doesn't cost you anything additional. These commissions help to keep the rest of my content free, so thank you!"