While taking road trips across the backroads of America and Canada we've come across some rather unique,  funny, or just odd roadside attractions. We went through our library and put together this photo compilation of road trip attractions for your enjoyment!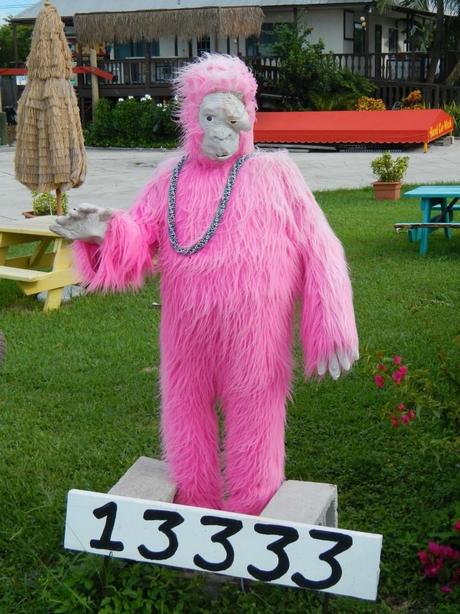 We found this Pink Gorilla on our Key West Road Trip!
Key West, Florida is just one large  collection of oddities.  The combination of fantastic weather year round, constant tourism, and laid back island lifestyle combine to form a culture all of it's own. You'll find lots of weirdness in Key West and it usually starts right in people's homes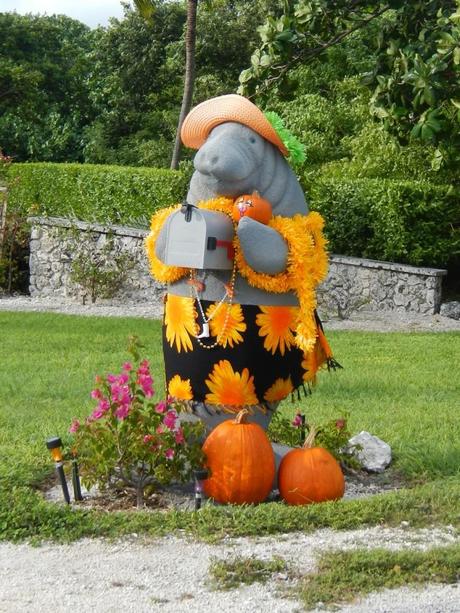 How often do you find a mailbox in FULL COSTUME?!?!
The weirdness also extends to souvenir shops trying to lure you in.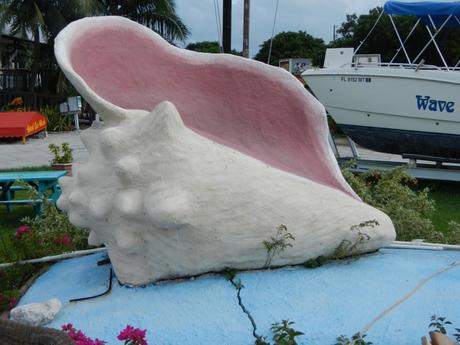 Key West is lovingly referred to as the CONCH republic!
Shop keepers will do ANYTHING to attract your attention. This happens to be one of my all time favorites and  also conveniently brings me to one of my favorite categories of road trip attractions, Giant Animals!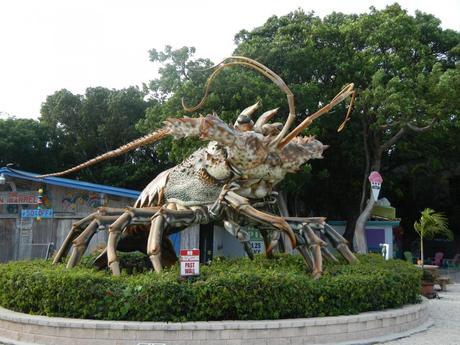 Key West does have some delicious lobster!
In Beaverton, AB. we stumbled across this guy. He appears to be the town's mascot, but he's strangely un-Canadian!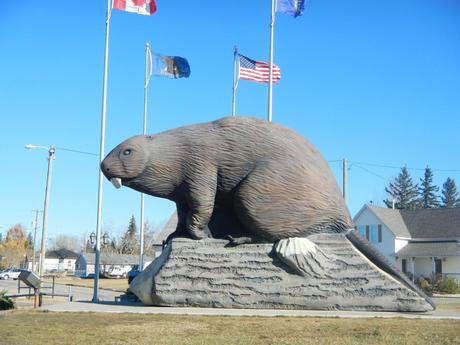 This beaver looks like he could be friendly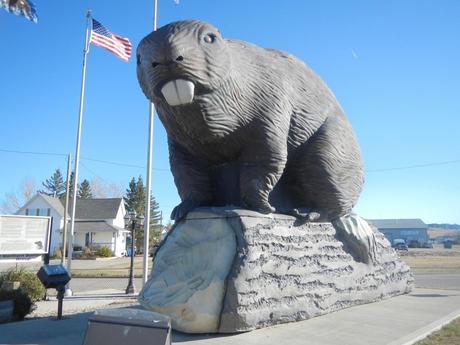 Wait a second, he's looking kinda ornery!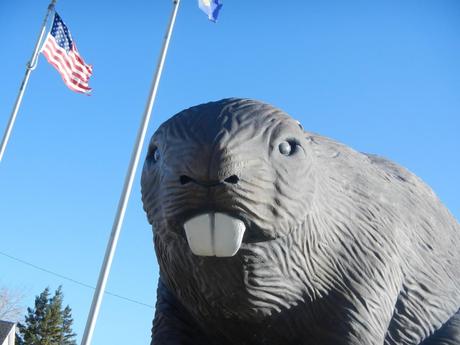 As a matter of fact he looks downright murderous!!
Thankfully we found a much friendlier rodent while driving through Atlanta, GA.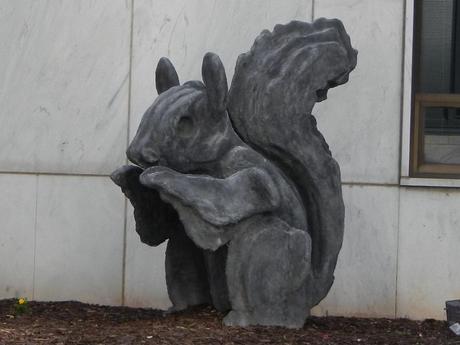 I bet he likes giant nuts

In addition to lot's of  living animals, we've come across quite a few attractions  from the "lost world". They vary from small and cute to almost life sized!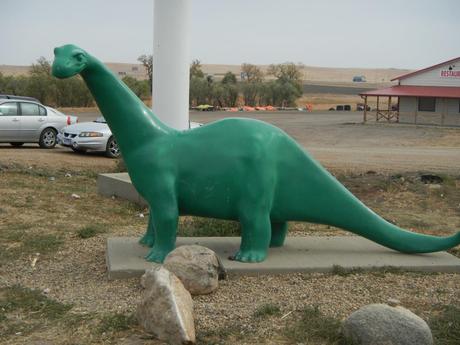 The Classic Sinclair Gas Dinosaur from out Road Trip through South Dakota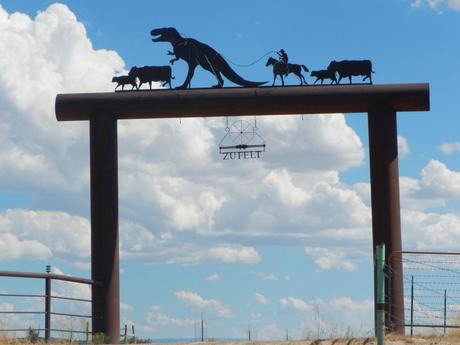 A clever rancher took his entrance to "attraction" level in Dinosaur, CO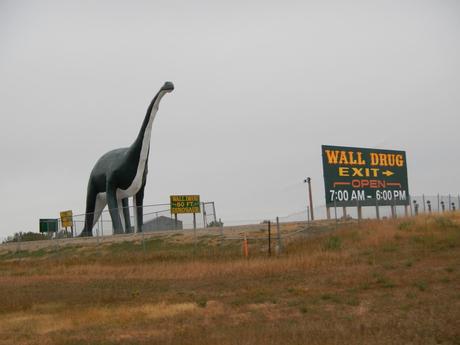 Wall Drug in Wall SD is the home to MANY attractions

Once you get through all the animals of this world, both present and past, there is always room for some attractions from another world. While these travelers certainly didn't take a road trip here, they did travel pretty far!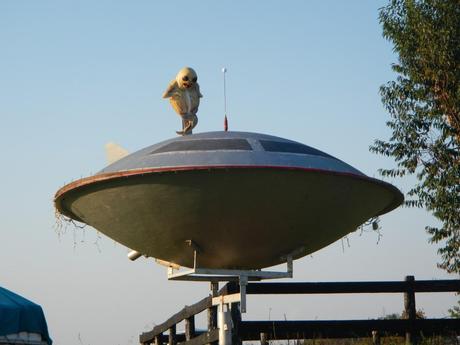 This guy made his grand appearance in Monticello, KY
When speaking of aliens, it would be a sin to leave out our favorite one from ou road trip to  Roswell, NM.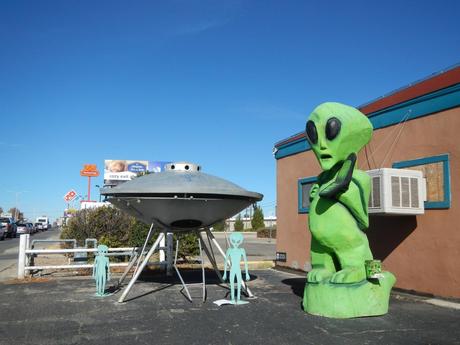 A Roswell tribute to the alien landing. When did they start using cell phones??
Here are some road side favorites that all feature people.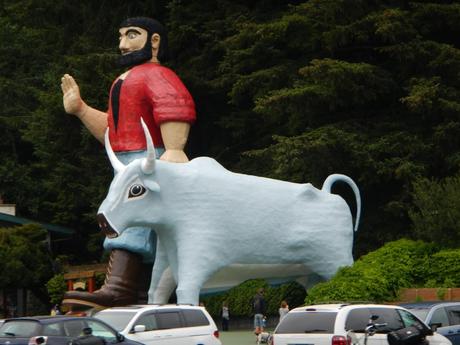 The classic Paul Bunyon and his blue ox!
I know the Statue of Liberty is technically not a person, but she's definitely one of America's iconic female figures.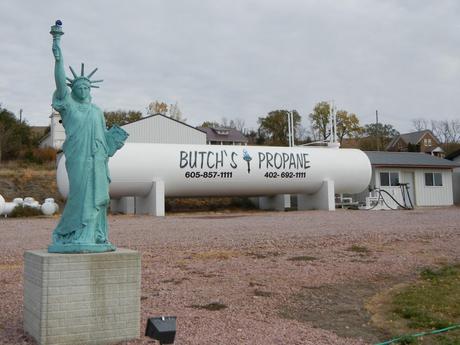 New York's leading lade makes an appearance in Iowa selling propane??
Then there's that other American classic, the cowboy!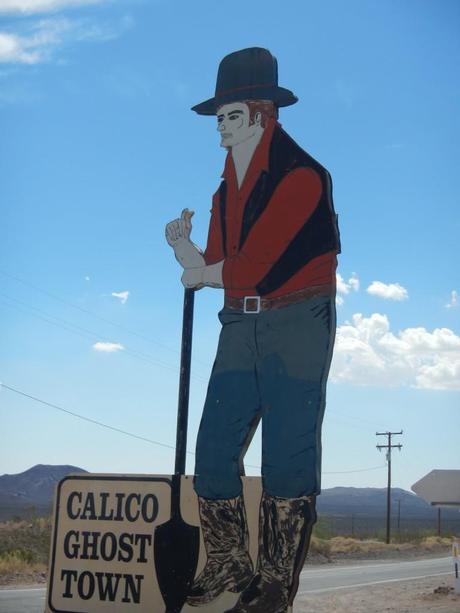 There's this lonely guy leading to the Ghost Town in Calico, NV
Sometimes giant statues have an honorable purpose. Like this example welcoming us to Tacoma, WA.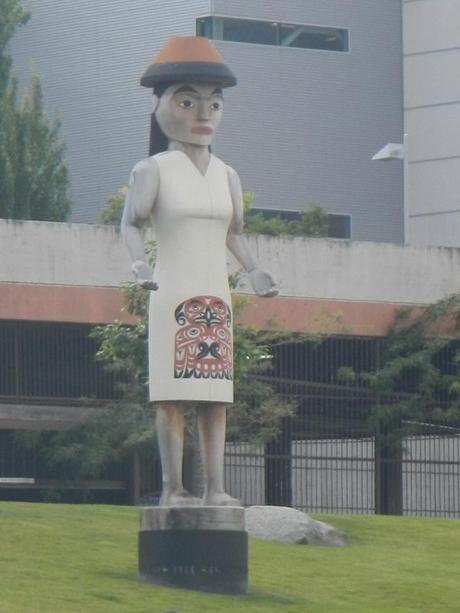 Tacoma Welcome Statue
Then other times they are there just to sell us food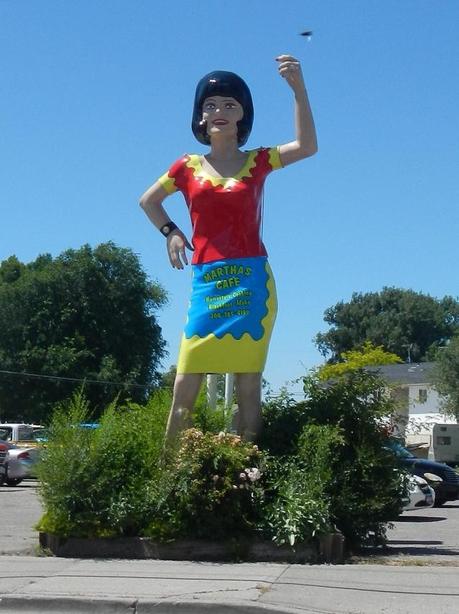 Who wouldn't want this giant lady to serve breakfast!
We also found some alternate means of transportation that certainly couldn't be used on a road trip.
They included the undersea variety,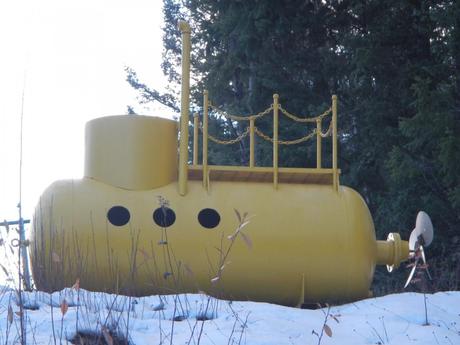 I didn't know submarines were meant for the roadside.
the horse drawn type,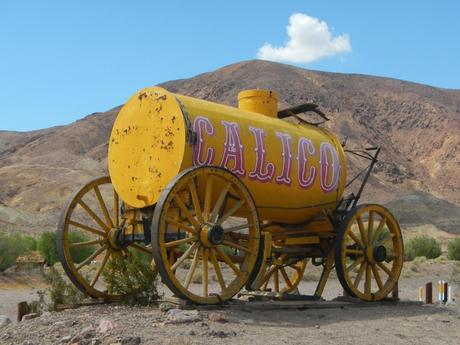 Horse Drawn Oil Tanker?

and of course, the railroad car!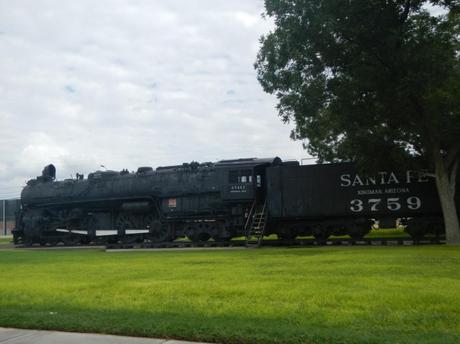 We found this while getting our kicks on route 66!
There was one car we found that actually was almost ready for a road trip. I'm no expert, but it  seems just a little overloaded to me. Maybe he should upgrade to a mercedes SUV or something!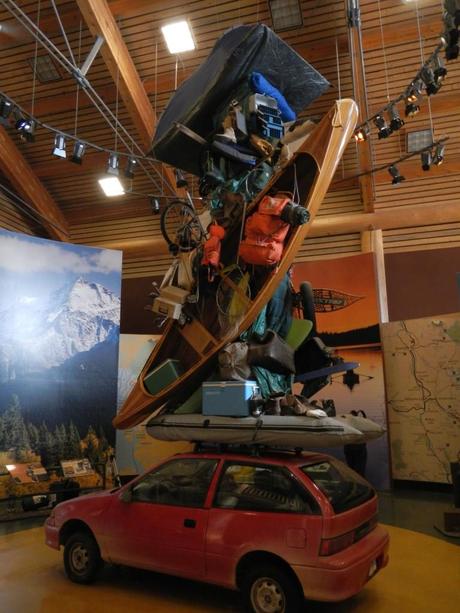 This guy was in a roadside visitors center in BC.
This next grouping comes from the time we spent in Alaska. This sign can be found  at Pikes Landing in Fairbanks, AK.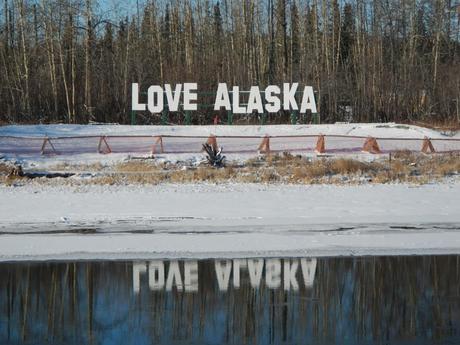 It says exactly how WE feel about the state.
While Alaska does have a TV show about it's delicious crabs, they are also quite famous for their Salmon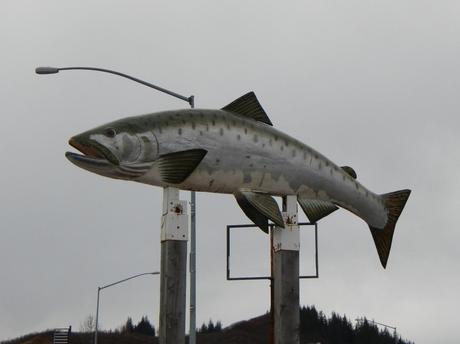 Giant Fish Sign Valdez, AK
We stumbled across this dude in the town center in Valdez, AK. Turns out he's one pice from a collection thats all across the USA.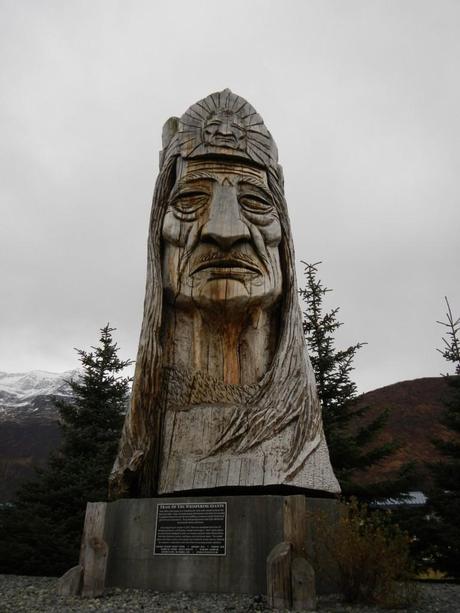 Carved by Peter Wolf Toth
Meanwhile in Canada…..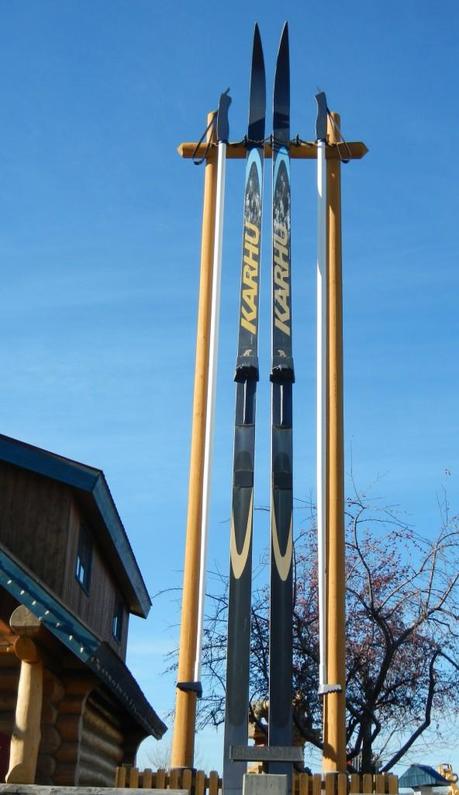 I'd love to see the boots that go with these.
They seem to have an affectation for giant versions of normal things.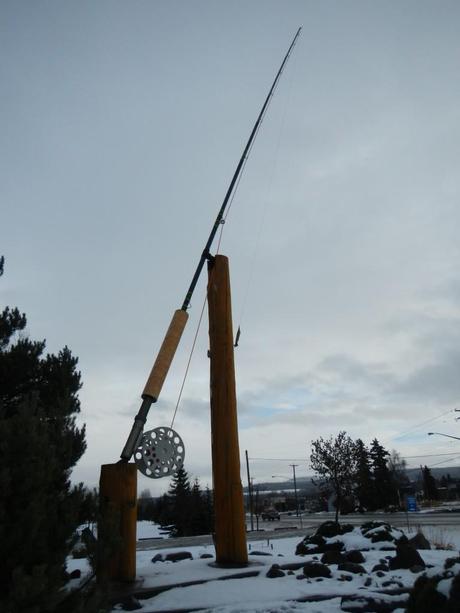 Catch a fish with this thing and you can feed the whole village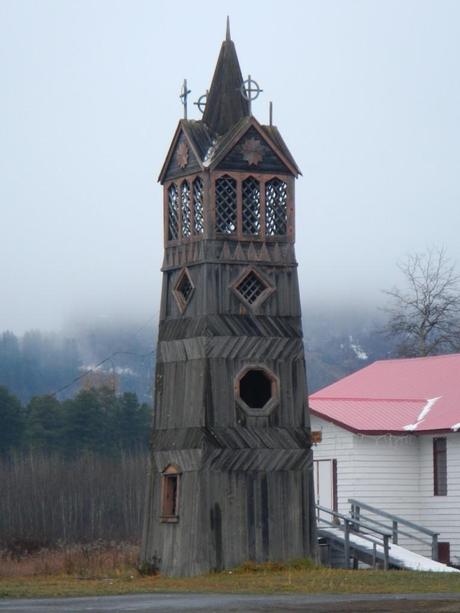 This tower is completely out of place in rural Canada
This statue would make sense in somewhere famous for cattle ranching. I certainly didn't expect to see this homage to Texas when we drove through Houston, BC.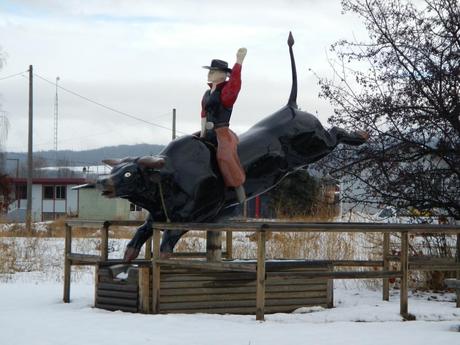 Bullriding in Houston BC
Even when you're in the Yukon territory, stores are desperately trying to draw your attention. I must say this one worked for us!