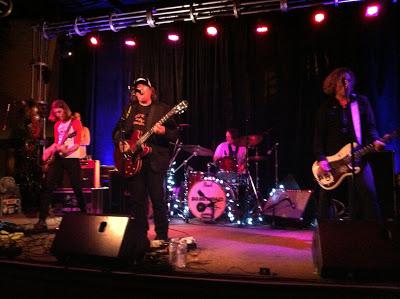 How much more appropriate can it be to end the year to finally getting to see a band I have followed since 1991? Got hooked on Drivin' N' Cryin' the year Fly Me Courageous was released but for whatever reasons I never got around to catch them live until now. Better late then never huh...yes indeed because this was a magic night!
At 9pm sharp the band casually walks out on stage, plugs in their instruments and kick things into gear with a short instrumental piece. It's followed by the beautiful Honeysuckle Blue and this long-time favorite of mine sets the standard throughout the rest of the night. Whether the band goes all out rocking or seduces the crowd with slower more mellow songs they can't do wrong at all.
Hot Wheels from their current EP Songs About Cars, Space And The Ramones is next and apart from getting the crowd rocking what stands out the most to me is guitarist Sadler Vaden. He is extremely versatile and plays a blistering solo on this great song. Not only that, during the entire set whether he is playing lead, rhythm, slide or solo guitar he does it with such ease and elegance. It looks so effortlessly and easy but he is doing some very intricate things. What an addition for the band!
Another old favorite is then aired, With The People, and it's still a very current song speaking about the people having to rise and stand against the injustices made towards them. Positive change won't happen until then and that's where we are right now more than ever.
Drivin' N' Cryin' are in the midst of promoting two EPs released in 2012, Songs From The Laundromat and the aforementioned Songs About Cars, Space And The Ramones. They are parts 1 & 2 in a series of four to be released within 12 months, where part 3 is due in March 2013 and REM from Songs From The Laundromat follows With The People. It's a mid-tempo song with really nice vocal harmonies and it's a cool tribute to fellow Georgians R.E.M.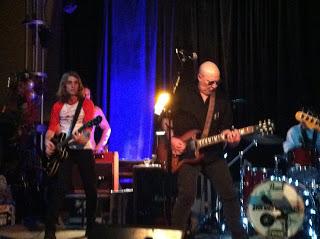 Further on Cheetah Chrome of The Dead Boys joins the band on stage for Out Here In The Middle Of Nowhere, a song from Songs About Cars, Space And The Ramones that he actual recorded with them. Fast and furious in true punk spirit it's over in about 2 minutes but man it rocks...awesome indeed!
After 27 years in the business Drivin' N' Cryin' know how to work a crowd. They know how to mix old songs with new to keep it interesting and they do it with such ease. Many a times bands barely play new songs when promoting their current album, Drivin' N' Cryin' on the other hand played 5-6 out of a total 11 on the 2 new EPs and that's great and how it should be. You couldn't really ask for more. However the icing on the cake for me occurs when they launch into Fly Me Courageous, the song that introduced me to these Georgians. It simply doesn't get any better than this!
The first hour of the show was recorded for a local radio station but as soon as that is over the band has everyone singing along in Straight To Hell. It's one of their most popular songs if you ask me and the crowd just loved it.
Cheetah Chrome returns to the stage and they go all out punk playing The Dead Boys' song Sonic Reducer. Actually from the moment the radio recording was over the band got rowdier, in every good sense of the word, with Kevn Kinney climbing speaker stacks and jumping from them! The frontman and founder of the band should consider a side career as a stand-up comedian. Because apart from being a great singer and guitarist he is extremely funny and really makes the crowd feel relaxed and at home. His interaction with co-founder and bass player Tim Nielsen is bar to none and their drive to keep Drivin' N' Cryin' rolling and still current is so visible on stage.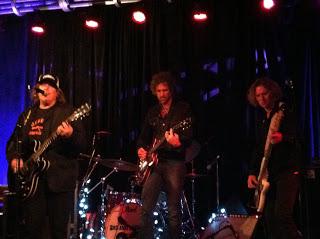 Unfortunately all good things must come to an end and what an end it was. They launched into a Kevn solo song, Blues On Top Of Blues and are joined by guitarist Audley Freed. This guy has played with Cry Of Love, Black Crowes, Jimmy Page, Dixie Chicks amongst many others and what a fantastic string slinger he is. The band were on fire jamming real good with Vaden and Freed trading solos back and forth. Amazing!
Kevn and Tim has assembled a great band around them and I can only hope this line-up stays intact because they have something going on here. Drummer Dave V. Johnson is solid and versatile and alert to any changes/jams going on and never miss anything. And I have already spoken about new guitarist Sadler Vaden and all I can add to that is....check him out!
All in all this was a great show and subsequently a great night. I couldn't have asked for a better occasion to see Drivin' N' Cryin' for the first time and my affection for the band from listening to them all these years increased a thousandfold.
Swedebeast