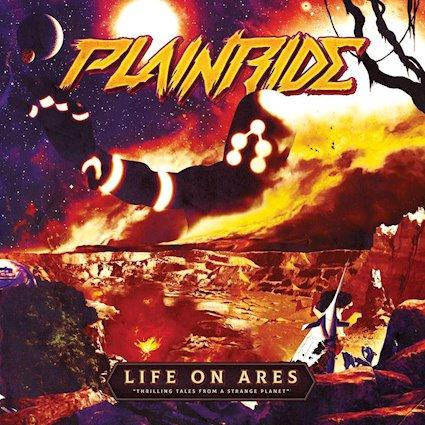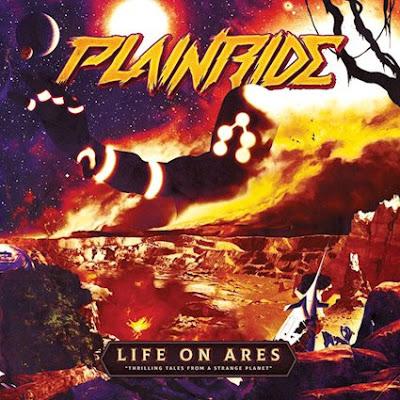 "Every now and then, Cologne's dusty streets bear something amazing. Plainride for example. These four guys shred out some heavy groovin', fuzzy Stoner Rock that doesn't fall the least bit short to their American colleagues." ROCKHARD
"Plainride deliver professional grade heavy rock and roll with little concern for the bruises left behind afterwards." THE OBELISK
If you've yet to discover the fuzz-filled; hirsute'd, and suitably hardrock booted Plainride, then fear not; this September will see the official worldwide release of the Colognians sophomore album, Life on Ares, an endeavour fueled in collaboration with Californian record label, Ripple Music.
Following up on the success of last year's "Extremely compelling debut," (Metal Hammer) – Return of the Jackalope – the German quartet are back to help contain the menace of many a sleepless night for scientists across the globe. With jetpacks on backs and the discovery of alien worlds in their sights, Plainride continue to explore worlds hitherto unknown, break new ground and assert themselves as the rising stars of Germany's growing Stoner Rock scene.
Headed up by eccentric riff/noble-man Fabe "van Fuzz" Klein, renowned Europe-wide as the heir to a shady fortune, van Fuzz has enhanced his adventures with the purchase of fine instruments and occult artefacts alongside fellow axe-slinger, vocalist and confidant, Max Rebel. A man who legend has it escaped a seedy orphanage and misspent most of his youth, before discovering unique superpowers; the gift of gab and extremities of pure rock 'n' roll. (He just knew his time had come.)
Seeking further counsel, van Fuzz and Rebel rescued bassist Leo "Lionthatch" Beringer from a caste of clerics in a monastery, hidden away from the filth and fury of the big cities. He quickly developed a keen sense for the gossamer threads binding the physical to the spiritual worlds and served as the perfect rhythm buddy to new drummer/landed gentry member Florian "The Brave" Schlenker. (Rumour has it, Schlenker has plundered countless armouries in his time to blow many a hole in the East Wall, always in the name of Rock 'n' Roll.)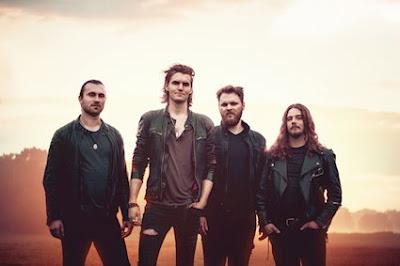 For mix and mastering of their biggest and boldest record to date the band hired American producer and sound engineer Alberto de Icaza (Clutch, Crobot), the artwork was crafted by Milan-based artist SoloMacello, and the recording itself was done by musician and producer Marius Ley (DAT ADAM):
"Back when we did our debut album Return Of The Jackalope, it was recorded deep in the woods of Poland – live and not always sober," explains Rebel. "Life on Ares on the other hand came into existence in the heart of Cologne, at Marius' Hydra Lab. Not to say there wasn't any beer involved this time but the whole process was just way more surgical. Working like that can easily see you go from two weeks studio time to two months. The level of detail we employed this time truly was a new experience for us and at the same time opened up a whole bunch of possibilities."
Steadily spreading their grooves like the venomous tentacles of a galactic space toad, Plainride conquered the stage at this year's Wacken Open Air, scored a feature on Spotify's official Stoner Rock playlist, and have opened for the likes of Fu Manchu, The Atomic Bitchwax, and Nashville Pussy in their time. Now signed to Ripple Music, who knows exactly where in time and space Life on Ares will take them. Take a seat, strap yourselves in and come along for the ride.
Life on Ares, the brand new studio album from Plainride is officially released worldwide on 21st September via Ripple Music. New single 'El Coyote' is released on 24th August. Pre-order album – http://a.co/6A8CANA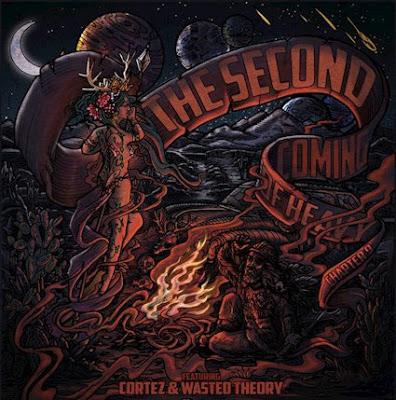 Cortez & Wasted Theory The Second Coming of Heavy; Chapter IX Ripple Music 21 September 2018
"For record collectors who coo over coloured vinyl and artwork deserving of a place on the wall, the Second Coming of Heavy series is a fine example of how stoner, doom and psych is leading the way in offering the full package." METAL HAMMER
Already recognised as one of the world's leading purveyors of Rock 'n' Roll, Stoner, Doom and Heavy Psych, Ripple Music upped the ante in 2015 with the arrival of one of their most ambitious projects to date, The Second Coming of Heavy Series.
Serving as an ongoing showcase for some of the best and heaviest bands emerging from the underground, each installment shines a light on those worthy of your attention. Consisting of one, 12" slab of multi-coloured vinyl with full color sleeves and inserts, the series is designed to be saved and treasured, much like a fine anthology of books. When the albums are filed next to each other, the complete collection of aligned spines form a mind-blowing image direct from the underground.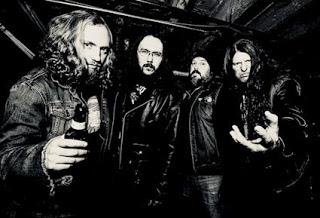 Bands that have already featured in the series include Geezer, Borracho, Supervoid, Red Desert, Kingnomad, Bonehawk, Red Mesa, Blue Sanggletooth, Fuzz Evil, Switchblade Jesus plus a whole host of others. For this latest installment it's the turn of Boston-based, fuzzed out rock and rollers Cortez and American Weed Rock supremos, Wasted Theory.
The Second Coming Of Heavy; Chapter IX will get an official vinyl release on 21st September 2018 and is limited to 300 copies in three alternative versions (100 of each) – The Resurrection Edition, The Risen OBI and The Ascension Edition.
Pre-order now at www.ripple-music.com