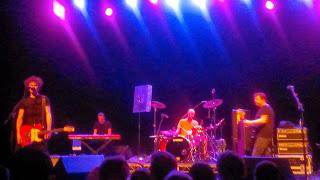 Afficionados of quality indie music have a checkered relationship with mass pop culture to put it politely.  How many hipster friends do you have who have professed to be a fan of (insert name of obscure-cum-commercially successful band here, say, REM or U2 perhaps?) back since their first album until said band blew up commercially and started selling out venues more often frequented by pro sports teams than rock n rollers.  And we all have that slightly queasy feeling when we hear a stone cold classic like "Baba o Riley" or "Rock n Roll" hawking the latest in the CSI franchise or one of Detroit's latest offerings, right?
Well, consider this.  If it weren't for the often rocky marriage of alternative music to mainstream media, a SOR crowd wouldn't have been rollicking to the punk-infused pub rock of The Fratellis last November 12 at the Fonda in Hollywood, and you wouldn't be reading this fairly adoring account of said brouhaha, were it not for an early Apple Ipod commercial from 2007 featuring the playful skiffle of their signature tune "Flathead". Never mind the product it was pimping; the 30-second piece sent many a music fan scrambling  to Google to find out who the heck was that band they were playing?  Well, Google answered, and the response was Glasgow's Fratellis, Scotland's sort-of answer to the Ramones, three unrelated lads who playfully adopted the same surname as performers because – well – just because they fucking can.

Hopefully most were inquisitive enough at that point to scoop up their debut Costello Music, a riotously enjoyable assortment of rousing choruses, playfully inane and ribald lyrics, and whiskey-drenched debauchery,  easily one of the most satisfyingly original and consistently listenable cds of the post-punk era.  With almost all of the fiery passion of early Clash and Stiff Little Fingers yet absolutely none of the message politics,  the band set an awfully high bar to live up to with their initial release, as rumors buzzed that no less a British rock god than Roger Daltrey lined up as an ardent admirer of the band. Sure enough, their sophomore effort Here We Stand was mildly pleasant enough in spots (particularly catchy single "Mistress Mabel") but utterly forgettable in large part and ultimately disappointing, and next came word that the band had essentially vanished, taking an indefinite hiatus as lead Frat boy Jon explored other projects.
Welcome news indeed earlier this year that they had regrouped and hit the bricks again with We Need Medicine together with a Stateside tour in support.  Interestingly, what helped keep them relevant during their leave of absence was another intersection of music and pop culture: their popularity unquestionably buoyed by the NHL's Chicago Blackhawks adoption and (given their recent successes) rather frequent use of standout singalong anthem "Chelsea Dagger" as their celebratory goal scoring anthem, much to the chagrin of various visiting hockey teams and their toothless Saskatchewan-born grinders who would probably rather listen to Brian Adams anyway: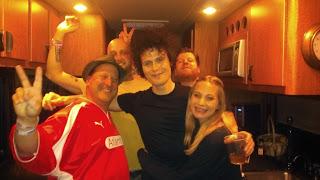 I had the privilege of visiting with the band before the Fonda show along with my daughter Christina and the lads were all disarmingly pleasant and approachable.  Rhythm section Barry Wallace and Gordon McRory were as affable as the everyman in the bowling alley next to yours who reminds you of your brother in law; frontman singer/guitarist John Lawler had more of the je ne s'ais quoi quirky vibe that a creative firebrand would be likely to have, but was nonetheless charming and talkative as he shared with me how he hasn't updated his record collection much since adoringly spinning Roy Orbison and Bruce Springsteen in his younger days.  When the band hit the stage he whirled around and preened accordingly, every bit the engaging showman, sweat bombs careening off his amusingly shagadelic 'fro with reckless abandon as he channeled a young Christopher Walken who'd just stuck his finger in an electrical socket.  
The trio balanced the old and familiar very effectively with the new and fresh as they energetically ripped through a good two hour performance.  No one is likely to confuse anything on Medicine with standout classics from Costello Music like the spa-inflected "Henrietta", the uproarious "Baby Fratelli" and the cheekily wistful "For the Girl", but some of the standouts tracks like "Seven Days Seven Nights" and the title track held their own just fine.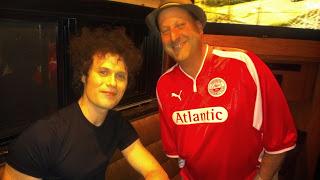 John had told me he'd emulated Pink Floyd as a younger lad, striving to recreate that same intimate connection between perfomer and audience.  If he keeps leading this underrated trio into such crowd-pleasing sets of upbeat, sing-a-long pub crawlers, he's certainly well on the way to successfully carrying on the tradition of such venerable British lineage.
 --Rhythm Slayer