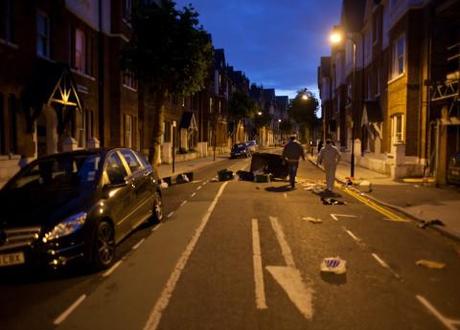 Looting in Hackney. Photo credit: Pete Jozwiak, http://www.flickr.com/photos/piotrjozwiak/6023961966/in/photostream/
As rioters to took to the streets of London, Birmingham, Manchester and beyond, Britons took up arms – or, in some cases baseball bats, police batons, or pots and pans – to defend themselves, their businesses, and their families. But while police warn that this kind of vigilantism could hurt much more than it helps, citizens are claiming the they were only doing what the police obviously couldn't.
Complicating the situation is who is doing the protecting and how: Groups of Turkish and Kurdish shop owners in Hackney were lionized for protecting their shops with baseball bats on Monday, and Sikh men in Southall who stood guard outside their temple and patrolled the streets on Tuesday were similarly lauded over social media networks. What happened in Enfield on Tuesday night, however, was somewhat more complicated: While around 100 or so peaceful protectors gathered around a pub near the center of town, a group of around 500 men who appeared to be affiliated with the far-right English Defence League also took to the streets, according to The Enfield Independent. Reports differ as to the tenor of that march – individuals reporting to have taken part said that it included people of all races and was not an expression of extremism, but London's Deputy Mayor, Kit Malthouse, condemned the so-called "Enfield Defence League vigilantes" as "deeply undesirable".
Sales of baseball bats on Amazon.co.uk exploded, shooting up more than 5,000 percent on Tuesday, following Monday's rioting, Reuters reported.
On Thursday, officials credited "robust" policing with putting a stop to London's violence and Prime Minister David Cameron used an emergency session of Parliament to declare "war" on gangs and award the police new powers; other steps may include banning face masks and hoods and giving police the power to shut off social networking sites and instant messenger services in the event of an emergency. The 16,000 officers put on the streets on Tuesday night, following Monday's widespread looting, arson and rioting, will remain on the streets throughout the weekend, he said.
But will they be alone? In the wake of this week's riots, observers are asking, when is it right to take the law into your own hands?
Police hampered by vigilantes. Police have complained that vigilantes taking to the streets is simply causing more problems and stretching their already thin resources, Deputy Assistant Commissioner Steve Kavanagh of the Metropolitan Police told SkyNews. "What I don't need is these so-called vigilantes, who appeared to have been drinking too much and taking policing resources away from what they should have been doing – which is preventing the looting." More specifically, senior police officials warned that far-right groups, like the EDL or the British National Party, could "hijack" the vigilante movement, according to The Daily Mail. Acting Met Police Commissioner Tim Godwin, on a tour of Enfield on Wednesday, told the paper, "I am worried that there are groups out there like the EDL and BNP who are trying to hijack this and cause more tensions in the community. They are politically motivated groups who have another agenda." Godwin also appeared to draw a distinction between the EDL group and "community groups protecting their property or places of worship", alluding to the Sikhs in Southall.
Some of these vigilantes are heroes. But as Londoners watched parts of their city burn down and watched the police seemingly unable to stem the tide of sheer looting and rioting, many people applauded the efforts of the "vigilantes". Wrote Charles Moore at The Telegraph on Tuesday, "The heroes of recent days for many (including, I must admit, me) are the Turkish shopkeepers patrolling Green Lanes, Hackney, with baseball bats to protect their businesses (and being threatened with arrest for doing so). If the police are so hemmed in that they have to act like a sluggish nationalised industry, private enterprise will step into the breach. Few of us want vigilantes, but many would like a version of the Home Guard directed against indigenous threats to peace. At last, a Big Society project that could get some traction!"
There's a subtle difference between vigilantism and self-defence. Gerry Holt, reporting for the BBC, asked when, if ever, it's right to take the law into your own hands of criminologist Roger Graef. Graef explained that as a society, even at the highest levels, we endorse self-defence – after all, Cameron himself said in June that shop keepers and homeowners who use "reasonable force" to defend themselves or their properties will not be prosecuted. But Graef says there's an important difference between defending oneself and fighting back. "The move from self-defence to vigilantism is almost a matter of point of view," he told the BBC. "The difference is whether you have gone out after the person who has attacked you. Self-defence has been endorsed very recently, even by the prime minister, but vigilantism is when you go out after the person who has threatened you – and that is not tolerated."
The dangers. Three men were killed in Birmingham in the early hours of Wednesday morning after they were hit by a car; they were, at the time, protecting their property from looters. Haroon Jahan, 21, Shahzad Ali, 30, and Abdul Musavir, 31, were all killed and a 32-year-old man has been arrested on suspicion of murder, with the suggestion that he deliberately drove his vehicle into the group of men. During a vigil on Thursday in memory of the fallen men, Tariq Jahan, father of Haran, urged the people of Birmingham to stay calm and to stay out of trouble: "I have lost my son – if you want to lose yours step forward, otherwise calm down and go home."