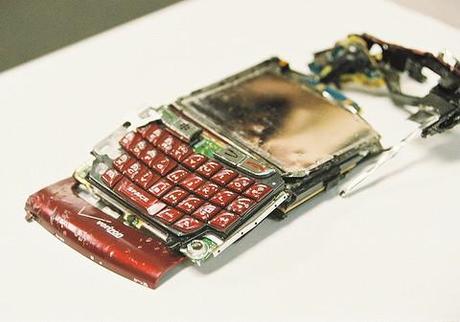 BlackBerry: falling to pieces? Photo credit: MattHurst http://www.flickr.com/photos/skewgee/3160670483/
Lost BBM, internet and other services for three days on your Blackberry last week? Weren't able to contact your friends and family? Don't fear, compensation's on the way; Research in Motion (RIM), the company behind the popular smartphone is offering "free apps worth at least 100 US dollars (£63)", available on the app store from this Wednesday, the 19th of October, the Press Association reported.
In a press release, RIM stated that the apps were being offered to users as "an expression of appreciation for their patience" and said the apps that were being offered would include (but are not limited to) SIMS 3 and Shazam Encore.
Also in the press release, RIM's CEO Mark Lazaridis reassured that, "we are taking immediate and aggressive steps to help prevent something like this from happening again."
But are £63 worth of apps really going to save RIM from the PR disaster that was last week? The tech commentariat are generally unimpressed by the compensation offer.
A botched attempt at wooing customers back to RIM. Amanda Kooser of CNET compared RIM's move to "when a guy messes up in a relationship" and he resorts "to flowers and a necklace to get back into good graces." The "bouquet" of apps doesn't seem to have placated Kooser's readership — in a poll on the website, 43 percent of respondents said they were going to give up their BlackBerry smartphones whatever RIM did and 20 percent said RIM should do more.
Business customers will get more. Rich Trenholm, also on CNET, noted somewhat ironically that "there's more: if you're a business customer, you get a free month's technical support! That's right — to say sorry for your phone breaking, if it breaks again, BlackBerry will totes fix it."
Phone evolution is 'Darwinian' and the Blackberry is swift becoming extinct. "Until last week, people thought the BlackBerry uncool but reliable. Now even the latter is in doubt," opined Jason Pontin for The Financial Times. "RIM's device might evolve … But I doubt it will happen. Evolution is perilous; most products, like species, become extinct."
RIM's app gambit hasn't helped them in the markets. Shares in RIM tumbled more than six percent on the NASDAQ after the free apps offer was announced, Reuters announced. US crisis management consultant Richard Levick told the news service that the app offer was a good idea but that it had come too late. "They are always behind the curve", he sniped.
Hey! There are still fun things to do with your Blackberry. YouTube pranksters highlighted several innovative uses for a BlackBerry during the outage, including doorstop, iPhone remote and toenail separator: