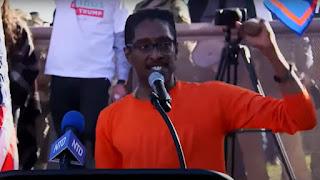 Ali Alexander

An Alabama-connected extremist, a self-described organizer of a rally that turned into an assault on the U.S. Capitol, will testify in December before the House Select Committee investigating the Jan. 6 insurrection, according to a report at Raw Story. 
Ali (Akbar) Alexander, whose attorney is Baron Coleman of Montgomery, says he does not have the financial assets to fight a House subpoena and "I don't want to go to jail." Alexander once had the support of GOP money men Robert Mercer and the late Foster Friess, but apparently his coffers aren't so full at this point. Have Mercer and the Friess family closed their checkbooks over concerns they could be seen as funders of a deadly event like Jan. 6, which could spell "liability" for their fortunes? That remains unclear, but Alexander clearly does not intend to play a Steve Bannon fight-the-subpoena game. From Raw Story: 
Jan. 6 organizer Ali Alexander, who calls himself the "founder" of former president Donald Trump's "Stop the Steal" movement, announced Saturday that he will comply with a subpoena from the House Select Committee investigating the Capitol insurrection.

"You may have missed the news that I've been subpoenaed by the Democrats' partisan Jan. 6 committee," Alexander said in a video posted to the right-wing social-media platform Telegram. "This is a midterm issue that they want to run on, and what they want to do is paint me as the Black face for a white supremacy movement that doesn't actually exist."

Speaking in front of a poster of singer Johnny Cash flashing the middle finger, Alexander added that he respects his "fellow patriots" who are defying the committee, but called it "an expensive right" — claiming that it would cost between $250,000 and $500,000 to fight the subpoena. (See video at the end of this post.)

Does that mean Alexander no longer can dial up deep pockets on the right and scrape up that kind of dough? Isn't this the same guy who bragged online that he could "come to Alabama, dine with the governor (Robert Bentley,at the time), and spend the afternoon cashing in favors with Alabama lawyers"?
Have the mighty fallen? Given that Alexander and Coleman already are defendants (along with Donald Trump and Roger Stone) in a U.S. Capitol Police lawsuit over Jan. 6, perhaps they can't handle more legal entanglements. Also, the U.S. Department of Justice is investigating Alexander as a possible influencer on the Proud Boys extremist group, and that could lead to criminal issues. From Raw Story:
"I frankly don't have that money to spend on legal bills, so for this unselect committee, I will actually be privately deposed in December," Alexander said. "I've asked to make it public testimony. They won't cooperate with that request."

"The only reason I'm going is that I don't want to go to jail," he added. "So under the threat of imprisonment and spending tens and tens and tens of thousands of dollars on lawyers, I will be privately deposed before this committee in December, and I will make public whatever I can."
Alexander seems to be in a bit of a snit about the private nature of his testimony. But if it's in the form of a deposition, our understanding is that such proceedings generally are not public:
In a post accompanying the video, Alexander wrote that he plans to submit to the committee "photographic and video evidence of agitators sabotaging his January 6th peaceful protests."

Referring to himself in the third person, Alexander wrote: "He will also present evidence to the Committee that President Trump was betrayed by someone in his inner circle. Someone made the decision to take instructions for patriots out of the Ellipse Rally. Ali says he's not backing down and the Democrat Committee has already threatened to imprison him."