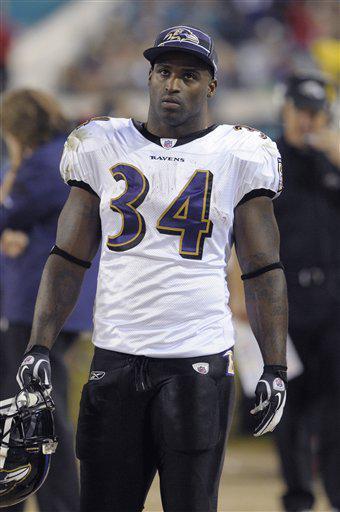 Photo: sportsfanlive.com
- Adam Parker
Baltimore Ravens running back Ricky Williams has decided to retire from the NFL after 11 seasons, he announced Tuesday.
"The NFL has been an amazing page in this chapter of my life," Williams said in a statement released by the University of Texas. "I pray that all successive adventures offer me the same potential for growth, success and most importantly fun. I want to thank all my fans, teammates, coaches and supporters for the strength they've given me to overcome so much."
Williams told WQAM in Miami on Tuesday that a text exchange with Bill Parcells, his former boss with the Miami Dolphins, prompted him to think about his future and ultimately led him to decide to retire.
According to the South Florida Sun-Sentinel, Parcells texted Williams to check up on him. Williams responded that he felt good and couldn't "wait till next year." Parcells' response to Williams' reply changed the running back's perspective, however.
"That's good. Don't chase this thing too long. You can contribute in other ways," Parcells reportedly wrote in his text, according to the newspaper.
Williams said Wednesday in an interview with ESPN Radio's "Mike and Mike in the Morning" that Parcells' text was "huge" in convincing him to rethink his future.
"After I started to think about it I was very grateful to him for kind of releasing me, allowing me to let my mind expand to consider what else I could achieve."
This is not the first time Williams retired from the NFL, but something tells me that this time will be the last. Williams briefly retired once earlier, missing the 2004 season. He was facing a four-game suspension for violating the league's drug policy before he shockingly announced he was leaving the game. This one-year 'retirement' proved to be nothing more than a hiatus, however, as Williams returned in 2005 before leaving to spend the 2006 season with the Toronto Argonauts of the Canadian Football League.
On his Twitter account, Williams wrote: "Thank you all, but this ain't it, I'm gonna do something really special. 'Be you and change the world.'"
So now that Williams has retired - barring that he doesn't pull a Brett Favre, of course - does he belong in the Hall of Fame?
Since winning the Heisman Trophy at Texas and joining the New Orleans Saints in 1999, Williams has rushed for 10,009 yards and scored 74 touchdowns.
He is one of only 26 NFL running backs to rush for more than 10,000 yards in a career.
Then-Saints coach Mike Ditka sold the farm and then some to bring Williams to the Big Easy, trading away all of the team's draft picks in 1999 and also their first and third-round picks in 2000 to select Williams fifth overall.
He has had five 1,000-yard seasons and served as a workhorse for both the Saints and Dolphins.
Williams led the NFL in 2002 with 1,853 rushing yards for the Miami Dolphins and received his lone Pro Bowl invitation that season. He followed that up with 1,373 rushing yards in 2003, giving "Sticky Ricky" what remains the mark for the two most productive rushing seasons in Dolphins' franchise history.
Now 34, Williams assumed a backup role with the Ravens last season. Playing behind Ray Rice, Williams tallied 444 yards on 108 carries and two touchdowns.
"I have to thank Coach (John) Harbaugh and the Ravens organization for the opportunity they gave me this year," Williams said in the statement. "I had so much fun and really appreciated the chance to finish on such a great note."
Williams was not only a productive runner, but also a great teammate and teacher.
He fit in well with the Ravens and made a lasting impression on Rice, who led the NFL this season with 2,068 yards from scrimmage.
"I was a big fan of Ricky before we were teammates, but being around him this year is the best thing that happened to me in my NFL career," Rice said. "As a young player, you need to be around a guy who knows what he is doing, and Ricky was tremendous to learn from. The way he took care of his body and the way he prepared, he always showed that he is a true professional. This past season with him is a year I will never forget.
"I had the best year with him beside me, and that was no accident. I believe that Ricky Williams is a Hall of Famer. All that he has done in his career, he deserves that."
It's transparently clear that Williams touched many lives throughout his time in the NFL, and without even tallying the staggering numbers, some people might think that he should get into the Hall on that impact alone.
However, what of all the other talented running backs long retired still waiting to receive their call from the Hall? What of names like Ricky Watters, Roger Craig, and the great Herschel Walker who have yet to be voted in?
Ricky Williams was a great running back, and to surpass the 10,000-yards rushing mark during his great, and albeit unorthodox, career is another feather in his cap.
But will Ricky get to shed the wedding dress he donned for ESPN The Magazine's 'For Better or Worse' cover he shared with Mike Ditka all those years ago and exchange it for a Hall of Fame blazer?
That's hard to say, but until those names I mentioned above and a few others receive their calls, I just don't see it.
Be sure to follow Beard And Stache on Twitter 
@BeardAndStache
, 
and also Adam 
@Adam_Parker43
, Like our Facebook page 
HERE
!