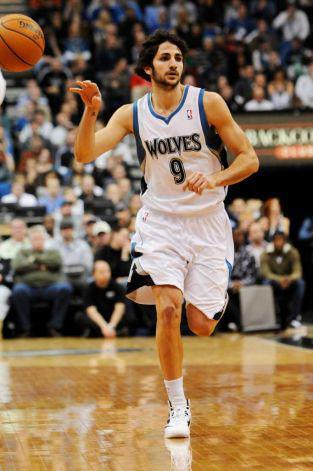 Photo: timesunion.com
- Adam Parker
The Timberwolves may have lost their season opener 104-100 to the Oklahoma City Thunder last night, but there was one bright spot that shined through the darkness - Ricky Rubio.
The rookie Spanish sensation, who is known around basketball circles for his flashy passing and resemblance to Hall of Famer "Pistol" Pete Maravich, had a great all-around game in his NBA debut against the Thunder Monday night.
Rubio looked fantastic against the Thunder; tallying six points, six assists, five rebounds, and most importantly, zero turnovers in his first game as a member of the Timberwolves.
The arrival of Rubio could mean great things are on the horizon for City of 10,000 Lakes.
You know that I'm not a big believer in moral victories, but in Minnesota's case, I think they can take comfort in the fact that they hung with a young Thunder squad that is clear cut top-tier team in the Western Conference until the waning moments of the game.
I always joke around about how T'Wolves general manager David Kahn runs that team, but after seeing how the insertion of Rubio seemed to change the culture in Minnesota after only one game, my laughter has ceased.
This young Spaniard is for real folks, and Kahn is now making all of his doubters, including me, eat their words for criticizing him on taking (and then waiting for) Rubio with the 5th overall pick in 2009.
The infusion of youth and the Spanish Pete Maravich doppelganger has the Timberwolves looking like a team that, in the short term, will turn some heads, and in the long term (my guess would be within the next two seasons) be making noise in the playoffs - something they haven't done since 2004.
What once was thought to be a logjam scenario at the point guard and small forward positions for the T'Wolves is now described more like having 'great depth' at the positions. It's amazing how the culture changes when you're winning, or in this case, show the potential for winning.
The hype around the Timberwolves hasn't been this high since the Kevin Garnett era.
Rubio has been compared to many NBA greats since he first burst onto the scene, but I personally liken him to a young Jason Kidd.
He's not a guy who will blow you away with his shooting like a Steve Nash or with his athleticism like a Derrick Rose or a Russell Westbrook, but what he will do is be like Jason Kidd - a jack of all trades who contributes anything and everything he can to help your team win.
It's only a matter of time now, the future is looking very bright for this young Minnesota squad, and I have no doubt that the T'Wolves will be hollowing at the playoff moon again very soon.
Be sure to follow Beard And Stache on Twitter 
@BeardAndStache
, 
and also Adam 
@Adam_Parker43
, Like our Facebook page 
HERE
!