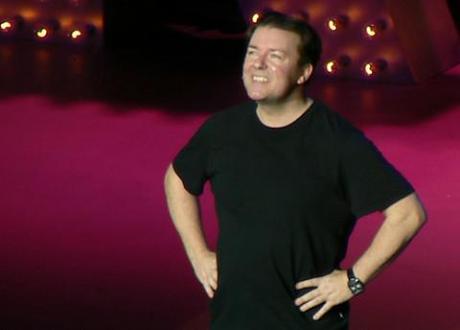 Comedian Ricky Gervais. Photo: nadworks
Comedian Ricky Gervais has been tapped once again to host the Golden Globe awards, despite making headlines for having offended pretty much most of the audience during his last appearance. The announcement came over the Twitter feed of the Hollywood Foreign Press Association, the organization that runs the Golden Globe Awards and said, simply, "Ricky Gervais will host the 69th Golden Globe Awards on January 15, 2012."
Already, people are talking about it – Ricky Gervais was a trending topic on Google News and Twitter – which is probably exactly why the HFPA did it. Even so, some observers are wondering what Gervais is going to do this time around and exactly how many people he's going to offend.
Not a unanimous decision. This will make Gervais's third turn as host, but it nearly didn't happen – 16 of the 62  panel-members who voted in the HFPA decision voted against Gervais's return, The Los Angeles Times reported, citing a confidential source. The source told the paper that it was primarily the older members of the panel who voted against Gervais, having "found Gervais' material in January insulting and were concerned that some of the A-list stars on the receiving end of the jokes wouldn't return for more abuse". Immediately after last year's Golden Globes' ceremony, HFPA leadership signaled that Gervais had "crossed a line" and likely wouldn't be invited back; however, the paper reported, those members who did vote for Gervais to return did so precisely because of the buzz his line crossing had generated. 
Watch out, Hollywood. Gervais is pretty jazzed about the gig, tweeting, "It's gonna be biblical" to his more than 760,000 followers. And by Biblical, he probably means highly uncomfortable for those celebs at the end of his rapier wit and the people who paid him to insult them: His next reference to the hosting job via Twitter was "Just told Billy Crystal he'd better not use any of my holocaust or pedophile material at The Oscars. He agreed (true)".
Worst Gervais insults last year? Media outlets are falling over themselves to pull together lists of Gervais's worst insults at last year's Golden Globes. Those, according to Yahoo, included:
"Looking at all the faces here reminds me of some of the great work done this year… by cosmetic surgeons."
"Some of those scenes (in '24′) when Keifer Sutherland grabs someone and beats them to a pulp… they weren't even in the script."
"Hollywood stars make people feel better. You can be a little Asian child, with no possessions or money, and you see a picture of Angelina Jolie and you think 'mummy'".
And from The Los Angeles Times 24 Frames blog:
On Scientologists, as compared with the characters in "I Love You, Phillip Morris": "Two heterosexual actors pretending to be gay, so the complete opposite of some famous Scientologists."
Introducing Downey: "Many of you in his room probably know him best from such facilities as the Betty Ford Clinic and Los Angeles County jail."
On HFPA President Philip Berk: "I just had to help him off the toilet and pop his teeth in! It was messy."
Biblical is one way to put it, we suppose.