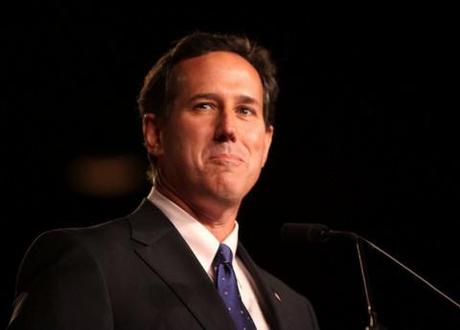 It's not goodbye, it's see you later? Rick Santorum. Photo credit: Gage Skidmore via flickr
Social conservative Rick Santorum has suspended his campaign for the Republican presidential nomination. The former Pennsylvania senator indicated that his daughter Bella's serious illness was a factor in his decision. But many commentators have been swift to point out that Santorum had lost his early momentum and faced a serious delegate deficit compared with frontrunner Mitt Romney.
One-time Speaker of the House Newt Gingrich and libertarian-leaning Ron Paul are still nominally in the race. Gingrich has vowed to battle all the way to the GOP convention in Tampa in August, and Paul continues to campaign in Texas ahead of the upcoming primary. But Santorum's exit leaves Romney the presumptive nominee and means the protracted GOP contest is effectively over.
The political commentariat are now looking ahead to the November presidential election match-up between President Barack Obama and former Massachusetts governor Romney. But there's still time to reflect on 'sweater vest' Santorum, one-time frontrunner and thorn in Romney's side.
Why did Santorum quit? In fact, Santorum has suspended, rather than ended, his campaign, pointed out Howard Kurtz at The Daily Beast, as this will allow him to continue to raise money to clear campaign debts. The increasing unlikelihood of securing the nomination, coupled with his daughter's illness, propelled the social conservative to make his exit: "As he has fallen further behind Romney in delegates, it must have weighed on Santorum that he is spending enormous amounts of time on the road, away from his family, in pursuit of an increasingly distant goal," Kurtz wrote.
Remember that time Rick Santorum declared war on China? Foreign Policy published a round-up of favorite Santorum moments, including his anti-Beijing sabre-rattling and his insistence that one in 20 deaths in the Netherlands are caused by forced euthanasia.
Well done, Santorum. "Santorum said a fair number of horrifically stupid things along the way… I think he is profoundly misguided on issues ranging from the individual health insurance mandate to bombing Iran to homosexuality," wrote Joe Klein at Time's Swampland blog. But at least the former Pennsylvania governor did not take positions simply to appeal to voters: "He believes the things he says, which is rare enough in American politics." Unlike Romney, Santorum doesn't play games with audiences and media, but is happy to have "honest arguments", Klein said.
Rick Santorum did not offer support to former rival Mitt Romney by name during his exit speech, reported The Guardian. But Romney had some words of praise for the social conservative: "Senator Santorum is an able and worthy competitor, and I congratulate him on the campaign he ran. He has proven himself to be an important voice in our party and in the nation."
Smart decision. "By leaving the race now, as opposed to waiting even a few more weeks, he has avoided burning his bridges to the Republican establishment and other elements of the party that might find cause to blame him if Romney loses in November," said Linda Feldmann at The Christian Science Monitor. Santorum can now position himself as the 2016 GOP candidate if Romney loses, or the 2020 candidate should Romney win.
Watch Rick Santorum's exit speech below.
Conservative disappointment. Right-wing radio host Rush Limbaugh, fresh from Slutgate, expressed the "sadness and disappointment" of the GOP's more conservative elements that Santorum has dropped out, reported MJ Lee for Politico. Limbaugh blamed the Republican establishment for prioritising moderates over conservatives: "So where does that leave us? Well, it leaves us now where the establishment candidate is the nominee," Limbaugh sighed. And Dan Gilgoff agreed at CNN that evangelical conservatives are still smarting from the loss of "their" candidate, and that "Romney's enthusiasm deficit among the conservative evangelicals who form the GOP's base hasn't gone away".