TAKEAWAY: In 2007 we at Garcia Media created the logo for the Russian news agency RIA Novosti, which President Vladimir Putin has just closed down.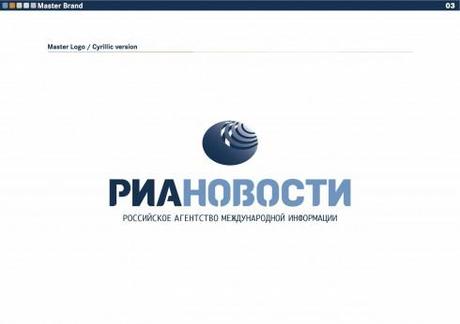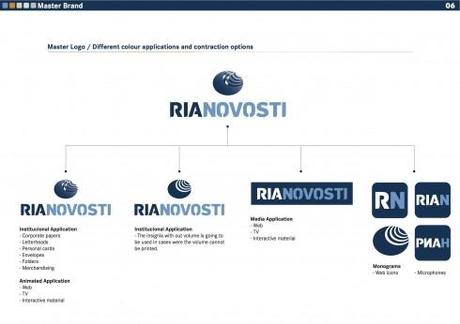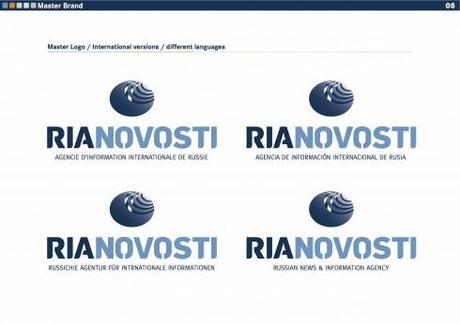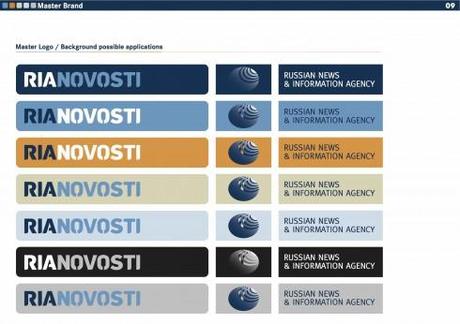 Our work with the new logo of RIA Novosti, carried out in 2007 with the Garcia Media team of Rodrigo Fino and Paula Ripoll
What happens when a "presidential decree" eliminates a news agency?
Exactly what has taken place in Russia, where President Vladimir V. Putin , exerting new control over Russia's state news media, has dissolved by decree one of Russia's official news agencies, RIA Novosti, along with its international radio broadcaster.
This news is of particular interest to us at Garcia Media, as we were engaged to design their logo in 2007, a work we completed in cooperation with Valery Levchenko, and which led to our work with the team that re-created the Russian daily Moscovskiye Novosti.
Based on news reports, we know that RIA Novosti disappears as it exists today (along with its logo!) and will subsequently transforms into the new agency, Rossia Segodnya.
Here is how Valery described his reaction in his own blog:
Monday morning in the office was proceeding as usual. Until I noticed a tweet from a local media outlet mentioning my employer RIA Novosti, state-owned multimedia news publishing house, in a critical context. The tweet's link pointed to the Kremlin's official website where a presidential decree called On Measures to Raise Efficiency in the Work of State Mass Media Outlets had been published at 10:50 a.m. Moscow time.
The Kremlin said the "liquidation" of RIA Novosti and the creation of a new agency is aimed to reduce spending and increase the effectiveness of state media. However, vocal critics say it is a move meant to strengthen the pro-Kremlin slant in the country's already heavily controlled media sector.
"From the decree – which I had to read through several times to fully grasp the scope of the imminent changes - I learned my employer was to be "liquidated" while a successor, an international propaganda house called Rossiya Segodnya (literally, Russia Today) was to be created under a new CEO. With additional expertise and assets coming from Voice of Russia, also to be liquidated," Valery said.
"I will not comment on why saving money entails the liquidation of the best media organization in the country, which was created through state funding," said RIA Novosti editor-in-chief Svetlana Mironyuk, who has headed the news agency for a decade, and with whom we worked closely in the return of Moscovskiye Novosti as well. In a speech to employees Monday. "We were not treated as we should have been," she said. "This is unfair. But we are better than that."
And, in typical Soviet-era style obedience, she added:
"This is a presidential decree. We do not discuss it. We just obey and execute."
Valery hopes things will work out for the best, however.
I am positive that in few years or even months the new organization would be considered a de facto successor of the Novosti family. The coming three months will no doubt be the most difficult because the transition phase overlaps with coverage of the Olympic games in Sochi and start of the new budget year. But I will surely miss the hard-earned news agency status (and nucleus) of the original company.
Read more about it:
http://www.nytimes.com/2013/12/10/world/europe/putin-scraps-kremlin-news-agencies.html?_r=0
http://www.themoscowtimes.com/news/article/ria-novosti-staff-to-remain-in-demand-at-new-agency/491236.html
TheMarioBlog post #1399