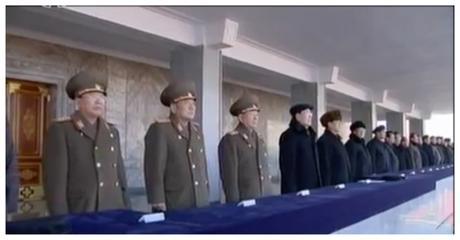 General Ri Yong Gil (left) and the man he replaced as Minister of the People's Armed Forces, General Pak Yong Sik (2nd left) at a January 2016 rally in Pyongyang celebrating the fourth nuclear test (Photo: NK Leadership Watch file photo/Korean Central Television via Korean News Service).
"Still is still moving to me"–Willie Nelson
General Ri Yong Gil [Ri Yo'ng-kil] has been appointed Minister of the People's Armed Forces, the DPRK's defense minister.  His appointment was publicized when he attended the fourth meeting of those active at Korean People's Army [KPA] fisheries in Pyongyang on December 29 (Thursday).  Colonel-General Ri is the sixth Minister of the PAF to be appointed since Kim Jong Un [Kim Cho'ng-u'n] took power five years ago, and the seventh to serve under Jong Un.
Colonel-General Ri replaces General Pak Yong Sik [Pak Yo'ng-sik].  General Pak was appointed Minister in May 2015, replacing General Hyon Yong Chol [Hyo'n Yo'ng-ch'o'l] who remains subject to unconfirmed rumors that he was executed.  Ri Yong Gil had been subject to execution rumors himself, when he failed to appear at a Pyongyang rally in February 2016 and was removed from office as Chief of the KPA General Staff.  Colonel-General Ri later resurfaced like Lazarus during the 7th Party Congress in May and elected an alternate (candidate) member of the Workers' Party of Korea [WPK] Political Bureau and a member of the WPK Central Military Commission.  Since around May to the present, Ri Yong Gil has served as Director of the KPA General Staff Operations Bureau.  With his new appointment, Ri will most likely assume Pak's full membership on the WPK Political Bureau, and will eventually assume Pak's membership on the State Affairs Commission.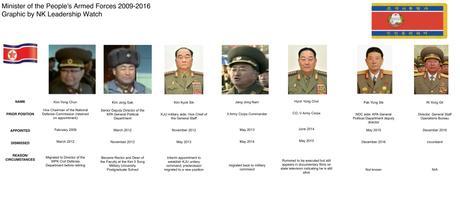 Ministers of the People's Armed Forces 2009-2016 (Photo: NK Leadership Watch graphic).
Interestingly, Ri Yong Gil's personnel appointments have occurred around the same time as major Party (WPK) meetings.  His appointment as Minister of the People's Armed Forces was publicized after a large party gathering, the first conference of WPK Primary Committee chairpersons.  Rumors about Ri's execution and dismissal appeared after the first joint Party-Army solidarity meeting in February.  In fact, according to some accounts, Ri was removed from office during that meeting.
Until information surfaces about General Pak Yong Sik and whether he has migrated to a new position, the implications of this personnel shuffle or the pattern it illustrates will not be known. One quick and dirty interpretation is that the job of the Minister of the People's Armed Forces has become a senior position with a short tenure of office under Kim Jong Un, as against Kim Jong Il where being appointed Minister was pretty much a lifetime appointment.  The "lifetime appointment" status for senior positions, both in the military and security organizations as well as the Party and State, has, to a certain degree, stopped under Kim Jong Un.  The revocation of lifetime job appointments began in early 2009 when Jong Un's hereditary success was taking shape, and KJI was still alive; in fact, the timing of senior personnel appointments was a major point of contention between Jong Un and his father.
For the Minister of the People's Armed Forces, this occurred in February 2009 during what at the time was the largest personnel shakeup in the KPA's history, when VMar Kim Il Chol [Kim Il-ch'o'l] was downgraded from Minister to 1st Vice Minister.  VMar Kim, it should be indicated, was a commander who led the DPRK's capture of USS Pueblo.  VMar Kim would later be removed from office and dismissed from the now-defunct National Defense Commission [NDC] in May 2010 due to "old age," despite the fact at least two other NDC members were older.  The treatment of VMar Kim, who lacked a major political benefactor, set the precedent for how Kim Jong Un would regard the Minister of the PAF.
For General Pak Yong Sik there were early telltale signs that he might be on the outs.  If looking for a specific reason for Pak's dismissal one might look to flood recovery work in North Hamgyo'ng Province.  In August, a large rally of KPA personnel occurred near the construction work.  General Pak presided over the meeting, but his presence was not reported in English language state media in KCNA.  Another possibility, again speculative, is that General Pak may have been held responsible for the recurrence of "ghost boats" (i.e. KPA fishing vessels) turning up off the coast of Japan.  One subtle sign of his waning status was in the order in which his name was called or listed in state media reporting.  Since the beginning of 2016 General Pak's name was called or listed ahead of that of the Chief of the KPA General Staff.  So, for example, when Kim Jong Un visited Ku'msusan on December 17, General Pak's name was called after that of Chief of the KPA General Staff VMar Ri Myong Su [Ri Myo'ng-su].
While General Pak's seeming dismissal lacks "big picture" implications (anyone saying otherwise is probably running a sideline selling beachhouses in Idaho), there is an interesting interstitial elite political dynamic at work.  General Pak was associated with the political corps of North Korea's armed forces, that is his career was mainly tied to the KPA General Political Department [GPD].  Contrast this with his successor, Ri Yong Gil, whose career has mainly been spent as a field commander–that is he is from the infantry corps and fits the criteria of what some Pyongyang watchers call the "military-military" (as against the GPD's "political-military").  While all members of the high command are all equal in that they report to Jong Un, Ri's appointment signals a shift away from the GPD to the General Staff; one constituency group swapped for the other.  The reason behind General Pak's dismissal, and his prior history at the GPD, might be found in Kim Jong Un's critiquing efforts of ideological indoctrination (programming) and political education of KPA service members during field inspections in November 2016, at the beginning of the KPA's winter training cycle.  The timing of General Pak's dismissal occurred in the middle of the winter training cycle.  While the Minister of the People's Armed Forces, more concerned with administration and logistics and finance, is not an integral part of the winter training cycle, there is a possibility that General Pak was singled out for slipshod preparations, in addition to the Supreme Commander's problems with ideological indoctrination.
General Ri Yong Gil's career trajectory during the last three years is similar to that of the late General Kim Kyok Sik [Kim Kyo'k-sik].  Like General Kim, who held two different terms as Chief of the KPA General Staff (2007-2009; May 2013 to August 2013), General Ri was appointed to a position in which he previously served.  From 2012 to 2013 General served as Director of the KPA General Staff Operations Bureau; General Ri moved from that position to replacing General Kim as Chief of the KPA General Staff.  Then from April 2016 to December 2016 (like Kim Kyok Sik, a short, almost transitional term of office), General Ri has been heading the Operations Bureau. With General Ri's latest appointment as Minister, he and General Kim have held two of the same positions (MPAF, General Staff) in the KPA's high command.
Filed under: 2007-2010 kpa management, 7th Party Congress, Central Committee, Central Military Committee, Central Party Affairs/Cadres 5th Section, colonel general, corps command, corps commanders, critical infrastructure, DPRK External Relations, Executive Policy Bureau, Gen. Hyon Yong Chol, Gen. Jang Jong Nam, Gen. Kim Kyok Sik, Gen. Pak Yong Sik (MPAF), Gen. Ri Myong Su, gsd, gsob, Kim Jong Un Visits, Kim Jong-il, Kim Jong-un, KJI Personal Secretariat, Korean People's Army (KPA), Korean People's Army Supreme Command, Korean Workers' Party (KWP), KPA construction battalions, KPA construction brigades, KPA External Relations, KPA fishing units, KPA General Logistics Department, KPA General Political Bureau, KPA General Political Department, KPA General Propaganda Department, KPA General Staff, KPA II Army Corps, KPA infantry corps, KPA Large Combined Units, KPA Organization Department, KPA Party Life, KPA supernumerary organizations, KPA Supreme Command, KPA V Army Corps, KPA WPK Committee, Military Affairs, military security command [msc], Ministry of State Security, Ministry of the People's Armed Forces (MPAF), MPAF GPB, National Defense Commission (NDC), Organization and Guidance Department, Party elders, party life, Political Bureau, State Security Department, VIII Army Corps, VMar Kim Jong Gak, VMar Kim Yong Chun