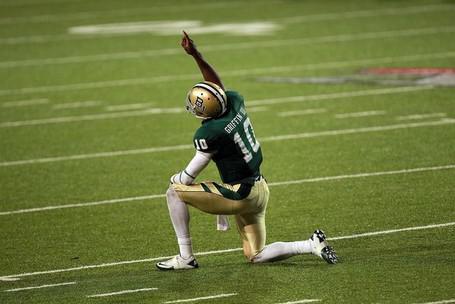 Photo: mobilemockingthedraft.com
- Adam Parker
Upon completion of a Heisman Trophy-winning junior season at Baylor University, quarterback Robert Griffin III is prepared to enter the NFL as one of the top prospects in the 2012 Draft.
I'm not sure where Mel Kiper's Big Board has Griffin slotted to go, but we here at Beard and Stache would love to see RGIII in D.C. playing for Mike Shanahan and the Washington Redsksins.
But Adam, what about teams like the Dolphins, Vikings, Browns, or Seahawks?
Well, even though those teams are all possible options for Griffin III, I just can't feasibly see him ending up there.
For one thing, Miami would likely have to move up for Griffin III, something I simply don't see them doing unless they somehow land a big name head coach to replace the departing Tony Sparano, who also moonlights as an RGIII super fan.
The Vikings and Browns won't go after him because both have young quarterbacks in place with Christian Ponder (Vikings) and Colt McCoy (Browns). It wouldn't make sense for either club to give up on the young arms that were initially looked at as the long-term answers at quarterback for their respective teams, so they're eliminated from the 'Baby-Jesus' running.
The Seahawks would be an interesting possibility, but you have to believe that Pete Carroll will pull another rabbit out of his hat on draft day and go with someone who's completely off the reservation with Seattle's first pick.
So, now that we've ruled out Miami, Minnesota, Cleveland, and Seattle, we'll move on to why RGIII to D.C. makes perfect sense.
The first reason is that Shanahan has historically had great success with mobile quarterbacks (see John Elway), and there's no question Griffin III has the wheels Shanahan foams at the mouth for like a rabid dog.
The second reason, and probably the most important one, is Griffin III's underrated skills as a passer. Sure, this guy is a phenomenal athlete, but quarterbacks in the NFL are primarily asked to win games from the pocket, something Griffin can most certainly do with his improving pocket presence, arm strength, and accuracy. RGIII has often drawn comparisons to Tim Tebow, but he is a more true quarterback and passer in the pocket.
The third and final reason is that Redskins owner Dan Snyder and general manager Bruce Allen have been known to make crazy moves in the past to get the players they covet, whether it be in the draft or free agency.
Griffin III has the star quality and the skill set to be a franchise quarterback, and I think he has all the necessary tools to get the Redskins' offense out of the gutter and back to the playoffs.
Be sure to follow Beard And Stache on Twitter 
@BeardAndStache
, 
and also Adam 
@Adam_Parker43
, Like our Facebook page 
HERE
!