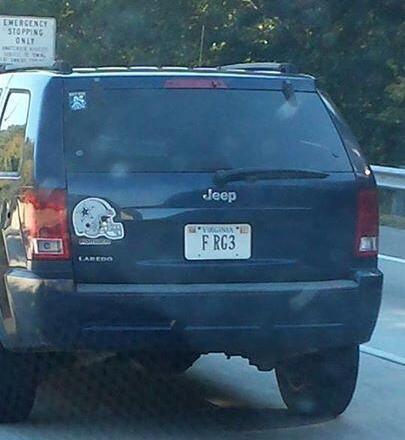 By now if you're a Redskins fan or live in the DMV area, you've probably been beaten to death with perspectives on RGIII's comments from this week.  Well, settle in for one more.  But first, all the good stuff that led up to this moment.
This is how the 'Skins v. Eagles game ended last week.  Good to see RGIII setting his feet and getting off a strong throw there…
After the game, RGIII went all high school drama and pointed out how everyone else in the Redskins organization had failed and he wasn't to blame.  Here was RGIII's quote after the game - "We had a certain concept we were running, and nobody got open," Griffin began. "So I was backing up, and in a situation where if you get a sack there it ends the game, trying to throw the ball out of the back of the end zone. Didn't get to where I wanted it to go. Obviously I was on my heels, and it's something I can definitely learn from."
Hey Rob, don't bother putting the team on your back, be sure to throw a few jabs in there at your teammates.
He also dropped this gem about the coaching of the two teams - "They did a good job of scheming us up," Griffin said. "They kind of knew what was coming before it was coming and that was disheartening. But like I told the guys, regardless of what's going on out there, we're the players and we have to make the plays work, and we just weren't doing that in the first half."
Now to be fair, he's not crushing anyone, but he isn't talking like a bona-fide leader.  He's not putting the team on his back and he's not keeping it all in the locker room.  This type of shit just doesn't fly with me and it shouldn't fly with the rest of the Redskins.  Santana Moss didn't like it and spoke out about it yesterday.  He's scaled back his position today, but don't think for a second that he didn't mean every word he said.
And he should have said it.  Since the Redskins drafted RGIII, they are 13-13 including a 3-7 record this year.  He hasn't looked right at times and seems to always be spouting off at the mouth when he shouldn't be.  RGIII is a talented kid who should only continue to get better, but you can't just be a skilled professional to be a top flight quarterback in the NFL.  You have to be transcendent.  You have to be the guy that stands in front of the media and says, "it's on me guys, I should have done better."  You have to be bigger than everyone else because the quarterback position is the marquee position in the NFL.  RGIII needs to understand that he can't throw coaches and teammates under the bus when he's frustrated.  Around his family and friends, behind closed doors, that's perfectly fine, but to the hundreds of media whores at his locker after the game he must remain "the guy."  RGIII hasn't won anything yet.  RGIII hasn't played pro bowl level football yet.  RGIII has barely popped his NFL cherry and this guy has been running his mouth from the jump.
As much as I like to troll my friends who are Patriots fans, I'd take Tom Brady in a heartbeat.  Not only does that guy put it all out on the field, he's a leader off of it.  He's not disrespectful regarding his coaches or teammates and is the first person to shoulder the blame when it's there for the taking.
Want another example on the other end of the spectrum?  You got it.  Joe Flacco.  Guy isn't going to say a whole lot and people in Baltimore crushed him for not being a "leader."  Truth was, he couldn't have been the vocal leader when Ray Lewis was playing.  But Flacco never said the wrong thing.  He was steadfast in his dedication to the team and never lashed out at a teammate or a coach, rather focusing his energy on playing football.  He's got a Super Bowl ring, just saying.
RGIII isn't a bad guy, he's just a young guy who's always been told he's the best.  He's always been catered to, knows how much the Redskins gave up to get him, and now he's causing friction in his own locker room.  His best bet is to shut his mouth, lead his team and win football games.  Stop telling the media things that will make you seem less of the scapegoat and start taking it on the chin for your teammates.  Less talk and more work equals success, brah.
s/o to BarstoolNate, Bleacher Report, and Yahoo