Hello ladies,
After all the lipstick posts it was time for a nail polish review. I am not a big nail polish fan but here and there I keep on buying stuff which I like. The nail paint I will review today is from Revlon Streetwear called Ocean Blue (no.34).. Let's find out in the review how good it is..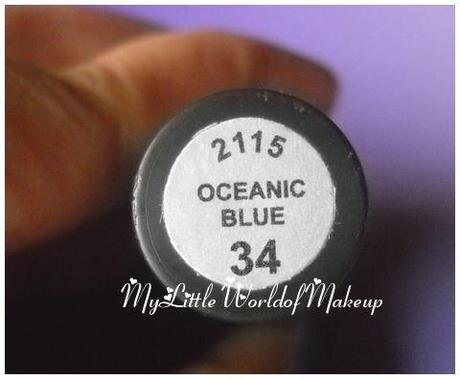 Price: 50 bucks for 5 ml.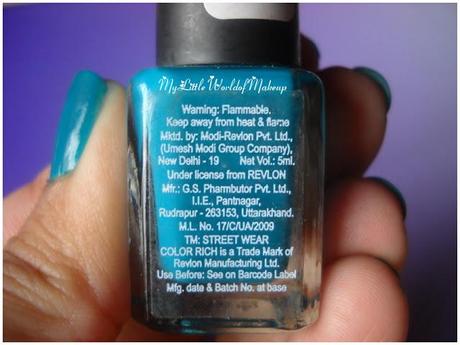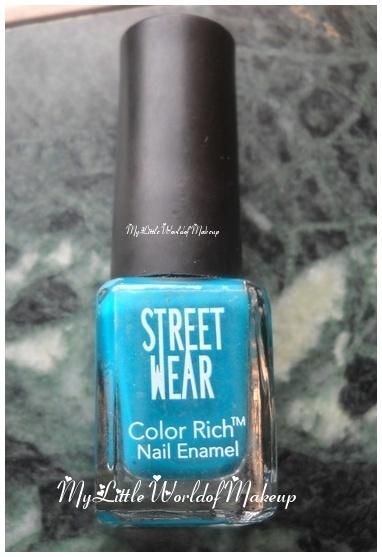 The nail paint comes in a small and cute glass bottle with a black handle.The packaging does not look cheap.The name of the company is printed on the bottle and the name of the shade on top of the brush handle. The brush is a short handle but good enough to apply the color with ease. I like such small and cute bottles because they get over soon and gives you an excuse to buy something new....Lol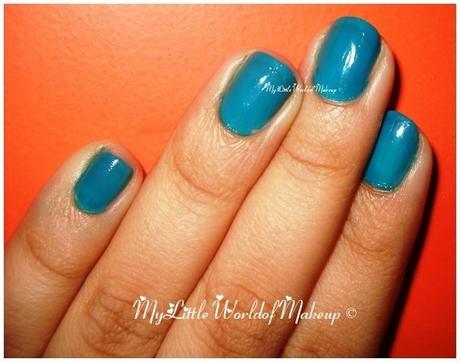 The nail paint is a true dark teal color - a mixture of blue and green, more towards the green side.The color shown in the picture is lighter than real life. It looks more darker in person. The nail paint does not contain any shimmer. It is a lovely glossy shade and looks all glam on the nails firstly because of the shade and secondly because of the sheen it emits. As the name suggests it looks like a true ocean blue color just like what you may see in pictures of the ocean. When I applied one coat it wasn't enough, I had to apply a second coat for it to look opaque on my nails. You can apply 2 to 3 coats as you may wish.I usually do not use a base coat and a top coat on my nails. Without a top coat it may last you 4 to 5 days depending on how often your hands are in the water. Of course with a top coat should last a week.It does not chip easily but after a few days it surely will. 
The Good:
Available everywhere.
Affordable.
Beautiful shade
Cute packaging.
Good lasting power.
The not so Good:
2 to 3 applications required for an opaque finish.
Rating:4.5/5
This is a great budget nail polish for those who love to experiment with different nail paints, especially college girls. This may not be an office appropriate shade but then what are weekends for. I would recommend that you try this shade.
I hope my review was helpful to you. Please feel free to leave a comment.
Thank you for your time.
Regards,
Natasha <3
DISCLAIMER: The above product has been purchased with my own money. My review is honest an based on my experience with the product. Please note what  may work for me, may not work for you and vice versa.