Nope you haven't seen the last of these cute lipsticks on this site, even after yesterday.  If Revlon comes out with any more flattering shades of their Colorburst Lip Butters in the future, I'll be on the alert for them. I promised I'd give the four shades I picked up a proper review after yesterday's quick peek and so here it is.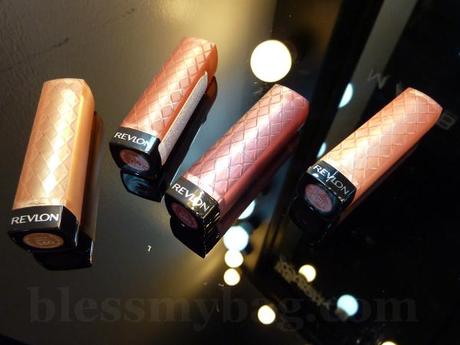 FROM LEFT: Creme Brulee | Pink Truffle | Sugar Plum  | Peach Parfait
The brilliant packaging of the Lip Butter tube inherits the form of the existing Colorburst lipstick packaging except instead of a fully opaque cap you get transparent eye-catching  caps colored according to whichever shade, and so you get an appropriate veil of identical color with a tiny skylight on top for a visible lip bullet.  The tube itself is like a more affordable version of the Dior Addict lipstics and the shape of the lipstick bullet (see yesterday's post here) is a lovely, large, slanted top just like Dior's lipsticks from before.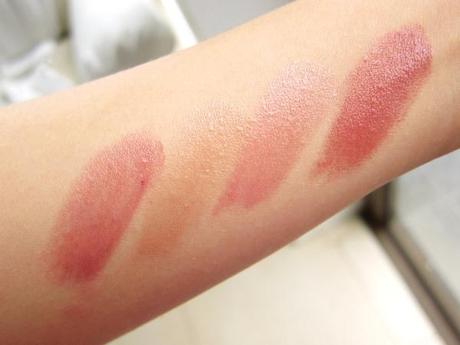 SWATCHES FROM LEFT:  Sugar Plum | Creme Brulee | Peach Parfait | Pink Truffle
It took like about 3+ swipes each on these to get them visible enough for a photo.  There is a very mild scent present, unnoticeable unless you stick your nose into the swatch or the tube up your nose.  It's a mild sweet scent which reminded me of toffee caramel or Tootsie Roll candies, it's there but anyone's bound to almost miss it if you don't look for it.  Read more to see these lipsticks worn and find out which are my favorites!
The texture of the Colorburst Lip Butters is similar to Clinique's Almost lipstick but not as sticky with a bit more color, softer but still with enough drag to wear reasonably for a maximum of probably 2-3 hours without eating.  The lip butters' sheer, high shine texture is a great, fresh looking, wearable option for this coming summer when you want to go bare but not fully.  The nearly exact item I can compare textures of with this is my MUJI Lipstick.  You get the same creamy drag and high shine with color, but the MUJI Lipsticks are not as sheer.  What's funny is, they cost about the same, and I believe Rockwell carries more colors now of that MUJI Range.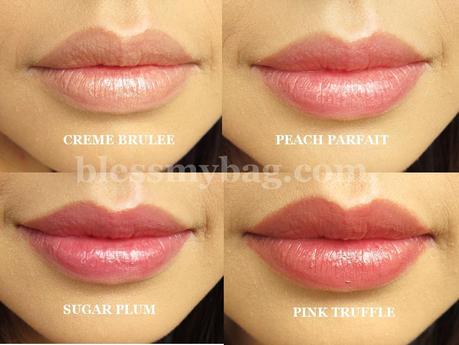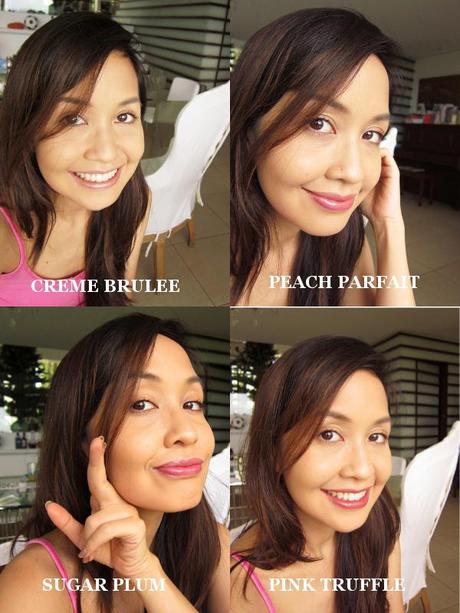 1.  Creme Brulee is my favorite shade, I think it's the most neutral nude in the range and it has very minimal shimmer, in fact I think nearly none.  Creme Brulee is very wearable especially if I want to go for a heavier eye than lip.  There are other pale colors in the line-up that I didn't get like Creamsicle but that one is too pasty and peach for a medium Oriental skintone like mine.  To wear it effectively though I need to pale my lips first with foundation or concealer because my natural lipcolor is very deep.
2.  Peach Parfait is the bestselling shade and my second favorite, as seen on the lovely Emma Stone in the ads.  I can see why it tends to work for both pale skin and darker skin, it's a midway rose pink with a hint of warmth and golden shimmer.  For e it's not too light, not too dark, but I think sometimes it may bore me because it's the one closest to the shade of my natural lips.  That's why I like Creme Brulee better I think, I see more of  a difference.
3.  Sugar Plum is a cool, medium pink, mauve shade, and guess what it reminds me of my favorite MUJI Lipstick in Rose Pink!   The lip butter is like a sheer version of this MUJI Lipstick.
4. Pink Truffle is a warm very 90s type of terracotta rose.  The shade reminds me of the earthy modern heavy trend that Lisa Eldridge was talking about.  That color was quite popular during Kevyn Aucoin's primetime as a makeup artist in the late 90s.  It's a deep shade, very nice, suits my skin but it's a bit too warm for my liking.  I picked it up for Mom so this shade is actually hers.  For some reason, this one which is a total creme shade (no shimmer, see the swatch) is the most pigmented of the four, you'll notice in my photo above, that was just 2 swipes.  The previous shades required a good double back and forth to match the depth of Pink Truffle.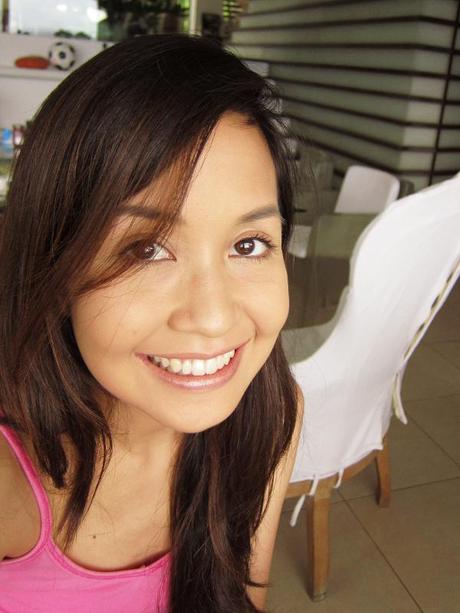 Like I did mention in the first post, the Revlon Lip Butters cost about Php525.00 each from your local SM Watsons boutique, the ones that carry Revlon products are bound to have them.  Or well, by now, they may already be running out.  So, I end this review with this full photo of me wearing my favorite shade Creme Brulee, it reminds me of a lighter version of a Shu Uemura Rouge Unlimited lipstick I finished all the way to the bottom of the tube.  I can't wait for summer to come blazing in (I hope it does, last year it hardly did) coz I'll be reaching for these lip butters pretty often for a sheer, glossy, non-sticky hint of color.  Have any of you managed to get any of these lip butters before lots of them disappeared at your local Watsons?  I hope they still restock them.