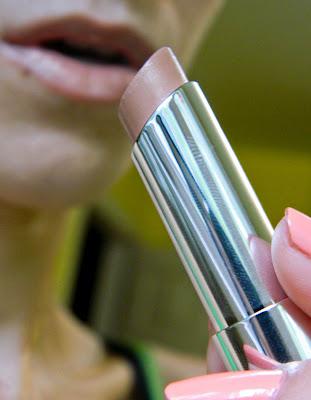 I've read a lot about this lip butter by Revlon, but never really thought of buying it.. It looked like a lip balm to me with a little bit of color.. It still does, even after I purchased it. But I do love it! :)
I wanted to get some treat at the drugstore, and these pop out to me from the background shelve at the store. First, I thought I'm going to take an peachy orange one, but I immediately stopped myself.. Because we all know I have this orange-peachy-coral problem in my life.. And I think, for now, I have enough orange. coral and peach lipsticks and lipglosses, so I went on a more daily color. Just a natural, bit tinted tone, to wear everyday. Something that will go well with everything. So I chose this color, called "Crème Brulee", and I have to say I do like it a lot! It's soft, not sticky, a bit pearly.. It is pretty sheer, but I guess it supposed to be like that, since it's a lip BUTTER and not a lipSTICK. Also, this is the first color I'm trying from this "collection", so I don't really know, maybe it's just this color that is sheer.
In conclusion, I would say, if you want a pretty lip balm-like lipstick, that would enhance the natural color of your lips, give it a little sheen, and have a cute packaging, for a good price - this one is for you!