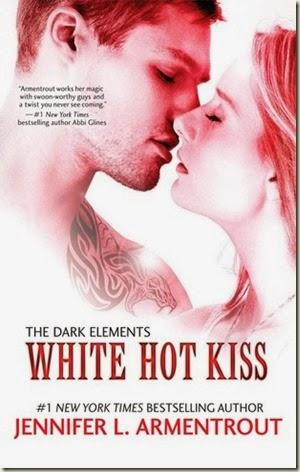 White Hot Kiss

 by Jennifer L. Armentrout Summary: One kiss could be the last.
Seventeen-year-old Layla just wants to be normal. But with a kiss that kills anything with a soul, she's anything but normal. Half demon, half gargoyle, Layla has abilities no one else possesses.
Raised among the Wardens—a race of gargoyles tasked with hunting demons and keeping humanity safe—Layla tries to fit in, but that means hiding her own dark side from those she loves the most. Especially Zayne, the swoon-worthy, incredibly gorgeous and completely off-limits Warden she's crushed on since forever.
Then she meets Roth—a tattooed, sinfully hot demon who claims to know all her secrets. Layla knows she should stay away, but she's not sure she wants to—especially when that whole no-kissing thing isn't an issue, considering Roth has no soul.
But when Layla discovers she's the reason for the violent demon uprising, trusting Roth could not only ruin her chances with Zayne…it could brand her a traitor to her family. Worse yet, it could become a one-way ticket to the end of the world.
Source: I preordered a copy for Kindle.
Add to Goodreads
Review:
I loved White Hot Kiss! It is my first paranormal series by the author, as I've only ever read her J Lynn contemporary novels so far. I thought the world was incredibly unique and refreshing to the YA paranormal romance genre.
I immediately felt for Layla and her predicament. As a half demon with soul sucking abilities, she couldn't get as close as kissing distance to anything with a soul. Which sucked, considering she was part of Warden family and all of them had souls. Fortunately, only the seriously pure or seriously impure souls were all that appetizing to her, but it was still a terrible situation for any 17 year old girl. Especially when she had such a huge crush on Zayne, a Warden who lived under the same roof.
Perhaps reading Bitter Sweet Love left me somewhat skeptical of the Wardens, because I was really sympathetic to Layla and I felt like the Wardens treated her like crap. Except for a select few. I knew her demon side was certainly not a good thing, but I just felt like they stifled her and only made her self worth even lower. So when Roth showed up, an incredibly hot Upper Level demon, I was more than willing to listen to what he had to say.
I loved the conflict in White Hot Kiss. I totally saw the flaws in the Warden lifestyle. I saw the conflict in being Layla, and I was definitely into Roth. His character was great. He was sarcastic, funny, strong, and mysterious. He was totally the kind of bad boy you'd see in any good paranormal romance, but he also had a funnier sort of personality that I enjoyed.
I really like the world in this Dark Elements series. The only thing that isn't quite believable to me is that humans would accept the existence of Wardens so well, but if I just accept that the world is just that way, I don't have any other issues. I'm hoping to see more demons working together with Wardens, because I have a feeling that demons aren't as bad as they seem. I picked up on that in Bitter Sweet Love a couple of times and Roth made it a point to show Layla the sort of "destruction" that the lesser demons liked to cause.
I need more and I really wish this was a completed series so I could continue reading! I'm hooked. I like how Jennifer Armentrout's YA paranormals have more of an adult feel to them than other YA paranormals. I'm not sure why I think this way, since the romance is PG and the heroine is in school, but I just felt more of a adult PNR than YA in this book.
White Hot Kiss was an exciting and fun read. I definitely recommend it to anyone looking for a unique paranormal romance adventure.