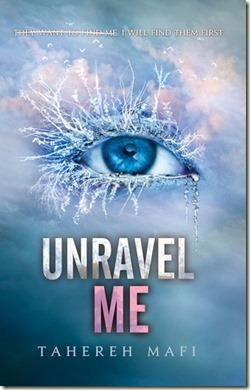 Unravel Me (Shatter Me #2)

by Tahereh Mafi
Summary: tick
tick
tick
tick
tick
it's almost
time for war.
Juliette has escaped to Omega Point. It is a place for people like her—people with gifts—and it is also the headquarters of the rebel resistance.
She's finally free from The Reestablishment, free from their plan to use her as a weapon, and free to love Adam. But Juliette will never be free from her lethal touch.
Or from Warner, who wants Juliette more than she ever thought possible.
In this exhilarating sequel to Shatter Me, Juliette has to make life-changing decisions between what she wants and what she thinks is right. Decisions that might involve choosing between her heart—and Adam's life.

Source: I won a signed hardcover copy of the book by participating in the Shatter Me Rereadathon hosted by Pitch Dark Books and Epic Reads.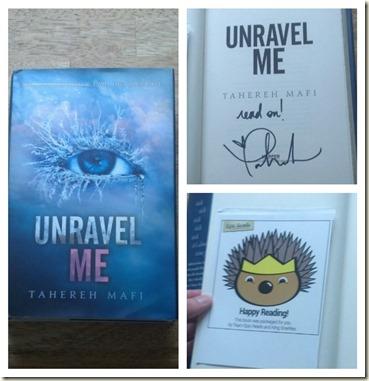 Review:


A Million Stars out of Five.
Unravel Me was absolutely spectacular. There aren't enough words in the world to convey the amount of awesomeness that Unravel Me was. Shatter Me floored me and left me wanting so much more. Destroy Me made me ache in ways I never imagined I could. Unravel Me blew me away so much, I'm surprised I'm still rooted to the Earth.
This is one of those virtually impossible reviews to write because I'm stunned. I've already read Unravel Me twice because I had no words the first time I finished. I thought I needed to reread it in order to organize my thoughts, but I'm still rendered a bit speechless. But I will try…
First, Unravel Me was utterly unpredictable. In fact, I thought I knew too much going in because I waited so late after the release day to read it. I already knew all about the glorious Chapter Sixty-Two and I hated knowing that because I thought I would be ruined by the information. I imagined a handful of different scenarios that could lead up to what I knew was inevitable and not one of them was even remotely similar to the actual events in Unravel Me. It defied all expectations and was a thousand times more imaginative that I thought it could be, and I had pretty high hopes considering I'm a huge fan of Tahereh Mafi's imagination.
I'll never stop being amazed by the author's writing. I love every single word and every scene. I love how she writes and it makes the story flow in such a way that I'm affected each and every time something happens. Nothing is trivial or explained away lazily or quickly. Everything is steeped in detail, emotion, and importance. And the coolest part is that even though I'm getting Juliette's point of view, which can be complete tunnel vision-ish and skewed, I can still see around her a little bit and imagine how another character might view the same scene and then I'm just amazed at the entire thing.
Juliette grew so much in Unravel Me. Her thoughts and actions were intriguing and there were moments where she was so badass, my jaw dropped. The rest of the characters were equally interesting. Kenji was much more than he was in Shatter Me, with a lot more depth and insight into things than I ever would have imagined. All of the Omega Point citizens were incredible.
Of course, both Adam and Warner were present in Unravel Me. I don't want to give anything away, especially considering it's hard enough to avoid Unravel Me Love Triangle Spoilers. I am definitely

Team Warner

for a thousand reasons after reading Destroy Me earlier in the year and I love how the conflict played out in Unravel Me. The series is so intense and emotional and wrapped up in feelings, but the conflict is so real and challenging and interesting. I find myself more invested in Juliette's relationship choices than I've ever been about a fictional character. And arguing valid points about deep things like character and integrity and challenges (instead of the traditional, but X is so hot! or Y is obviously better kind of arguments that love triangles bring about). It isn't a love triangle in the traditional sense at all. It's so beyond hormones and hotness and intrigue.
Chapter Sixty-Two, since everyone talks about it, is worth every ounce of hype. The way it was written and executed is so unique and somehow the way it should always be. The author has such a way with words… It really doesn't matter if you're familiar with the series or not, it's worth buying the book just to read that chapter so you can walk around knowing that 1) not all steam needs to be specific or graphic in order to be effective and 2) you've read the best thing ever and 3) you have now lived a full life and can die happy. lol
The external conflict in Unravel Me was also incredibly interesting. A few negative reviews about the series mention the uncanny similarities between it and X-men. But I feel that it is entirely different. There are many similarities that I see, but they all exist for different reasons. The conflict is different, the enemies are different, the entire world is different, and the development of extraordinary abilities has a completely different reason for manifesting. And, of course, the characters are so different, even if some of their abilities might resemble those in the X-men series. And if the ending of Shatter Me reminded people of X-men, I thought Unravel Me and the direction it took was unique enough for me to feel like it's not the same thing at all. I loved getting to see a little more of the world in Unravel Me, though it was executed like no other dystopian setting I've seen. I loved the author's amazing comparisons and references about war and fighting and killing.
I would love to go into intricate detail about everything and I have so much to say, but I refuse to spoil anything in the book. I loved having no idea how the story would go and how I would feel about anything and everything. I'll save my thoughts for discussions with friends and fellow readers and leave my review as spoiler free as it can be.
I highly recommend the Shatter Me series. I can't get enough. I've reread the series more times than I've reread ANY recent series/novel. I don't have TIME for rereads, but this series is unavoidable for me. I want to spend so much time in the world of Shatter Me that the time I do spend there never seems like enough. Already, I want more. I want more books, I want Unravel Me scenes in other character's perspective, and I want more of Juliette and her evolution from cowering girl in the corner to the badass girl who can punch through anything and fight for what she believes in. I love the series.
There's a million reasons why some people won't read this series. I hear things like, "But I don't read dystopians, YA, love stories, books with love triangles, science fiction, etc" ALL the time. And typically, I realize that people have different tastes and won't like something and dismiss it. But the Shatter Me series is so unique that I think most people will end up loving it, regardless of their preferences, so don't let your preferences or assumptions about what kind of book it is stop you from trying it!
Where to Buy:     Unravel Me (Shatter Me #2): Amazon . Barnes and Noble
Destroy Me (Shatter Me #1.5): Amazon . Barnes and Noble
Shatter Me (Shatter Me #1): Amazon . Barnes and Noble