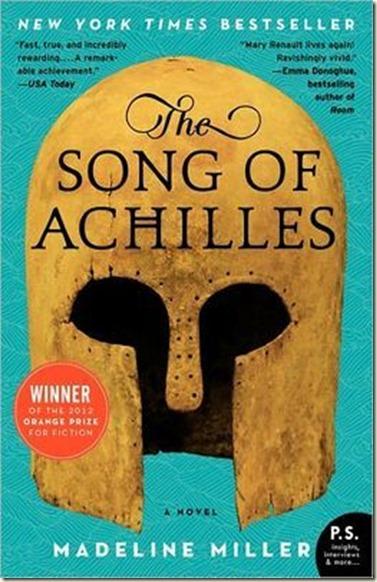 The Song of Achilles

by Madeline Miller
Summary: Achilles, "the best of all the Greeks," son of the cruel sea goddess Thetis and the legendary king Peleus, is strong, swift, and beautiful— irresistible to all who meet him. Patroclus is an awkward young prince, exiled from his homeland after an act of shocking violence. Brought together by chance, they forge an inseparable bond, despite risking the gods' wrath.
They are trained by the centaur Chiron in the arts of war and medicine, but when word comes that Helen of Sparta has been kidnapped, all the heroes of Greece are called upon to lay siege to Troy in her name. Seduced by the promise of a glorious destiny, Achilles joins their cause, and torn between love and fear for his friend, Patroclus follows. Little do they know that the cruel Fates will test them both as never before and demand a terrible sacrifice.

Source: I purchased a paperback
Add to Goodreads
Review:
The Song of Achilles was beautifully written. It was the story about Achilles in a way that I've never seen before, but has always been rumored because of his strange relationship with Patroclus.
The author did a great job of taking Greek mythology and history and making it simple, easy to read, and she brought the characters to life. The Iliad has always been difficult for me to get through because of the writing and the crazy family names and origins, as well as the way the Greek Gods got all involved with the family trees. But the author simplified it, still including the details, but explaining it in ways that make sense in the modern world.
Patroclus was a decent narrator because he was something of a wallflower, so there was much that he observed and interpreted. I felt like I got to know Achilles through him because Patroclus really saw him and loved him.
While I thought the story was beautiful and compelling, it was also very much over the top. The book has some pretty high ratings, but I don't see how anyone could rate this book 5 stars and yet harp on Bella Swan in Twilight, because Patroclus was even worse. His whole identity was Achilles. He stared at him all the time and noticed things like the flesh of his feet when he ran (seriously?) and could go on and on about how amazing and beautiful and strong he was. He loved his golden hair and strong body And, of course, Patroclus was weak and clumsy and brown haired by comparison. (Sound familiar?)
The first half of the book was Patroclus all starry eyed over Achilles, their weird friendship, and their eventual coming together and declarations of love. I wouldn't call the book literary fiction and would instead place it in historical/mythological romance because so much of the book was about their love story and literally nothing else. I loved that I was getting a story about something that has been speculation, but I wish there was more to Patroclus and Achilles as people that made them more interesting. Achilles was just so naïve and nice and perfect and Patroclus his dull, but wise companion. Until the war, they were boring and forgettable people.
I loved the parts of the book that dealt with the gods, Odysseus, and the war. I even enjoyed getting to know Chiron and his teachings. Achilles was definitely a flawed hero and I'm glad that he developed a bit of a temper and adopted some more personality once he became such a major pawn of the gods. The story was tragic and heart wrenching.
I enjoyed The Song of Achilles and I do recommend it, but with caution. It was incredibly interesting, yet it was so mushy-gushy for much of the novel. I wished Patroclus had more of a personality, but he grew on me as he grew as a person and helped out and had tasks other than fawning over Achilles during the war. The book was good and pretty well written with the exception of a few horrible metaphors. It can be hard to create a Greek mythology story that still brings something new to the table without changing or recreating the legends, so I applaud the author for making such a refreshing and new story set within the confines of The Iliad, history, and legend.