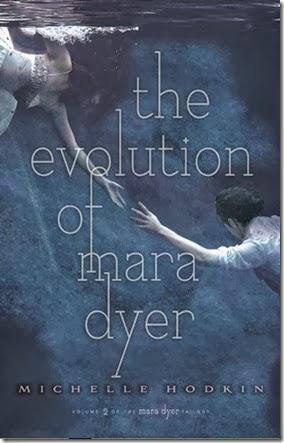 The Evolution of Mara Dyer (Mara Dyer #2)
  by Michelle Hodkin  
Summary:
Mara Dyer once believed she could run from her past.
She can't.
She used to think her problems were all in her head.
They aren't.
She couldn't imagine that after everything she's been through, the boy she loves would still be keeping secrets.
She's wrong
.
In this gripping sequel to The Unbecoming of Mara Dyer, the truth evolves and choices prove deadly. What will become of Mara Dyer next?
Release Date:
Oct 23, 2012
Genre:
YA Mystery/Fantasy/Paranormal Romance/Thriller  
Where to Buy:
Amazon
.
Barnes and Noble
.
SimonTeen
Add to Goodreads  
Source:
I purchased a hardcover.
Review:
Wow.
The Evolution of Mara Dyer
was absolutely amazing. I enjoyed the first book, but it was nothing compared to this one. I was floored by the complexity and intelligence of the plot, which sprouted from the events in book 1. I love the mood and feelings I got while reading. Was Mara crazy? Or was whatever was happening to her crazy? What is in her mind? What is real? Who is Mara Dyer? I loved not knowing. I loved the unreliable narrator. It was brilliant!
Honestly, I had no idea where the plot would go. It was just as plausible that Mara was crazy as it was that the events were real and no one knew about them. I didn't know where the author was going, but the book dripped with paranoia and I loved the mystery. Some things could be explained by her sleepwalking. Something was happening to her. But was it ALL in her head? Or was any of it in her head?
I absolutely loved Mara's character. I loved her narration, the fact that she was unreliable, the way she described the world around her, her love for Noah, the easy banter she had with her brother, the love she had for every member of her family, and her bravery. I admired her, I felt scared for her, and I wanted to get to the bottom of the mystery with her. Michelle Hodkin really created a fabulous premise with the
Mara Dyer
series because she is both likable and kind of crazy. The way the other characters in the book watch her and the way she feels watched makes my spine tingle. I felt like I was going mad while reading it, but in a good way. The wheels in my brain were constantly turning. Some moments, Mara was such a teenager that it made me smile and other moments, she was so deep and wise that it shocked me. 
The
Mara Dyer
series is a must read. It is full of intrigue, paranoia, the supernatural, mystery, romance, friendship, family, identity, and much, much more. I liked the first book, but
The Evolution of Mara Dyer
was so phenomenal, it's now a favorite and a series I'm anxiously and impatiently waiting to be finished. I find it so amazing to come across these types of YA novels that are so smart and well written and yet capture so many teenage elements at the same time.  

 "…plopped down at the table across from my mother, who was sitting her laptop. I rested my head on my arms and sighed dramatically. 
'What's up?' she asked.
'Why are boys so annoying?'
 She chuckled. 'You know what my mother used to say?'
I shook my head, still in position.
 'Boys are stupid and girls are trouble.'
Truer words were never spoken."  
"His eyes and voice were defiant. 'If I were to live a thousand years, I would belong to you for all of them. If we were to live a thousand lives, I would want  to make you mine in each one.'"  
"My throat burned with tears I wanted to cry but wouldn't. I knew she loved me. She just didn't believe me. I understood why, but it hurt like hell just the same."  
"You will love him to ruins."