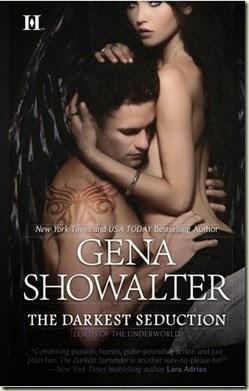 The Darkest Seduction (Lords of the Underworld #9)


by Gena Showalter
 Summary: At long last, New York Times bestselling author Gena Showalter unveils the story of Paris, the darkest and most tormented Lord of the Underworld.
Possessed by the demon of Promiscuity, immortal warrior Paris is irresistibly seductive — but his potent allure comes at a terrible price. Every night he must bed someone new, or weaken and die. And the woman he craves above all others is the one woman he'd thought was forever beyond his reach... until now.
Newly possessed by the demon of Wrath, Sienna Blackstone is racked by a ruthless need to punish those around her. Yet in Paris's arms, the vulnerable beauty finds soul-searing passion and incredible peace. Until a blood feud between ancient enemies heats up.
Will the battle against gods, angels and creatures of the night bind them eternally — or tear them apart?
Source: I purchased a Kindle copy
Add to Goodreads

Review:

The Darkest Seduction was good, despite the fact that I dislike Paris and look forward to his point of view in the series the least. Gena Showalter does a great job of continuing the story in the background while whoever is falling in love does their thing, so I feel like it's always worth reading even if I'm not enthusiastic about the main character.
 I was so over Paris and his self loathing. I was over the whole Sienna being a ghost thing. But I had to admit I was pretty curious about how their relationship would work and how on earth the author would have them overcome the obstacles she placed in front of them. Of all the possible matches, with the exception of Torin perhaps, Paris and Sienna were pretty much not a doable match. She was dead, he couldn't commit to anyone.. I mean.. how would this work?
I thought the book did an amazing job of connecting the unlikely pair in a logical way that also helped further the background plot as well. It was well done and not something I could have predicted. I'm continuously amazed by how Gena Showalter backs characters into impossible corners only to come up with a pretty awesome solution without compromising the story or making it seem like an "easy" way out. 

The Darkest Seduction won't ever be my favorite because I can't stand Paris and have never liked him, but I like him a little bit now and I'm glad I read it. I recommend the book and the rest of the series. I have no idea what I'm going to do with myself once I get to the end of what's been published so far… How did I plow through these so fast?! As far as paranormal romance goes, this series is probably the most addicting one I've encountered. While the fact that everyone seems to get matched up can get old, the actual conflict is incredible. New creatures, mythology, and conflicts pop up all of the time, creating a multidimensional plot with intriguing characters and it doesn't feel like I'm getting the same old alpha male/weak female romance like a lot of other PNR series. I am so loving the Lords of the Underworld!