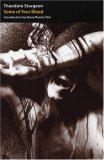 Some of Your Blood by
Theodore Sturgeon
My rating: 4 of 5 stars
Disturbing psychology of what makes a vampire a vampire. The novel presents as a case file of Dr. Philip Outerbridge. Dr Philip is terrified by the case of George and hopes to present his findings to the colonel who wants to know what made George so angry that he hit his commanding officer. The possibilities explored are tremendous.Some of your blood is a vampire psychological novel that examines the matriculation of evil from birth to the age of twenty three.
Theodore Sturgeon does a great job looking at developmental physiologically and especially keen observation o the Havelock Ellis Principal. The Havelock Ellis principle states:"That any mutual act - any one, providing only that it was not forced by one upon the other, and was an expression of love is moral." Sturgeon yields a command of psychology as a tool.
From the tool he asks the following terrorizing questions: Is it possible to create a vampire by defining social norms which would reward the blood sucking event? What would happen if love was connected to the harm of the giver? George learns to seek the comfort of blood because his mother sacrifices herself.
Sturgeon further examines: What if the social conditioning and the pain from punishment came with crimes or no crime committed, would this create a psychopath? What is role of punishment? What should punishment's role be in society? How do the first two years socially construct an individual? Is an individual beyond the ability to be reconditioned from a traumatic childhood? How much are we products of our parents and the environment we are born into?
The book was terrifying . The middle section, George's story, might get a reader bogged down, but blast through that part and you will find a blood red orange.
View all my reviews