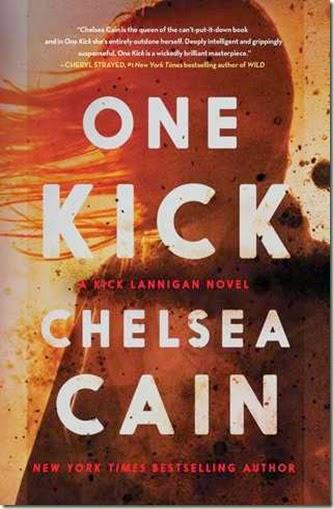 One Kick (Kick Lannigan #1)

 by Chelsea Cain Summary: Kick Lannigan, 21, is a survivor. Abducted at age six in broad daylight, the police, the public, perhaps even her family assumed the worst had occurred. And then Kathleen Lannigan was found, alive, six years later. In the early months following her freedom, as Kick struggled with PTSD, her parents put her through a litany of therapies, but nothing helped until the detective who rescued her suggested Kick learn to fight. Before she was thirteen, Kick learned marksmanship, martial arts, boxing, archery, and knife throwing. She excelled at every one, vowing she would never be victimized again. But when two children in the Portland area go missing in the same month, Kick goes into a tailspin. Then an enigmatic man Bishop approaches her with a proposition: he is convinced Kick's experiences and expertise can be used to help rescue the abductees. Little does Kick know the case will lead directly into her terrifying past…
Source: I purchased a hardcover (and it was more than I typically pay for books)
Add to Goodreads
Review:

I picked One Kick up at my local B&N with a friend one day. I almost didn't buy it because I never pay over $20 for one book, but I'd be eyeing it for some time and my friend highly recommended the author's books. I wasn't disappointed at all, which is saying something since I could have bought 3+ books for the price of this one.
One Kick was unique. It was a thriller, but it didn't follow the typical thriller pattern involving some sort of ex cop/rogue cop/lawyer main character. I don't read a lot of crime books because I feel like all the character are exactly the same. I'm over disgruntled cops or cops who do their own thing. Kick was unlike any kick ass main character I've ever seen. She was a victim of kidnapping and child porn, she was rescued, and while she was still very much broken, she put a lot of her issues into her own self defense. I liked that she learned how to defend herself and use the skills she learned while kidnapped for her own benefit.
Bishop was a strange character, but his mysterious background left me feeling curious about what kind of person he was. He was there when Kick needed him, but she was in the mess she was in looking for a missing kid because of him, so it wasn't like he was a total knight in shining armor. Anything Kick discovered was beneficial to him. Still, I liked the bit of chemistry between Bishop and Kick.
I think I'll definitely continue the series. I'm intrigued by the characters and I enjoyed the plot a lot. It was different from the run of the mill thrillers. I recommend the book and I might just grab her other series!
One Kick involves the child pornography ring and features a couple different pedophiles. The missing kids are kids who were taken for this purpose, as Kick was at the beginning of the novel. I don't think this needs to be said, but if that sort of thing bothers you to the point of not being able to read about it, then this book is NOT for you. It doesn't make anything about child porn OKAY at all, but there is mention of the ring/organization, the places where children were forced to hide, etc. No explicit details are used, but I know some people are super sensitive to any kind of violence or cruelty and this book might offend super sensitive people. So don't read it if you are one of them.
On a side note:

I know a few people refuse to read the author's books after her snarky Facebook post. I think it's interesting because I had no idea who Chelsea Cain even was before that fiasco and then I took it upon myself to figure it out and then discovered her new book was out. Despite the readers I know Cain has probably lost, I feel like it wasn't a total loss since she just gained a new one (and perhaps many more). Besides, as much as I hate authors behaving badly, I don't think her Facebook post was mean enough for people to freak out. She expressed her frustration with fans writing her to ask questions that Google could answer in 2 seconds. And I've seen what some of my friends tweet without asking Google, so I totally get it. I do think more famous people should use caution when sharing, uploading, posting, etc, as things they might not want seen or things they might regret saying later may end up being public. Cain's frustrations made sense to me, so I guess that's why it doesn't bother me.