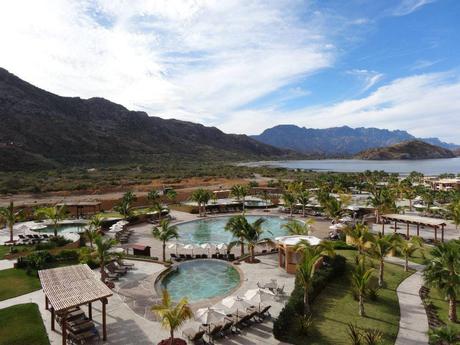 The drive from the Loreto airport in Baja, Mexico, to the Villa del Palmar resort is simply stunning: rocky mountains rise up all around, and glimpses of the pristine Sea of Cortez abound. You know when you get that warm feeling inside like what's about to happen is going to be fantastic? Yep, that's what I was feeling. As beautiful as this drive was, nothing prepared me for the beauty that awaited me at the Villa del Palmar at the Islands of Loreto resort.
Before leaving for the trip to Loreto, I had been seriously stressed out at work. When I arrived at the resort and was greeted with a pink lemonade, a hand purification ritual, and a brief chair massage, I knew that this trip was exactly what I needed to bring me back to reality and sanity. Here are some of the highlights of this oasis of relaxation!
Beautiful Rooms with a View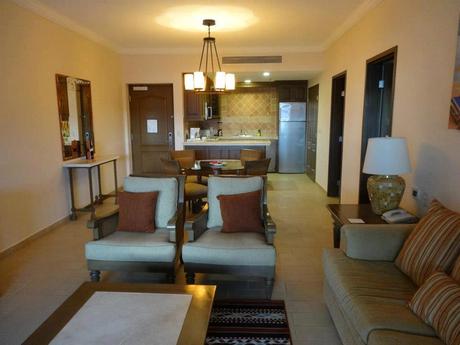 The one bedroom suite that I stayed in was absolutely perfect- complete with a full kitchen, dining area, living area, a huge jacuzzi tub, a rain showerhead, and a monstrous balcony with doors off of the bedroom and living room. One of my favorite things to do while I was there was to wake up as the sun was rising and sit on the patio. It was so quiet and serene- the perfect way to start a day in paradise!
Excellent Food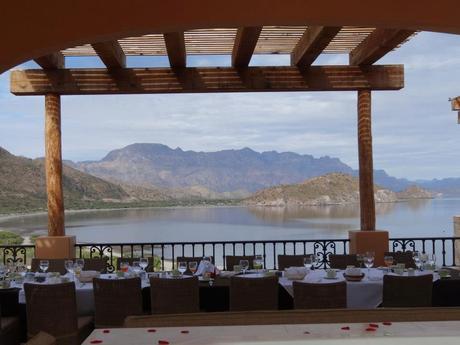 From fresh-caught fish to tasty Mexican specialties, the resort's restaurants have something for everyone. There's Casa Mia, if you need a drink or snack while relaxing poolside; the buffet at The Market Restaurant; and fine dining at Danzante Restaurant and Bar. I enjoyed the buffet and was pleasantly surprised to find fish and steak that were perfectly cooked. But by far, I was blown away the most by my meal at Danzante. The presentation of everything was beautiful, and it was there that I had the single best thing I ate on my entire trip: salt crusted fish that literally melted in my mouth. Did I mention the fish was caught that day by the chef? Talk about fresh!
Plentiful Amenities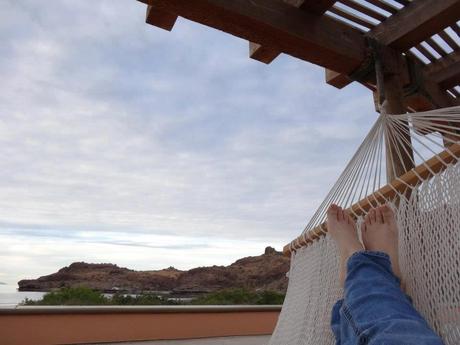 Sabila Spa is housed in a huge three-story building, and the resort has plans for making it a wellness center complete with on-site doctors (think specially planned diets for all kinds of health problems, and massage therapies tailored to your specific ailments). The 25-minute massage I received was the perfect treat for my jet-lagged body, and a soak in the hot jacuzzi tub was a great way to finish my time at the spa. There are also all kinds of saunas and jacuzzis/pools with various temperatures (I didn't try out the 'cold plunge' pool - brr!). The gym facility is located in the spa building as well and has beautiful floor-to-ceiling windows with great views of the mountains. And if that's not enough to keep you busy, the resort has daily activities and programs planned like tequila tastings, morning stretches, cooking lessons with the chef, and nightly entertainment at dinner. 
Attention to Detail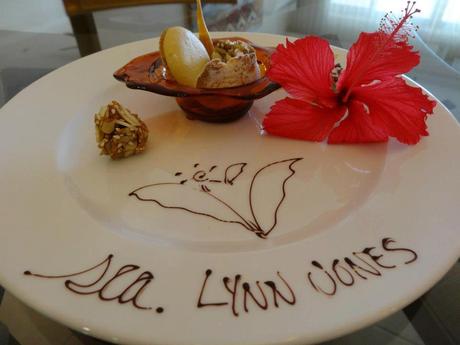 The attention to detail by the resort in all aspects of service and accommodation was excellent. Things like beautifully landscaped grounds, staff greeting you when they pass you in the hall, and a new plate of beautifully decorated sweet treats left in the room every day made my stay memorable and comfortable. The perfect example of the resort's outstanding service occurred on my final night there. I had been wanting to use the jacuzzi tub but by the time I got back to the room every night I was so tired that I just rolled into bed. However, on the last night, I did a double take as I walked into the room: a bath had been drawn for me in the jacuzzi tub! And it was still hot! I eagerly jumped in and let the warm water relax me.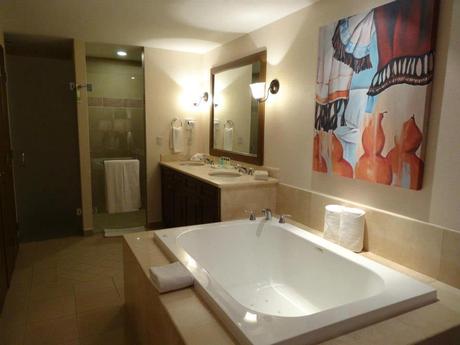 The Surrounding Islands of Loreto


If you feel like exploring the area beyond the resort, tons of outdoor activities await you. The tour company Wild Loreto offers many different activities including snorkeling, scuba, hiking, Loreto tours, whale watching, and trips to the San Javier Mission, just to name a few. I was fortunate enough to go on two different tours with Wild Loreto, one a boat ride to Coronado Island to do some snorkeling, and another trip to Puerto Adolfo Lopez Mateo to get a glimpse of the amazing gray whale.
Said, our snorkel guide, was great at teaching us how to put on and use all of our snorkel gear, and he made sure to point out and name all the underwater wildlife we saw. And let's not forget about Bridget the pug, owned by boat captain Ward. She was the real star of the day!  The whale watching trip was another experience entirely- people had been telling me beforehand that it would change my life and I skeptically smiled and nodded. But really, it truly was a once-in-a-lifetime experience. It was amazing how huge the gray whales were, but yet how gracefully they moved in and out of the water. I have heard that sometimes they get close enough to the boats that you can pet them. While this didn't happen for us, it was still an awe-inspiring experience and something that everyone should definitely try while visiting Loreto. The peak time to see the gray whales is in February, but the whole season runs from November to April.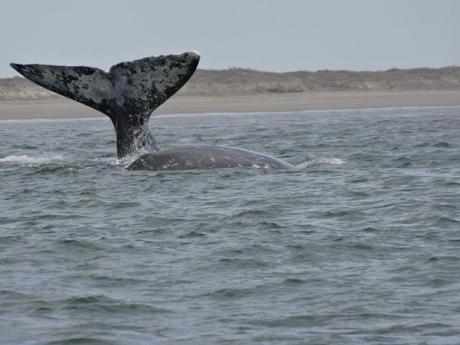 If you like outdoor adventures, or you just want to experience complete relaxation in a warm destination, you should definitely visit Loreto and check out the Villa del Palmar at the Islands of Loreto.  If it can relax me, (currently writing my PhD dissertation) then it will work wonders for you. I promise!
Villa del Palmar at the Islands of Loreto is located 40 kilometers south of the city of Loreto in Baja, Mexico. Be sure to check out their Facebook page where they frequently share exclusive deals such as unique travel packages and free airfare from Los Angeles!
My stay at Villa del Palmar at the Islands of Loreto was sponsored by the resort. All opinions outlined in this post are my own.